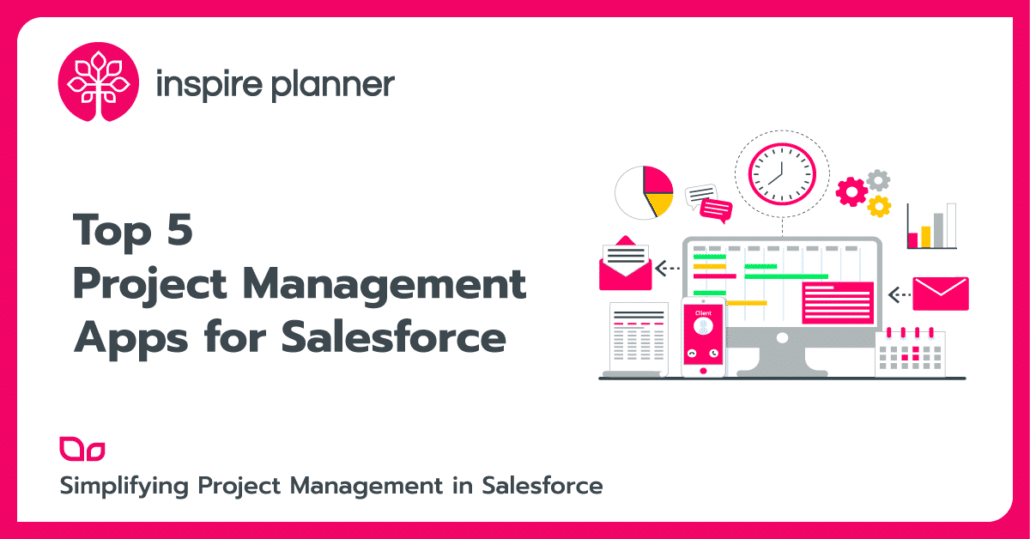 Salesforce Project Management apps exist for a reason. Despite Salesforce's wide range of products for managing different areas of your business, project management functionality is not available out of the box.
For small teams with very basic needs, you may be able to get by with standard Tasks and Chatter collaboration. But for anything more than that, you will need to consider native Salesforce project management apps.
Where to Find Salesforce Project Management Apps
There are plenty of well-known project management tools on the market. Microsoft Project, Asana, Monday.com, Smartsheet, and the list goes on. So what's the issue with using any of them?
Well, these solutions were not built or designed specifically for Salesforce. They will require you to use and maintain custom Salesforce integration (yes, things will get broken…). Your data will be stored outside of your Salesforce Org, creating data security concerns. Your data won't be fully synced, meaning you won't have accurate reports and dashboards.
So where should you look for Salesforce project management apps? Salesforce AppExchange is your answer.

If you are new to AppExchange, think of it like the App Store for your iPhone or the Play Store for your Android. While your phone comes with a number of handy features, you can easily extend its functionality by downloading other apps. Salesforce follows the same model.
AppExchange is the leading source of enterprise cloud applications, solutions, and even professional services for Salesforce customers with over 5,000 listings and about 12 million installs. This is where you will find the best project management apps for Salesforce, including Inspire Planner and others listed below. You can learn more about it in our Ultimate Guide to AppExchange.
You can simply type "Project Management" in the search on AppExchange, or you can find such apps listed under the Solutions by Type tab. From there, click the App Categories dropdown and navigate to Categories > Collaboration > Project Management.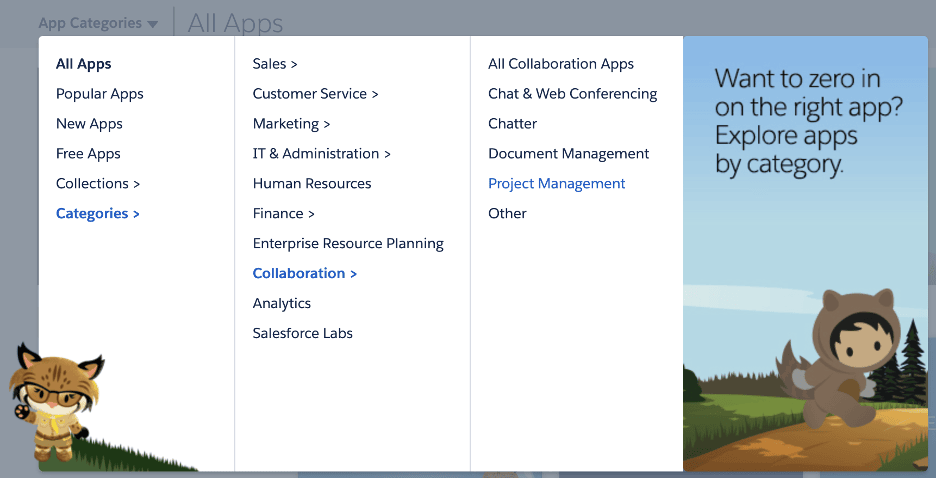 Which Salesforce Project Management Apps Are Best For Your Team?
Exploring the AppExchange brings you to the next problem. With so many different options, how are you going to select the right solution for your business?
In one of our articles, we've identified 5 essential features your Salesforce project management app should have. As a refresher, these 5 features are Gantt Chart, Resource Allocation, Time Tracking, Projects Templates, and Team Collaboration Capabilities.
Of course, every organization has its specific requirements, so there are lots of other features you might need to consider for your Salesforce project management solution. Examples include Kanban boards, Project Management Automation, Advanced Task Dependencies, Reports and Dashboards, Risk Register, Portfolio Management, Budget tracking, and others.
In this article, we will take a look at the 5 best Salesforce project management apps so that you can make the right decision easily.
Inspire Planner – Salesforce project management app

Inspire Planner is a powerful yet very easy-to-use Salesforce native project management app. You can easily manage projects of any shape & size, starting from customer onboarding and implementation projects to professional services automation (PSA), to agile software development, and more.
The Inspire Planner team invests a lot of time and effort into simplicity, user experience, reliability, and customers' success.
Inspire Planner has all of the essential Project Management features, including:
Interactive Gantt chart that seamlessly supports advanced task dependencies (Finish-to-Start, Start-to-Start, Finish-to-Finish, and Start-to-Finish) and even multiple predecessors
Visual Kanban boards for a quick and easy way to manage your tasks

Resource allocation views to see available and overallocated resources

with the ability to filter by resource attributes

Time Tracking to compare Planned Project Effort vs Actual Effort for accurate project forecasting

Unlimited

Project Templates with the ability to link Projects to any Salesforce object, like Opportunities

and Accounts
Advanced project management automation including creating projects automatically when your Opportunities go to Closed/Won stage

External Project Portal to share

your projects with your customers or partners

Easy project file sharing and complete Chatter integration

And many other features such as Portfolio Management, Risk Management, Budgeting, Baselines, Critical Path, Constraint Management, and more!
Unlike other Salesforce Project Management apps, Inspire Planner integrates with standard Salesforce Tasks. So if users are not really interested in the overall project Gantt chart, they can simply work off their Salesforce Tasks. As you can imagine, it's much more convenient for your users to have all of their personal and project tasks in one familiar place instead of launching a separate app each time they need to work on their project tasks.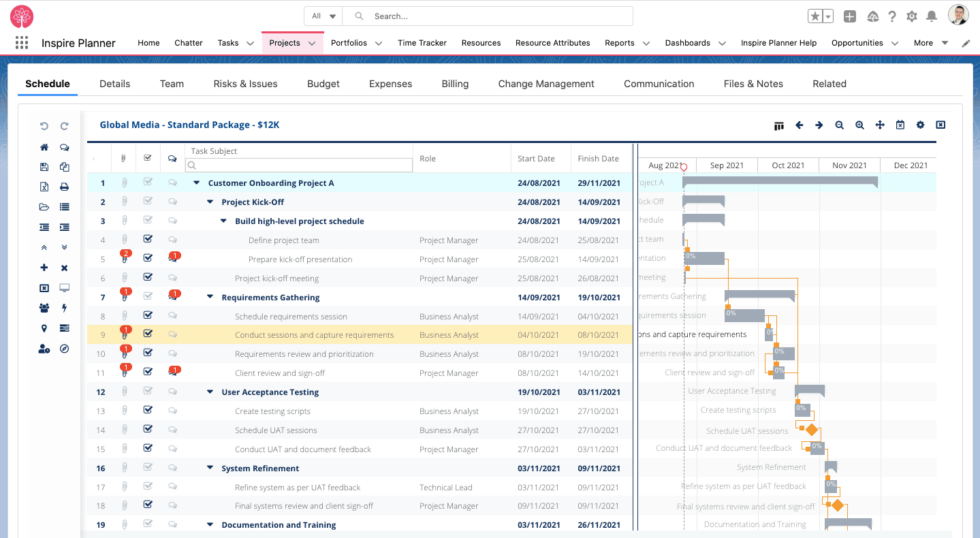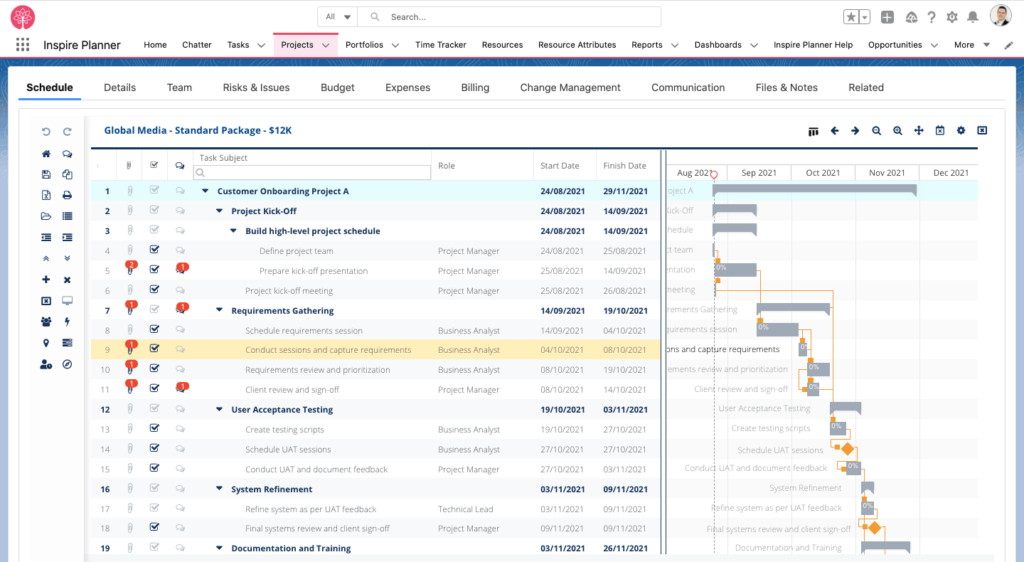 While initially Inspire Planner was designed for Waterfall project management, the team has built a full Agile functionality similar to tools like Jira. It includes all the Agile and Scrum features like backlogs, sprints, story points, burndown charts, and more.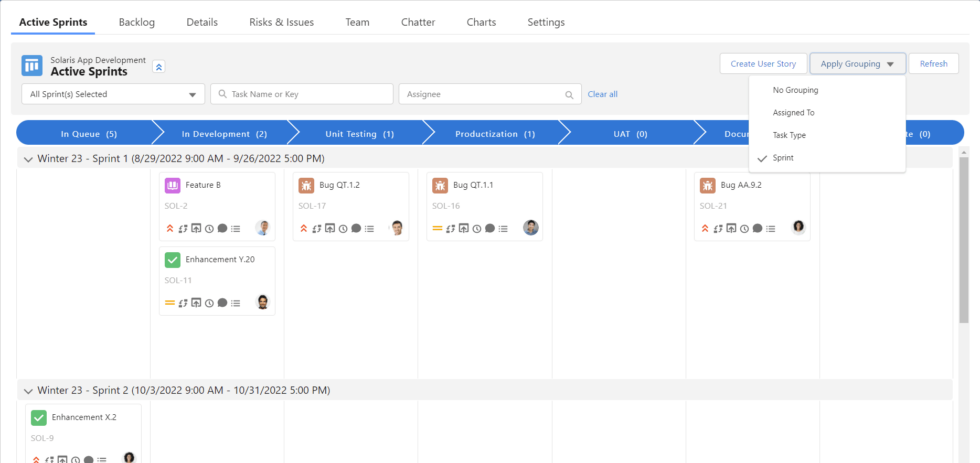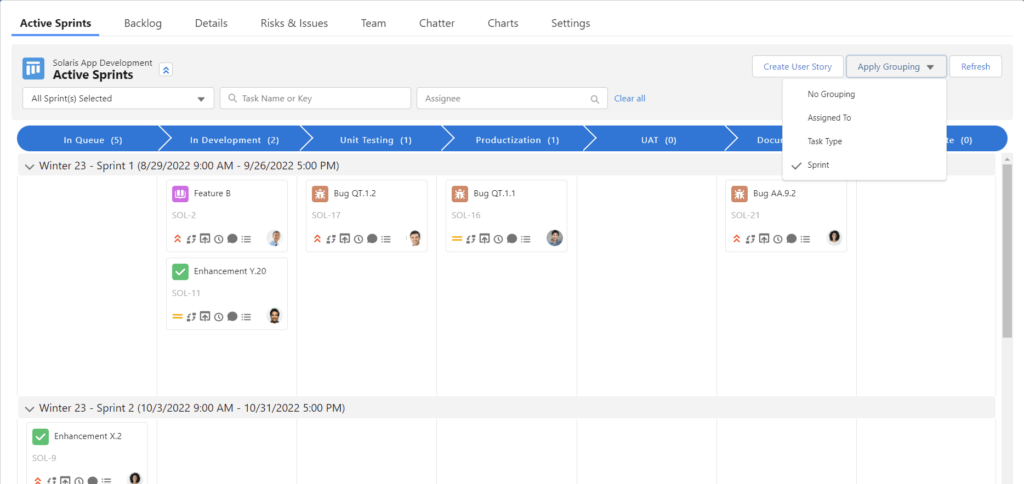 By combining Waterfall and Agile methodologies under one package with one subscription cost, Inspire Planner is the app for all your project management needs In Salesforce.
Inspire Planner has well over a hundred 5-star reviews on AppExchange, including from some of the biggest companies in the world. It is ranked by customers as one of the best Salesforce Project Management apps available on AppExchange.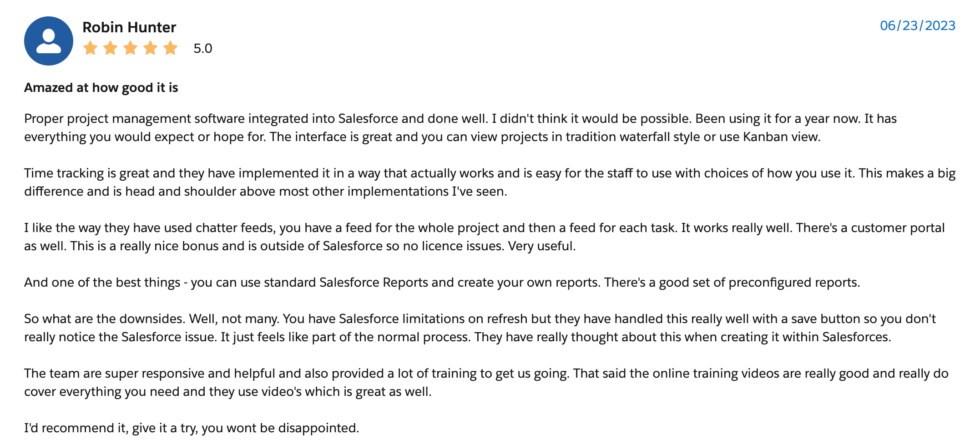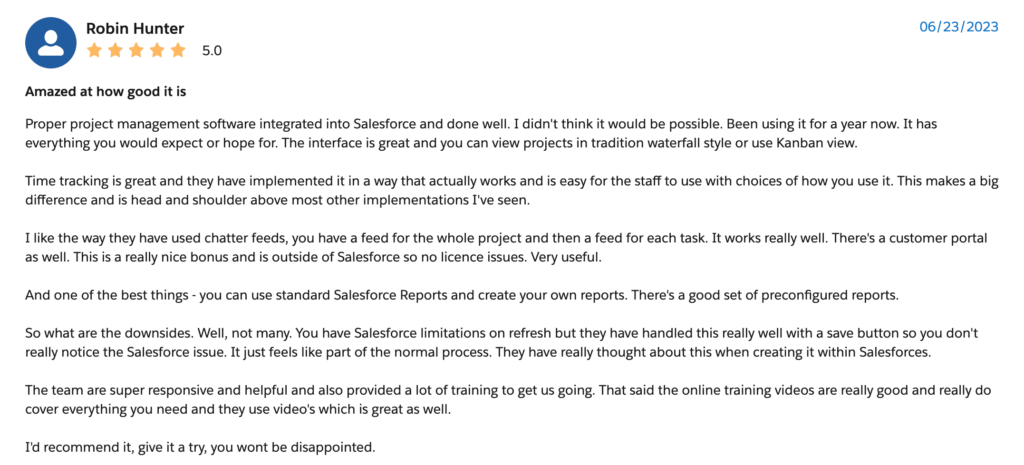 Inspire Planner Pricing: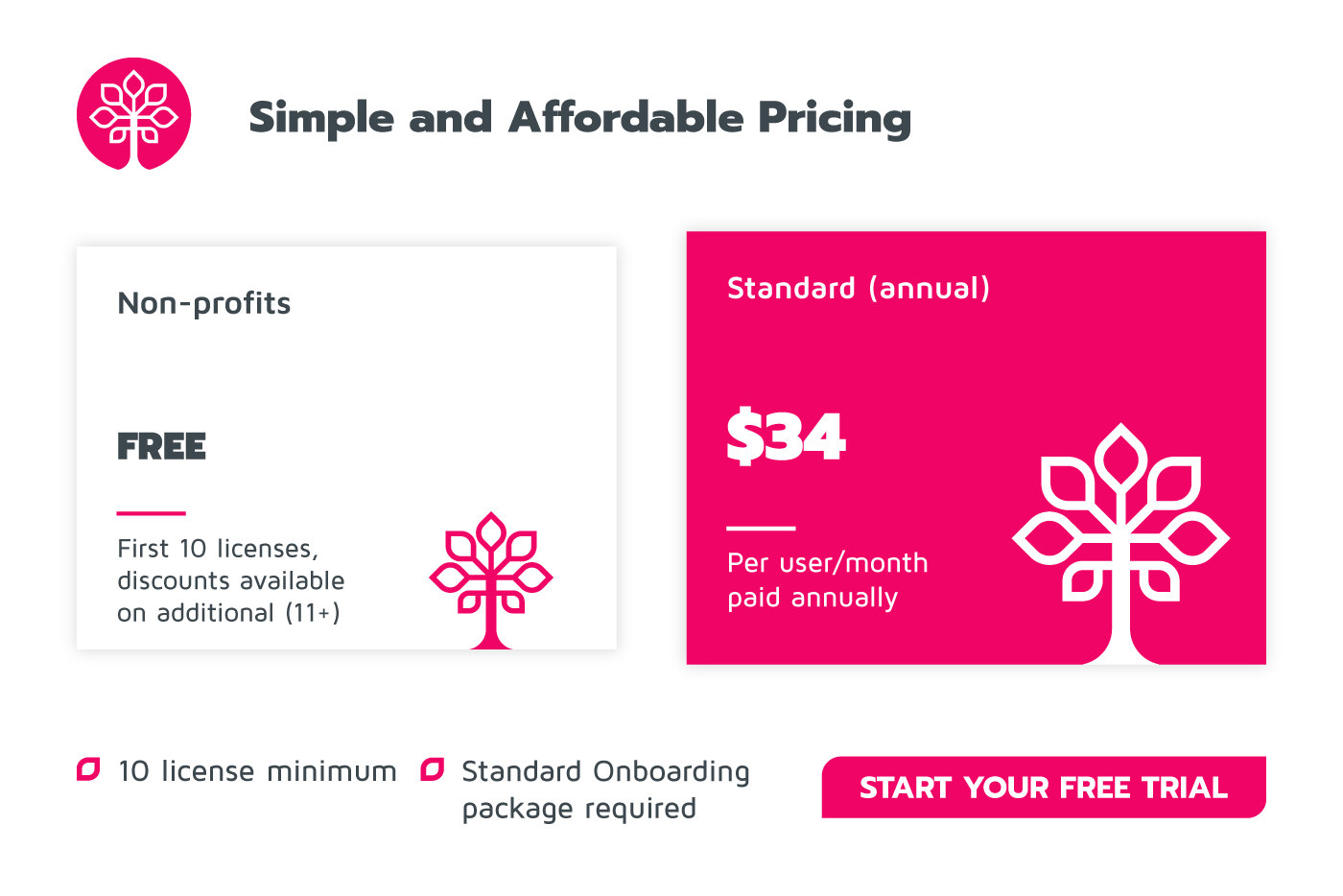 Despite all this unrivaled functionality and user experience, Inspire Planner is still one of the most affordable Salesforce project management apps.
The standard pricing of Inspire Planner is just $34/user/month and it already includes all the features. Qualified non-profits get the first 10 licenses for free, and receive additional discounts on the additional licenses.
The Standard Onboarding package is required to get up and running with the app and to properly train users. If needed, Inspire Planner's Professional Services team can deliver any additional customization requirements.
Once your business has been onboarded and begins taking advantage of Inspire Planner, you are still not alone! Inspire Planner offers top-rated customer support and an extensive Knowledge Base full of step-by-step guides with screenshots and videos to help you master the platform.
Standard support is already included in the license fee and you can also opt-in for a Premium or Premium+ support plan for the optimal level of support with items such as help ticket priority routing, ongoing case assessments, as well as consultations, support and diagnostics on any customizations you may have implemented, and more.
Inspire Planner can be a great fit for any team and type of project, from simple Task Lists all the way to the most complex Waterfall or Agile projects.
If you are currently using tools like Microsoft Project, Smartsheet, Excel, or a similar tool but want to have your projects integrated with Salesforce, Inspire Planner can be an ideal transition. You can try it with a free 30-day trial or you can request a personal demo of Inspire Planner.
Milestones PM+

Milestones PM+ is a Salesforce native project management tool that offers both a paid version and a free version of their tool. The free version is a good option for those who are new to Salesforce or uncertain that a project management tool will truly help their team be more productive, while the paid version offers more features for a team that wants a more complex solution.
Milestones PM+ Free Edition comes with some essential Project Management features, including:
Customizable project templates

(with limitations)

Gantt Charts to group related projects together

(with limitations)

Milestones to group related Tasks together

Project Tasks to log time

Chatter for the team and cross-functional collaboration

Risk and issue tracking capabilities for project contingency plans
If a business needs additional capabilities in their Project Management app for Salesforce, the paid version of Milestones PM+ is also available. This comes with the following features:
Salesforce Activity Sync to sync project tasks with Salesforce Tasks and Events all in one place so Users have full visibility into seeing everything they need to do for projects

Gantt Chart enhancements like email options and drag-and-drop functionality

Resource assignment including assigning any contacts as resources, even if they are not a licensed Salesforce User

Custom fields creation options in project templates

Email Workflows to alert Users of new Project Task assignments or project updates

And others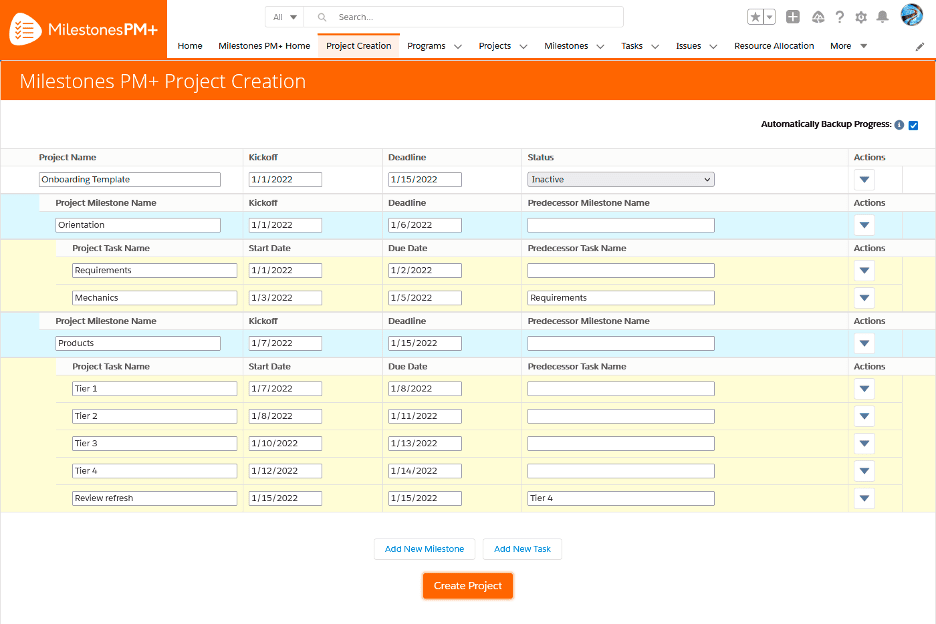 Milestones PM+ Pricing
The standard paid version of Milestones PM+ for a mid-size company (10-250 employees) is $2,064 per year per org.
Milestones PM+ also offers different starter packs:


In comparison to other Salesforce project management apps, Milestones PM+ is the lowest-rated solution on the AppExchange based on customer reviews mainly due to technical issues and not intuitive user experience.
Mission Control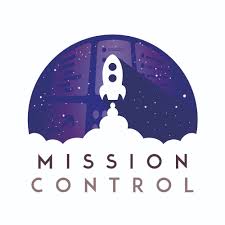 Built in Australia, Mission Control (developed by Aprika) is another native Project Management App for Salesforce that takes advantage of core Salesforce functionality. Mission Control allows businesses to effectively manage their project work and ensure there are no missed deadlines, milestones, or rollouts by ensuring the right resources are assigned to the right tasks, giving Project Managers and leads the ability to view work in an interactive Gantt Chart or a Kanban Board, and making use of Salesforce's Chatter feature to empower users to collaborate within the Salesforce Platform.
Similar to Inspire Planner, Mission Control also offers Role Management functionality to keep your teams structured, organized, and working effectively together. Simply assign a Salesforce User or Contact a Role, then map them to their relevant Skills and the Team to get started. Once set up, you are then able to make them available or unavailable (including recording upcoming Holidays) for Project work.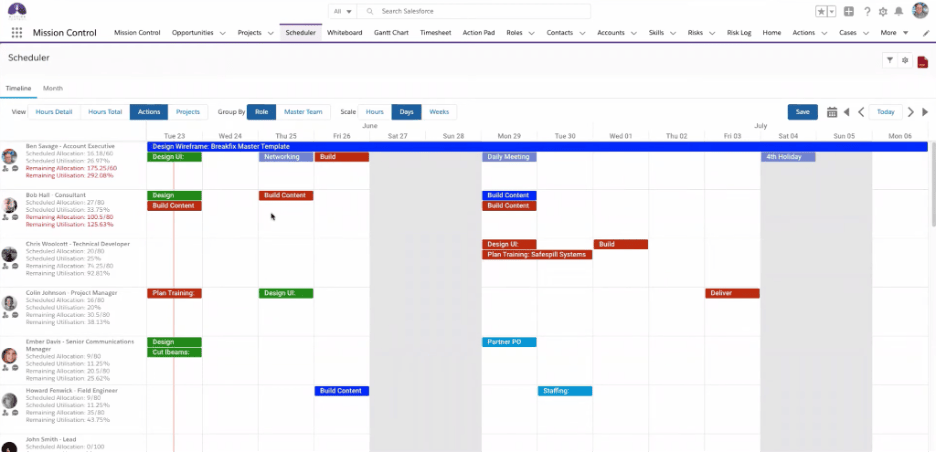 As a full-featured Project Management App for Salesforce, Mission Control includes the following valuable features:
Resource Allocation across all projects through a Scheduler of up to 12 weeks with filter capabilities based on Teams and Skills

Interactive Gantt Chart(s) with Milestones, Actions & Checklist Items

Track time with the Salesforce1 Time Logger, including Start and Stop functionality

Project Template including a "Deep Clone" feature

A Kanban Whiteboard feature to give Users visualizations of their actions based on the current status

Chatter Integration and Collaboration Timesheets

And more!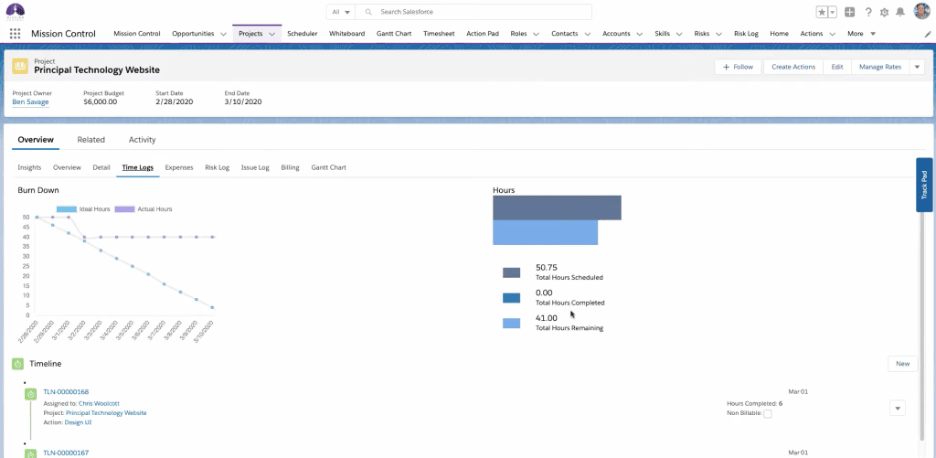 Mission Control Pricing: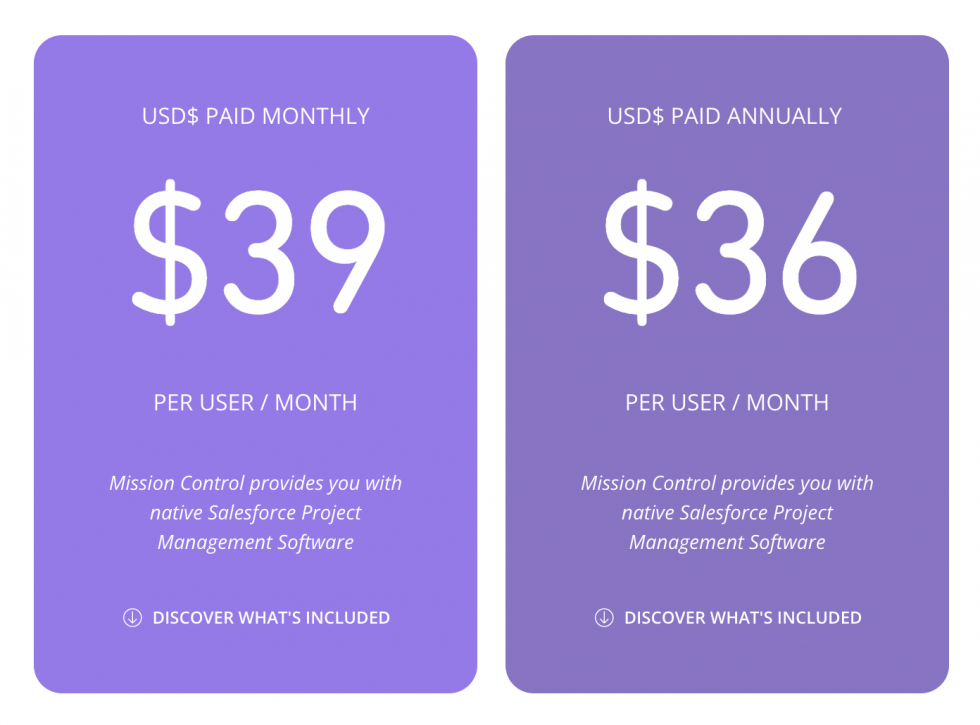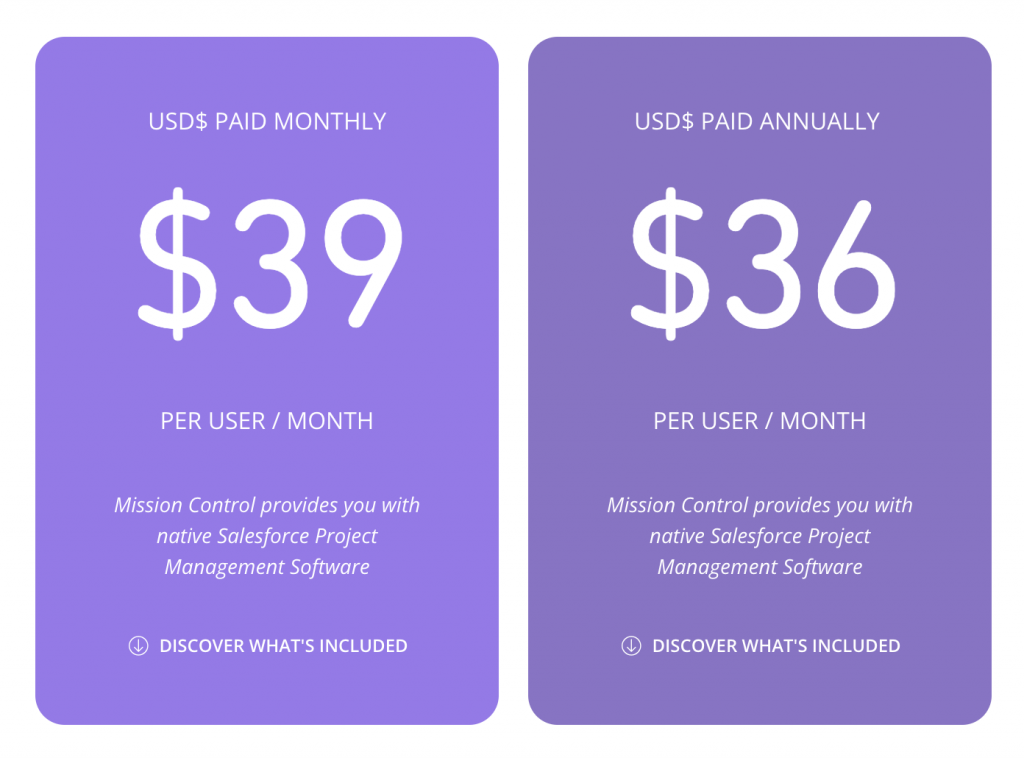 Mission Control also offers different Success Plans to buy with their product, which are between $4,995 – $19,995 USD, with an option to get a custom solution for more advanced needs:


If you're looking for a tool that offers more than just project management, such as invoicing, Mission Control may be the tool for you. Mission Control gives you great financial tracking capabilities for projects, including revenue, staff costs, and expenses.
TaskRay

TaskRay is another great option with a focus on customer onboarding projects. Their mentality of "Plan, Work, Report, Repeat" is seen through their various project management features, with some listed below.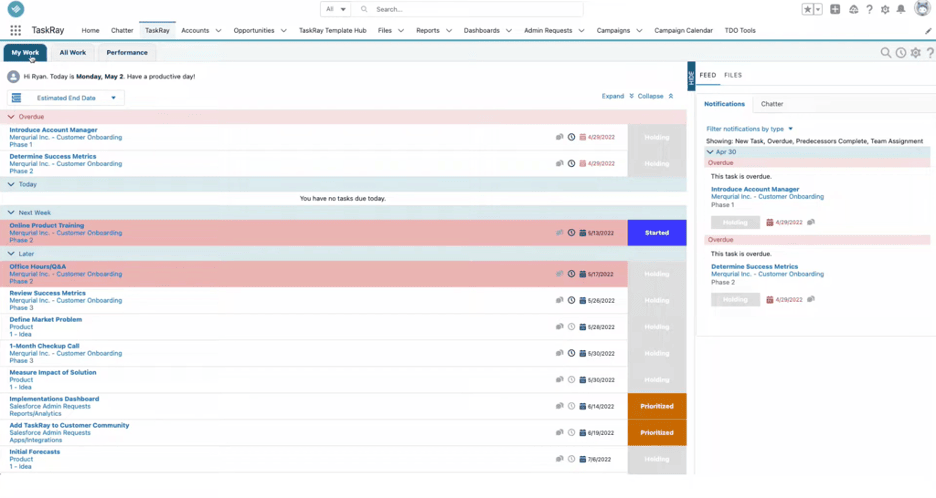 TaskRay's project management app for Salesforce offers some powerful tools that businesses of all sizes and shapes can use to effectively monitor and manage their onboarding projects:
TaskRay schedules allow for project tasks to be assigned and re-assigned throughout the team as required, and supports the ability to create basic dependencies between tasks.
Useful tools give users a greater control over their Project Templates. They are able to copy and clone tasks, checklists, and files related to the Project easily
Chatter is supported throughout! Users are able to collaborate with each other using the native Salesforce feature
Fans of Kanban can rejoice as TaskRay's offering includes a Kanban Board
Upcoming tasks can be viewed the weekly Agenda tool
The Daily Planner feature allows users to be reminded via email of their upcoming activities
With more expensive plans, users are able to log the time they spent working on a specific task using task cards, checklists, and task details. They are also able to view timesheets which show a high-level overview of the time they've spent working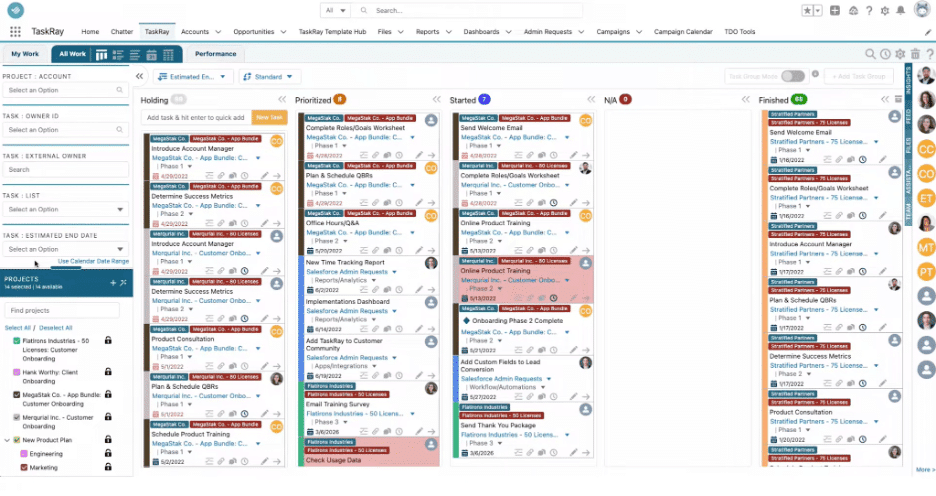 TaskRay Pricing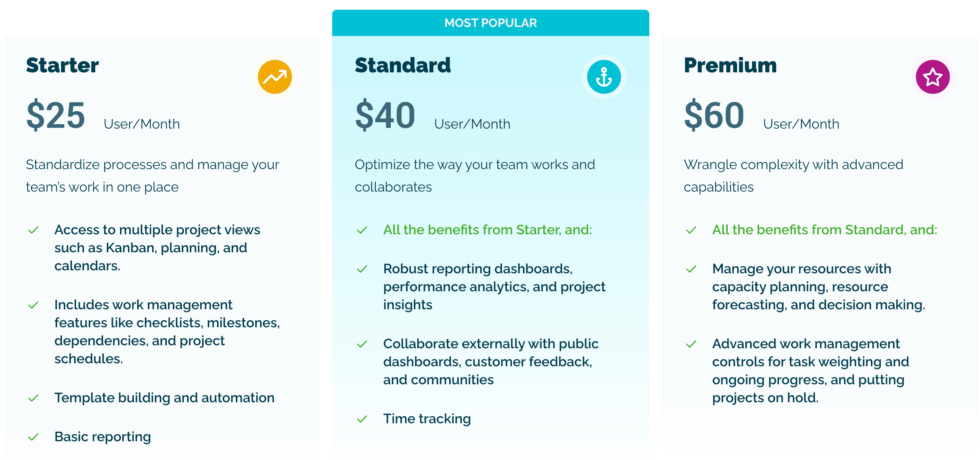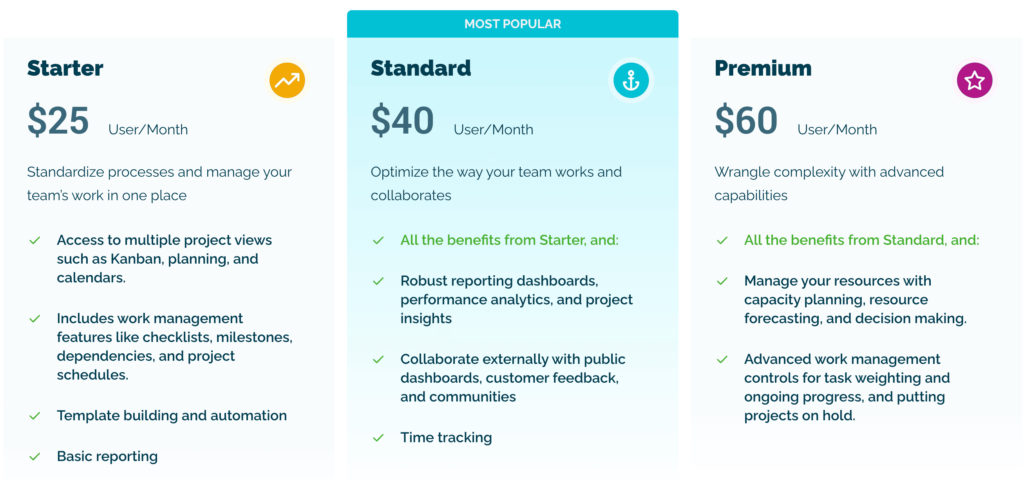 While the Starter plan is only $25/user/month, it only offers basic project management features. Even for standard features like Time Tracking or project insights, you would need to upgrade to a Standard plan at $40/user/month. And if you want to manage resources with capacity planning, be ready to go with the most expensive Premium plan at $60/user/month.
For the implementation, TaskRay offers two Onboarding plans starting at $6,000.
Standard support for TaskRay is already included with the license plan. Standard Plus and Elite support plans would cost you a specific percentage of your annual subscription with a minimum free of $2,000/year and $8,000/year respectively.
Cloud Coach
Last, but not least, on the list is Cloud Coach. Cloud Coach is yet another full-suite offering that allows businesses to perform Project Management in Salesforce. Cloud Coach offers Project Management in multiple different ways: Checklist, Kanban Agile, Waterfall, or a hybrid Scrum-Waterfall methodology.
It leverages Project Templates to allow for the quick and easy creation of standardized Projects, it supports the ability to assign the right person to the right task using Skills Based Resourcing, and user-friendly time tracking, among other things.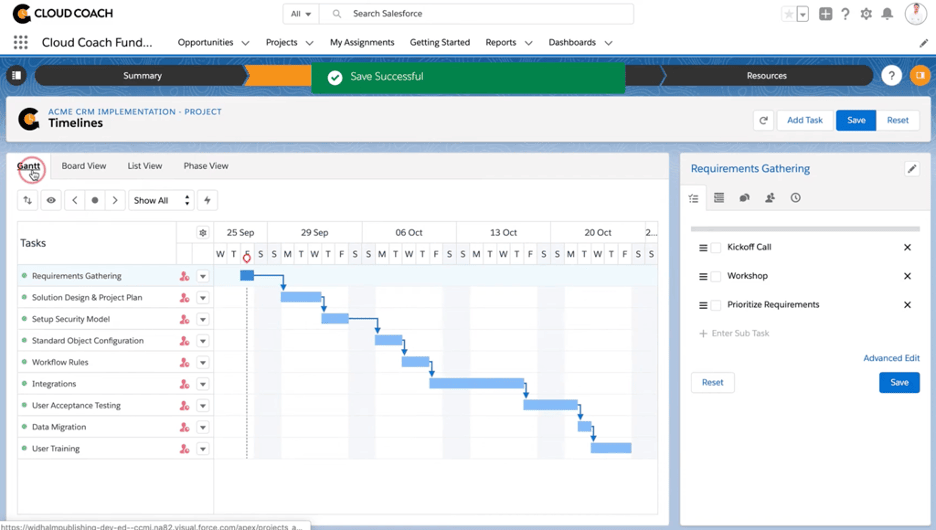 Cloud Coach supports multiple different project types: Checklist, Kanban, Waterfall, and Scrum-Waterfall
Full support for time tracking, task assignment, and collaboration
Easily manage your Risks, Issues, and Change Requests within the Project Management suite
Make use of your data by creating Reports and Dashboards – Cloud Coach fully supports standard Salesforce Reports and Dashboards
Project Financials are able to be managed from the same user-friendly interface as the rest of the project, and the data can be used in the same Reports and Dashboards
Cloud Coach Pricing:
There are three versions of Cloud Coach: Starter, Enterprise, and Ultimate. The Starter edition is completely free but comes with some heavy limitations (No Resource Management/Forecasting, no Risk/Issues assessment, no Change Requests, etc.).
The Enterprise edition starts at $59 USD per user per month but lacks Project Portfolio Management, Advanced Stage Gate Processing, and Scoring/Prioritization functionality.
Cloud Coach's Ultimate offering has no restrictions and diverges from the 'per user' pricing model, and it starts from $ 2,500 USD per company per month.
Questions to Ask When Choosing Between Salesforce Project Management Apps
If you are currently looking for a suitable Salesforce project management app, here are the 10 key questions that will help you make the right choice.
How well does it integrate with Salesforce?
How intuitive is this Salesforce Project Management App for end-users?
Does it integrate with native Salesforce tasks?
Does your Salesforce Project Management App support all the standard task dependencies?
How does it handle resource management?
How do you track time in your Salesforce project management app?
How can your team collaborate internally and share projects with external contacts?
Can you automate processes in your Salesforce project management app?
How good is the ability to generate reports and dashboards about your projects?
What kind of support, documentation, and training is provided?
We've prepared a full guide for you that discusses these top questions you need to consider when choosing a Salesforce project management app.
So, Which Salesforce Project Management Apps Should You Choose?
The 5 Salesforce Project Management apps we showcased above all have their own sets of pros and cons. For an intuitive yet powerful Salesforce project management app at a great price, Inspire Planner may be the app for you. It also allows you to use both Waterfall and Agile/Scrum project management methodologies. If you need more PSA features with built-in billing at a higher price, Mission Control or Cloud Coach could be a good fit. And finally, if customer onboarding is your only focus rather than project management, TaskRay would be a good app to look into getting. Overall, your company and team have unique aspects to be taken into account while selecting among the best Salesforce project management apps for your business.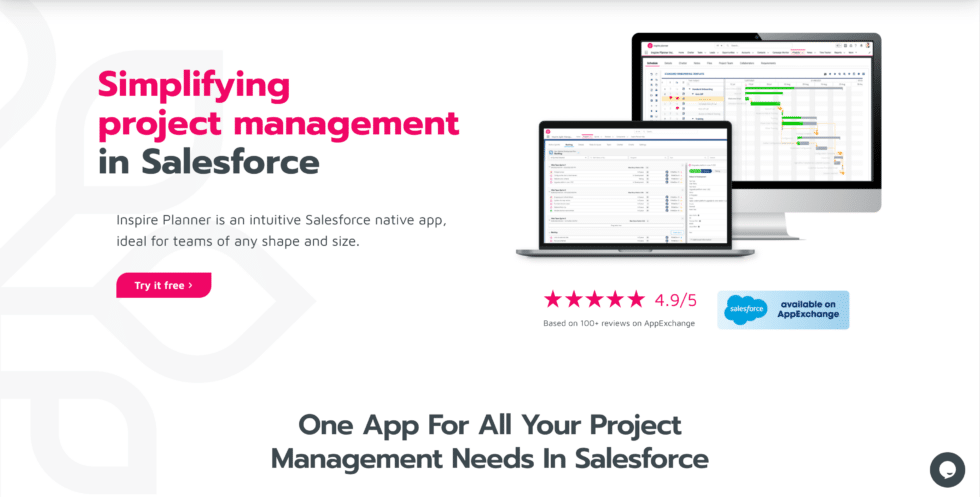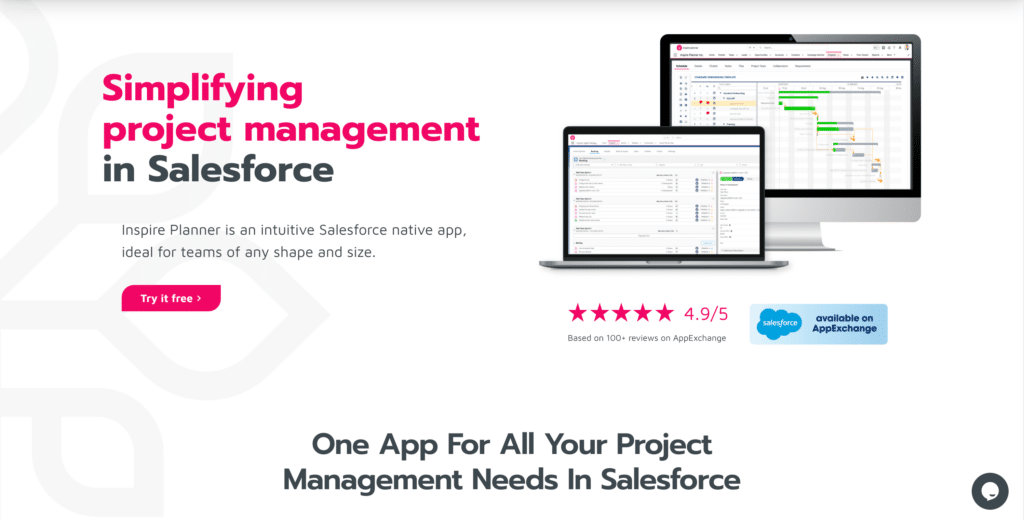 Summary
Salesforce has always been incredible at encouraging third parties to develop on their platform, share their innovations with the wider Salesforce community, and highlight solutions that add significant value to their core offering. There are several Project Management apps for Salesforce out there, with just the top five being highlighted in this article. It is up to your business to identify your Salesforce Project Management app requirements and decide what features matter the most to you.
Whatever you decide to do, make sure you test out the Project Management app in your Salesforce environment before you purchase. If Inspire Planner is a Project Management app for Salesforce that you would like to try out, be sure to make use of the free 30-day trial to help decide if it is the best match for your business. If you would prefer to see a personal demo of our Salesforce project management app, you can request a demo of Inspire Planner, and we will get in touch with you.