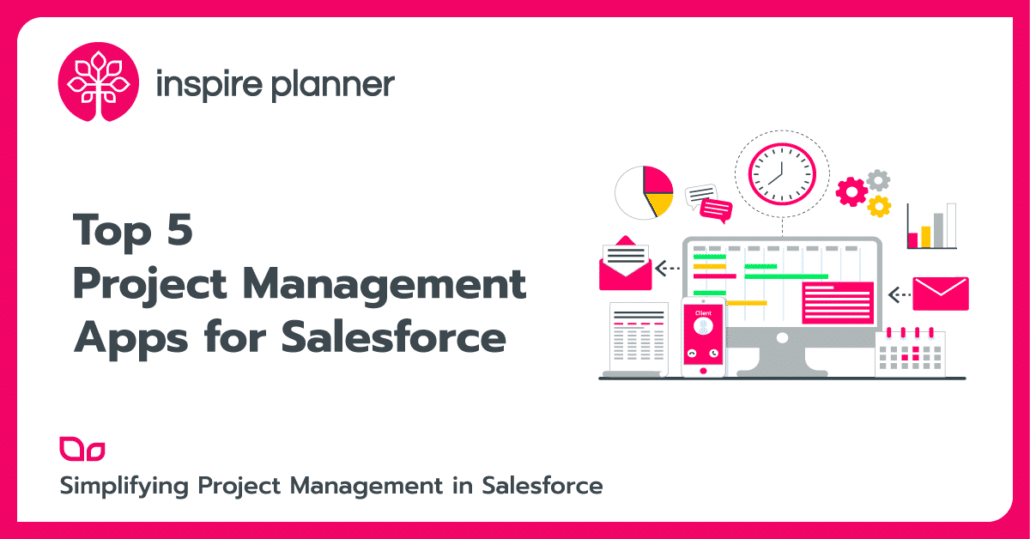 Salesforce has tons of different functions and capabilities, but it does lack one major feature: Project management functionality. You may be able to get by with some custom configurations or code to help you manage projects and people, but if you truly want to have great project management, you should consider getting one of the Salesforce project management apps from AppExchange.

However, exploring the AppExchange brings you to your next problem; There are so many different project management apps, how are you going to select the best one for your team? Do you want to spend a little more and get an app with numerous functions, or would you rather pay for an app with just the essential project management features that you truly need?
In our previous article, 5 Essential Features Your Salesforce Project Management App Must Have, we identified 5 very important project management features that you should make sure your new project management app has. As a refresher, the 5 features are: Resource Allocation, Gantt Chart, Time Tracking, Projects Templates, and Team Collaboration Capabilities.
All companies are different, which is why we are lucky that there are so many different project management tools on the Salesforce AppExchange. To help, we've consolidated a list of what we consider to be the top 5 favorite Salesforce project management apps that include some, if not all of the 5 features listed above.
So, Which Salesforce Project Management Apps Are Best For Your Team?

Inspire Planner is a powerful yet very easy-to-use Salesforce native project management app. It was created by a group of experienced application designers and project management professionals who were aggravated by the lack of project management tools in Salesforce that were not expensive or had too many extra features. That is why the Inspire Planner team invests a lot of time and effort into the simplicity and user experience of their app. In addition to that, Inspire Planner is also a great choice for the teams who need to involve external partners in the projects such as your customers or suppliers.
Inspire Planner has 5/5 of the essential Project Management features and more, including:
Resource allocation views to see available and overallocated resources

Gantt chart that seamlessly supports complex task dependencies with multiple predecessors

Time Tracking to compare Planned Project Effort vs Actual Effort for accurate project forecasting

Project Templates with the ability to link Projects to any Salesforce object, like Contacts and Opportunities

Project Task assignment to Users or even Contacts synced with Salesforce Tasks so your team is always aware of what they need to do

Easy project file sharing and complete Chatter integration

And more!
Pricing: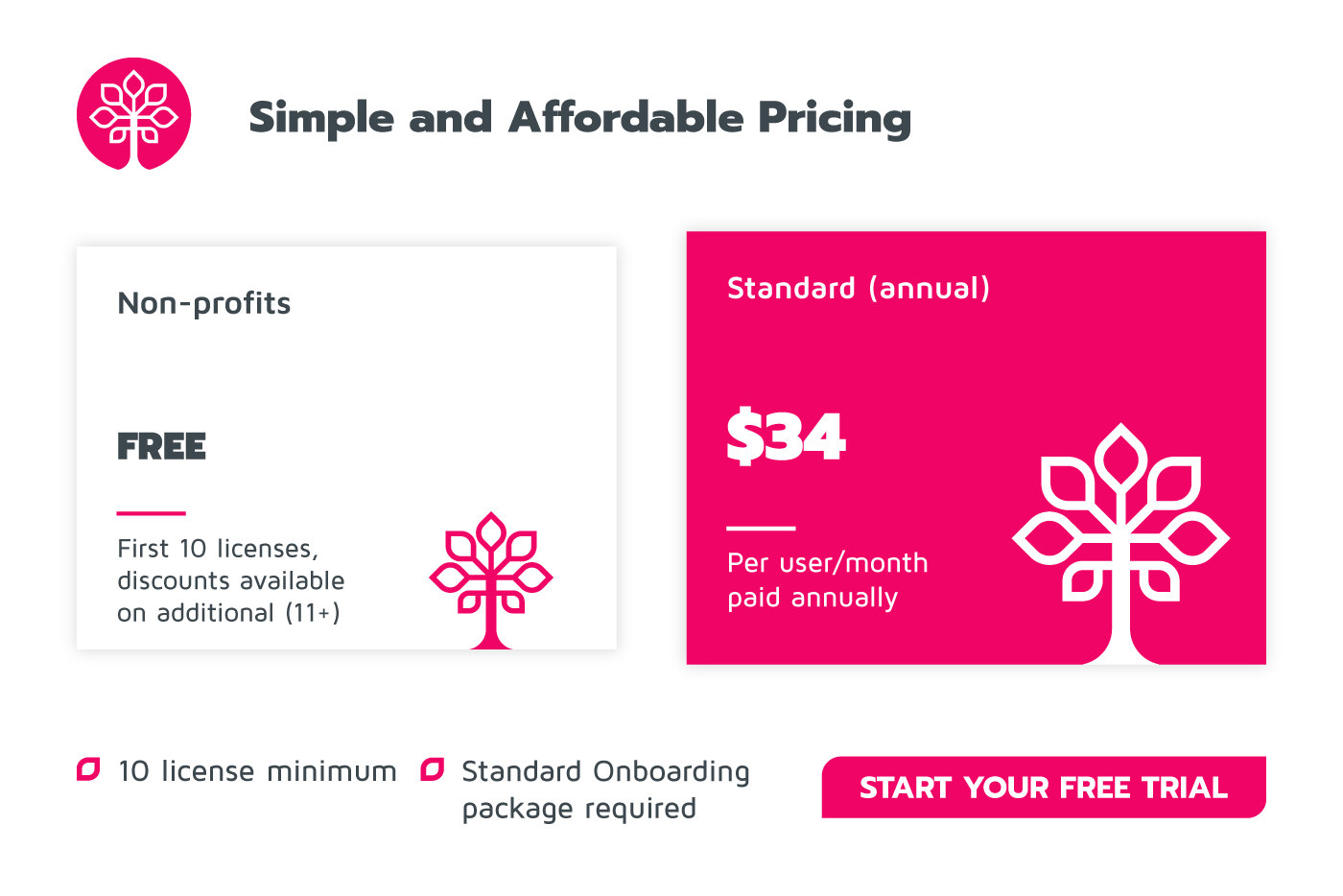 Overall, Inspire Planner is an affordable Salesforce project management app that focuses on the essential features that you need for project management as well as on great customer support. Inspire Planner is ideal for a team that wants a straightforward project management solution with no extra unneeded frills to work quicker and better in Salesforce. If you are currently using Microsoft Project, Smartsheet, Excel, or a similar tool but want to utilize your Salesforce CRM, Inspire Planner can be an ideal transition.
Milestones PM+

Milestones PM+ is a Salesforce-native project management tool that offers both a paid version and free version of their tool. The free version is a great option for those who are new to Salesforce or uncertain that a project management tool will truly help their team be more productive, while the paid version offers a vast amount of features for a team that wants a more complex solution.
Milestones PM+ Free Edition has limited versions of 3/5 of the essential Project Management features and more, including:
Customizable project templates

(with limitations)

Gantt Charts to group related projects together

(with limitations)

Milestones to group related Tasks together

Project Tasks to log time

Chatter for team and cross-functional collaboration

Risk and issue tracking capabilities for project contingency plans
Pricing:
Free!
Milestones PM+ premium version is more robust, includes all of the Free Edition features, 5/5 of the essential Project Management features and more, including:
Salesforce Activity Sync to sync project tasks with Salesforce Tasks and Events all in one place so Users have full visibility into seeing everything they need to do for projects

Gantt Chart enhancements like email options and drag and drop functionality

Resource assignment including assigning any contacts as resources, even if they are not a licensed Salesforce User

Custom fields creation options in project templates

Email Workflows to alert Users of new Project Task assignments or project updates

And many more!
Pricing: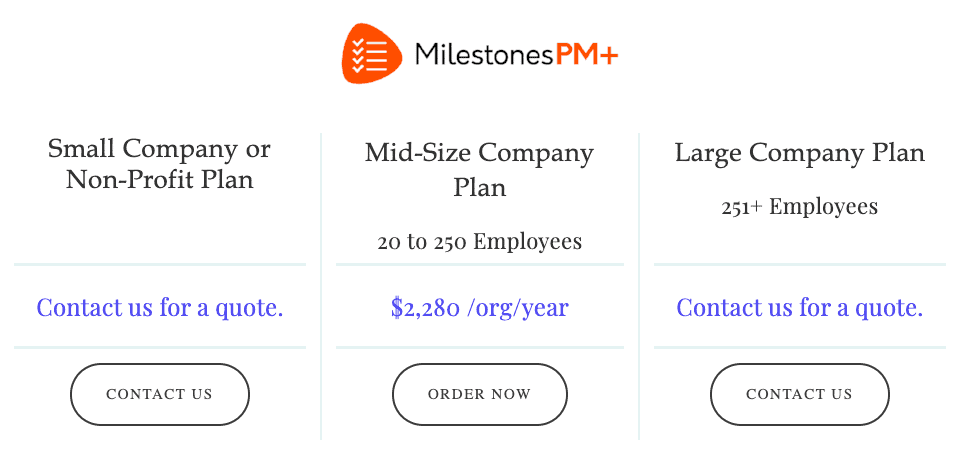 Along with a great customer support team, you can't go wrong with selecting Milestones PM+ Free Edition for your company if you would like to test drive a project management app before fully committing to a paid version. Unlike other Salesforce project management tools, Milestones PM+ offers a company-wide plan, while you also need to pay for a Service plan in order to set up the app.
Mission Control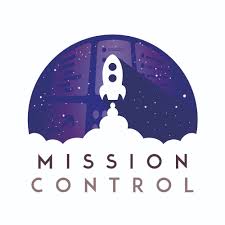 Mission Control is a native project management app built on top of Salesforce to take all of your org's customizations into account. One cool feature of Mission Control is that it uses something called Roles to help keep your team organized. You can define a Salesforce User or Contact's Role, along with Skills, the Team they belong to, and when they are on Holiday, or not available for projects. You can also track Milestones, Actions with a Time Log and more, all related to the different projects you complete.
Mission Control has 5/5 of the essential Project Management features and more, including:
Resource Allocation across all projects through a Scheduler of up to 12 weeks with filter capabilities based on Teams and Skills

Interactive Gantt Chart(s) with Milestones, Actions & Checklist Items

Track time with the Salesforce1 Time Logger, including Start and Stop functionality

Project Template including a "Deep Clone" feature

A Kanban Whiteboard feature to give Users visualizations of their actions based on the current status

Chatter Integration and Collaboration Timesheets

And more!
Pricing: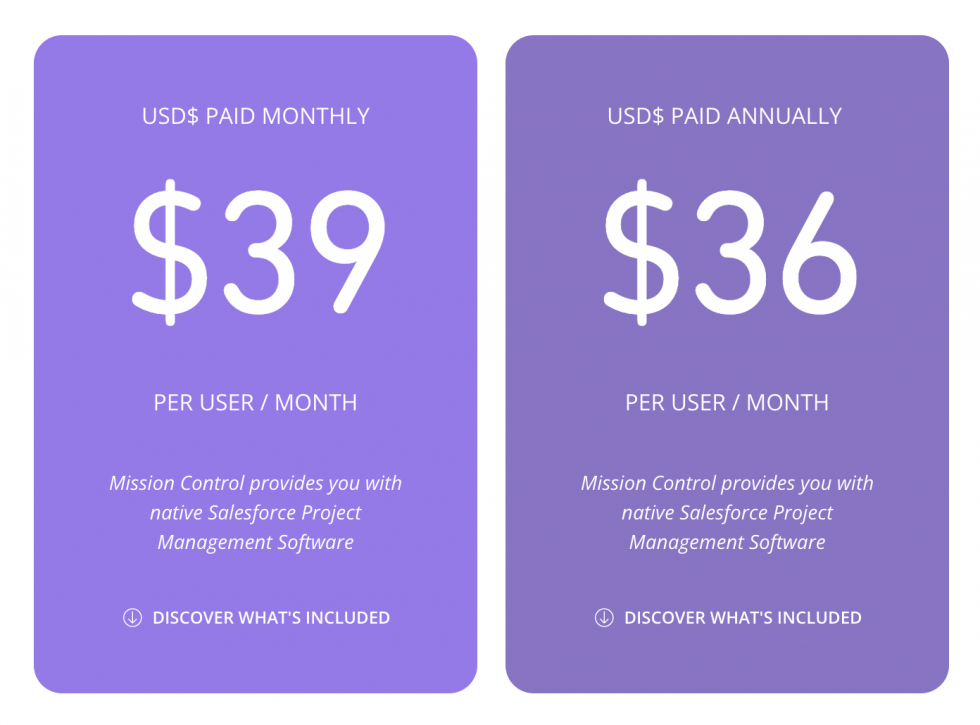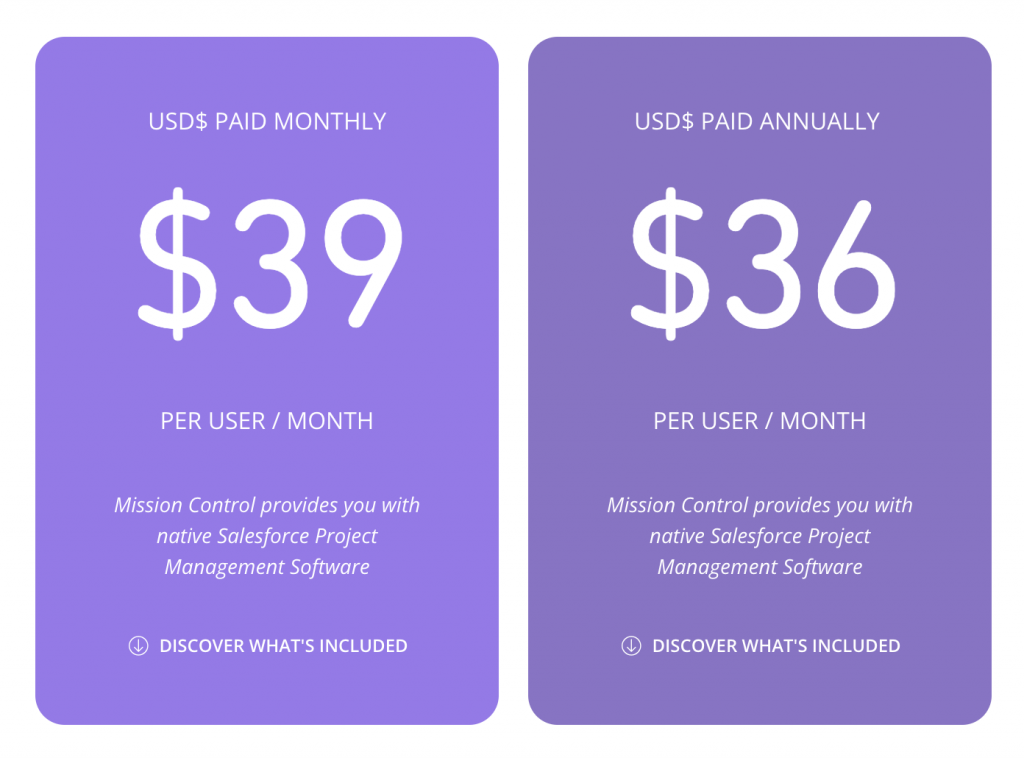 If you're looking for a tool that offers more than just project management, such as expense management, Mission Control may be the tool for you. Mission Control gives you great financial tracking capabilities for projects, including revenue, staff costs, and expenses. If you are only looking for a straightforward project management tool, you may want to pick another option. But, if you're looking for an all-around robust tool with more capabilities than just project management, Mission Control may be a great choice for you!
TaskRay

TaskRay is not only a full suite project management app but also it provides robust customer onboarding functionality in Salesforce. Their mentality of "Plan, Work, Report, Repeat" is seen through their various project management features, with some listed below, and they have also been known as "the Leader in Customer Onboarding in Salesforce".
TaskRay has 4/5 of the essential Project Management features and more, including:
The ability to plan schedules, create dependencies, and re-assign team members through Gantt chart drag and drop functionality

Time Tracking features with the use of task cards, checklists, and task details with viewable timesheets

Project Templates including the ability to copy Tasks, checklists, and associated files

Chatter Conversation functions with task card notifications enabling project collaboration.

A Kanban View to manage Tasks similar to sticky notes

A weekly Agenda feature viewable right in TaskRay

And many more!
Pricing:


TaskRay is priced similarly to Milestones PM+ and Mission Control, but also offer more than just project management. Although their Resource Allocation capabilities are not as built out as other apps, TaskRay has great reviews as far as being easy to use goes, and also offers many other exciting features such as a Daily Planner for email reminders. These reminders can contain summaries of recent activities and lists of tasks that need to be done. They also have an Email to Task function where you are able to forward emails that will actually create new Tasks!
Taskfeed

Taskfeed is one of the Salesforce project management apps that focuses primarily on customer onboarding, but we've included it in our list because it also has completely built-out project management functionality. Also, for many businesses, projects only start after a customer has been successfully onboarded to a service. Customer onboarding is step one of successful project management for many companies.
Taskfeed has 4/5 of the essential Project Management features and more, including:
Drag-and-drop Gantt Chart feature to schedule tasks, define durations of tasks and define dependencies

Track progress and time spent on projects without leaving Salesforce

Taskfeed Templates, like Project Templates, from onboarding playbooks to re-use with future customers

Collaborate with your team through Chatter and share onboarding plans with external customers or partners

Set baselines for each project to see how well your team has delivered in comparison to customer expectations

And more!
Pricing: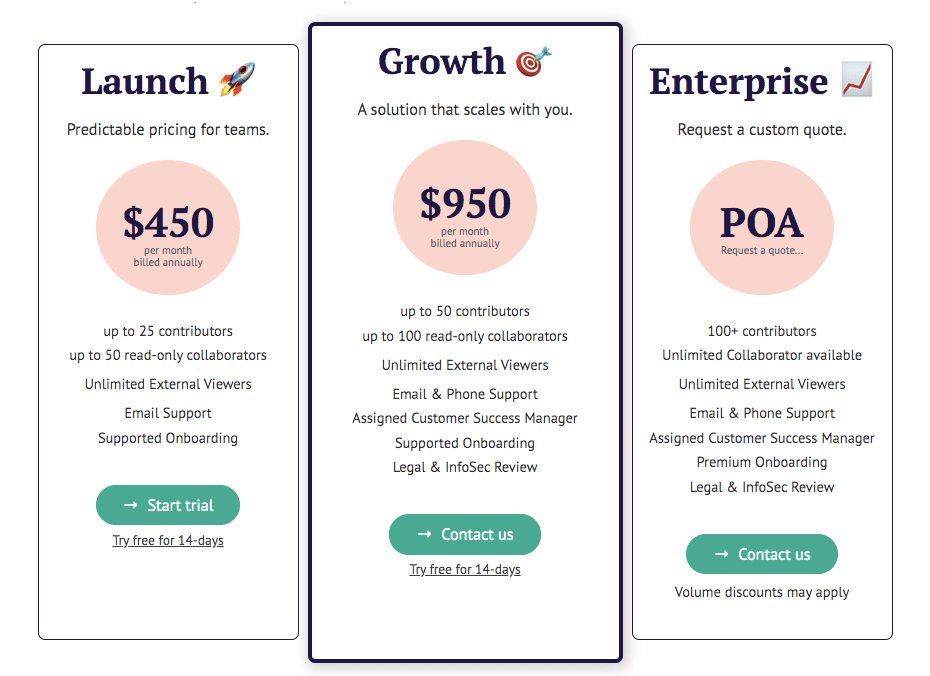 So, Which Salesforce Project Management Apps Should You Choose?
The 5 Salesforce Project Management apps we showcased above all have their own sets of pros and cons. For an intuitive yet powerful Salesforce project management app at a great price, Inspire Planner may be the app for you. If you need more PSA features with built-in billing at a higher price, Mission Control would make a great fit. And finally, if customer onboarding is your main focus rather than project management, TaskRay or Taskfeed would be good apps to look into getting. Overall, your company and team have unique aspects to be taken into account while selecting among the best Salesforce project management apps for your business.