Ensure your successful adoption of Inspire Planner through our Onboarding Services.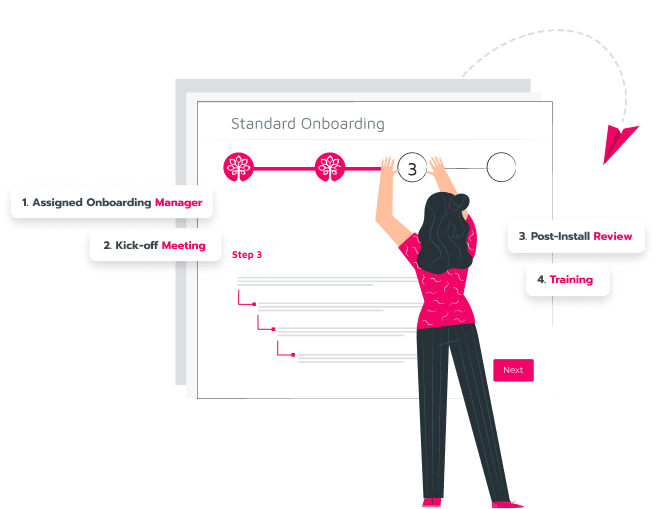 Hit the ground running knowing that we've got your back!
With an assigned Onboarding Manager, you'll have access to our team of experts focused on guiding you through installation, setup, training and best practice use of the application.
Standard Onboarding
$2,500
USD
Post-Install Review
Access to Pre-recorded Training Library
Assigned Onboarding Manager
Kick-off Meeting
Live Training – Power Users (up to 5)
Admin Settings Overview
Standard Permission / Project Sharing Setup
Standard Configuration Support (Waterfall, Agile, Task Lists)
Single Environment Go-Live Support
Additional Services
(estimated by need)
Extended Customizations
Custom Project Record Types
Process Flow Automations
Custom Template Support
Multi-template Stitching Configuration
Multi-Currency Configuration
Custom Security Setup
Data Migration
Reporting & Dashboards
Live Training - Extended 
System Design & Architecture Consultation
Salesforce Communities Guidance
Multi-Environment Testing/Roll-out Support
Go-Live Hyper Care Support
General Salesforce setup and management is not included
Standard implementation will be approx. 6 weeks to a maximum of 8 weeks at which time the customer will transition over to Inspire Planner Standard Support or an optional Customer Success Plan
All Additional Services are provided on a time and materials basis
3rd Party App Integration is not available as an additional service
Post Go-Live support & diagnostics for extended configuration or development is covered under the Premium+ Success Plan
Looking for Pricing Plans?