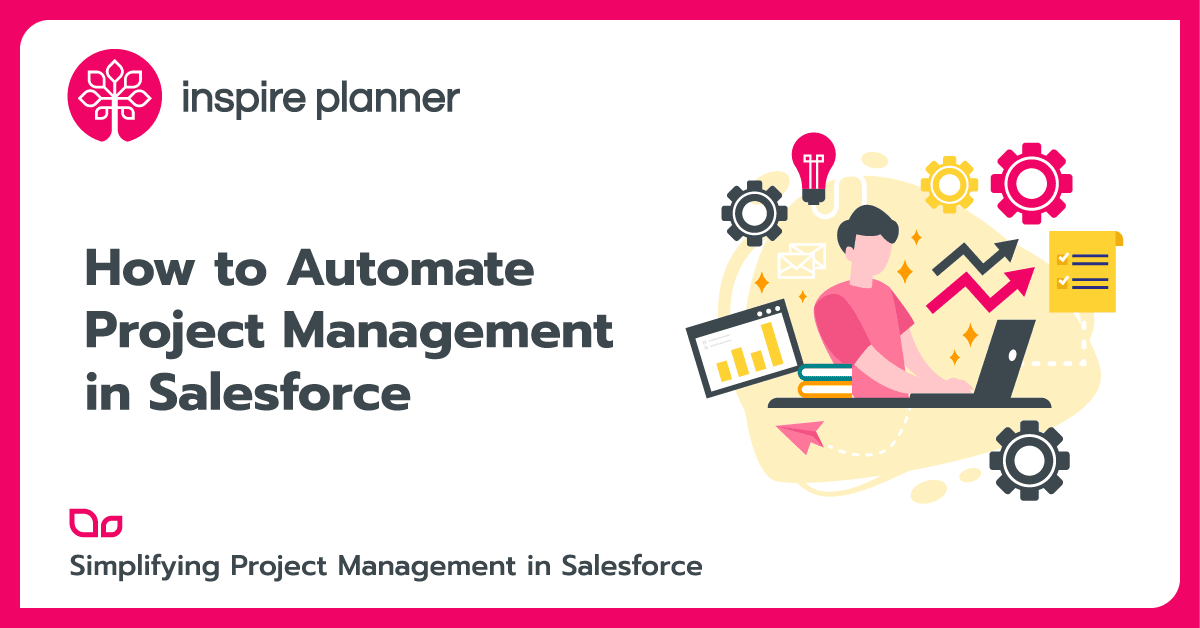 Managing your projects within Salesforce ensures that all your key data is available in one place, with everybody who needs the ability to access it already on-platform and familiar with the user interface. On top of it, you don't need to create and maintain integration with external third-party project management tools. However, if you are looking to step up your Project Management on Salesforce game even further, the best way to do so would be through automation. This article will run you through the best ways to automate Project Management in Salesforce.
Automation helps your organization create value through a reduction of time spent performing tasks, a reduction of risk related to human error, and the creation of a streamlined experience for your users and customers.
The possibilities are endless when using out-of-the-box Salesforce automation tools like Salesforce Flow and the right Salesforce project management apps like Inspire Planner.
Examples of How You Can Automate Project Management in Salesforce
Once you have decided to automate project management in Salesforce, the question becomes What do we automate?
There are several project management automation scenarios listed below that have been proven to save businesses time and resources. These may give you ideas as to what you wish to automate in your Salesforce org.
Automatically Launch Projects with a Salesforce Flow
It's a common scenario that companies need to launch projects from specific templates when Opportunities move to the Closed/Won stage. Doing this manually for every opportunity takes a considerable amount of time and effort. Furthermore, it also leaves room for human error or for someone to simply forget or delay a step.
With Inspire Planner, a Salesforce native project management app, you can create a record-triggered Salesforce Flow to automatically create a project from a specific template based on different criteria (e.g. Opportunity stage is updated to Closed/Won).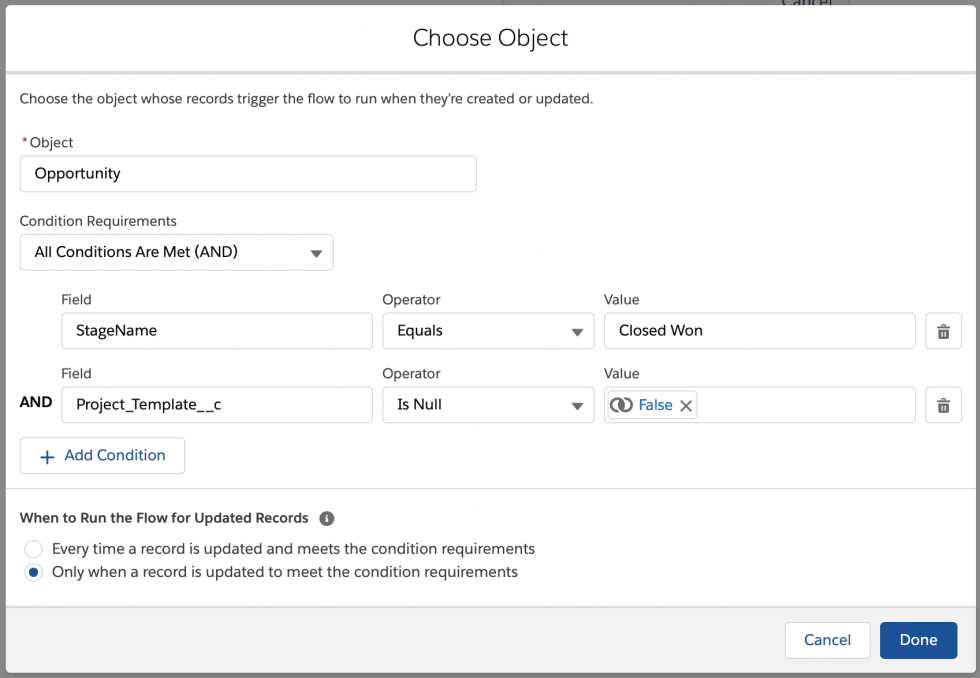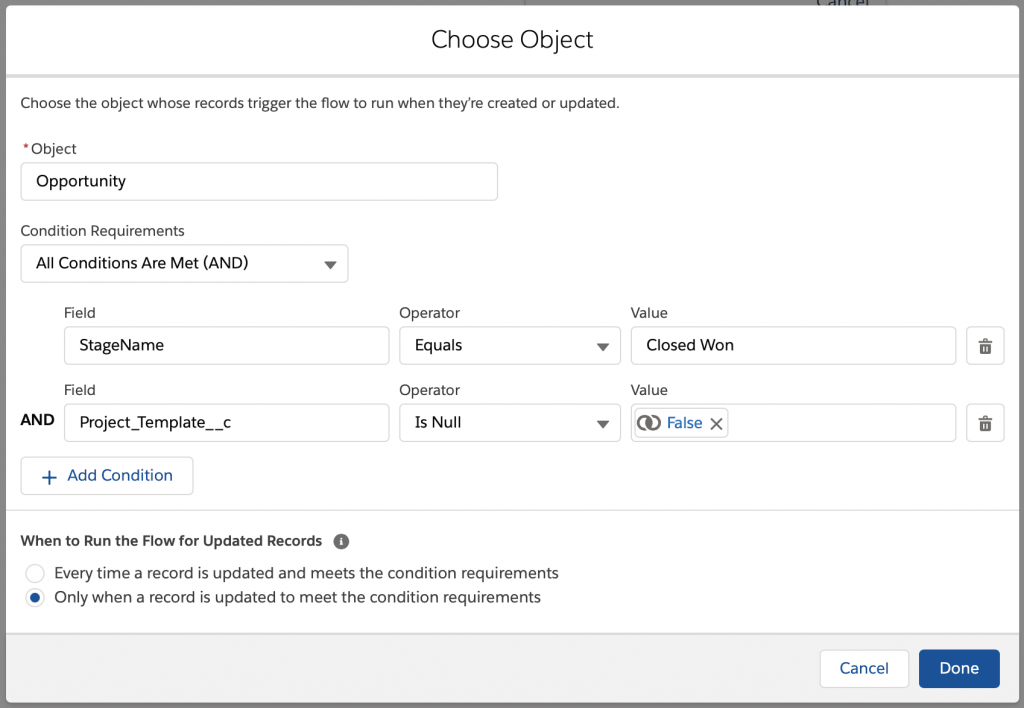 This new Project will inherit from the template all your phases and tasks, predecessors, file attachments, resource roles, and more.
So to get started, your project manager simply needs to update the Start Date of your first task and assign the project team (both can be automated too!).
A similar Salesforce Flow automation can be configured to launch projects from other stages of the Opportunities or for other objects in Salesforce such as Cases, Accounts, Orders, and more!
Automate Project Management in Salesforce with Project Templates
If your organization delivers projects that follow standardized processes, you can automate project management in Salesforce by setting up project templates and using them each time you wish to set up a new project instead of building them from scratch.
Setting up project templates can be a simple process with the right tool. For example, in Inspire Planner you simply need to check the 'Is Template' checkbox when creating a new project to make a Project Template. And you can create an unlimited number of templates for different processes within your organization.
Project templates will let your Salesforce project management software do some of the more menial work for you, leaving you and your team to focus their efforts on delivering high-quality service to your customers.
With Inspire Planner, your Projects will inherit most of the required information from the template, including Tasks, File Attachments, Task Durations, Start and Finish Dates, Predecessors, Assigned Resources, Priority, Planned Effort, Budgeted Cost, Categories, Notes, Project Layout and Settings, and more.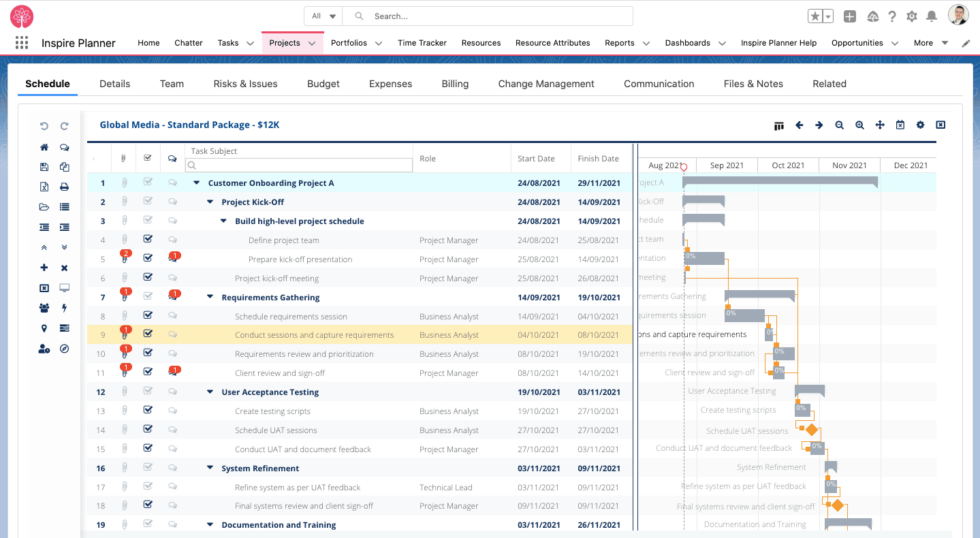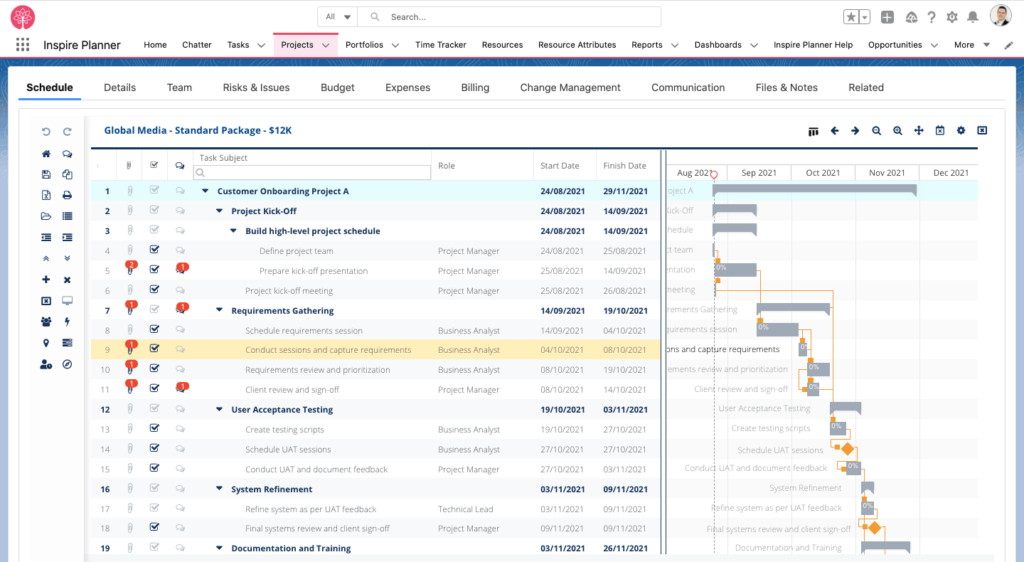 Automate Project Management in Salesforce with Role-Based Task Assignment
Automatically assigning your project tasks to the right resources is an easy way to automate project management in Salesforce.
Depending on the number of tasks in your projects, this could add up to a significant amount of your project managers' time if done manually, and that is assuming they get it right every time. If there is a tool at your disposal that alleviates this burden from your project managers and allows them to focus on more important work, why not put it to use?
Luckily, this is also something that Inspire Planner offers out of the box. You can predefine which Roles will be responsible for each task while building out your templates or project plans.
Then you simply need to assign a resource to a specific role, and Inspire Planner's built-in automation will immediately assign all the tasks in your project to the right project team members.
Template Stitching
Launching projects automatically from Opportunities based on templates is a great way to automate project management in Salesforce. But what happens when you sold several products within your Opportunity and each product requires a different set of tasks?
Can you automate such a process in Salesforce within one project plan instead of creating separate projects?
The good news is that the answer is yes. Inspire Planner offers Project Template Stitching functionality that allows you to create a single project from an Opportunity by "stitching" (combining) different templates related to Opportunity Products.
Furthermore, you can define a header template (a set of tasks that needs to be performed no matter which products were selected, e.g. Project kick-off phase) and define an order of execution of your templates by simply dragging templates into the desired positions.
And with additional Salesforce configuration, you can configure Project Template Stitching in Inspire Planner to work with other objects in Salesforce instead of Products.
Automate Your Project Schedule with Task Dependencies
You can automate Project Management in Salesforce by setting up Task Dependencies in your project Gantt chart. This way your project and all the tasks would operate as one cohesive unit as opposed to each task being separate. Therefore, updating any task would automatically recalculate the entire project schedule for you, no matter how complex your project is!
Inspire Planner supports four main types of predecessors (Finish-to-start, Finish-to-finish, Start-to-start, and Start-to-finish) as well as multiple task dependencies. If you are not familiar with these terms, a predecessor is an activity that needs to begin or end before a successor task can proceed, and a successor is an activity that follows another activity based on their dependency on each other and not necessarily in chronological order.
On top of that, with Inspire Planner you can also add lead or lag time to your dependencies (e.g. task needs to start 3 days after another one finishes, or one day before, etc.), and even more advanced features like constraint management (e.g. a task must finish on a particular date).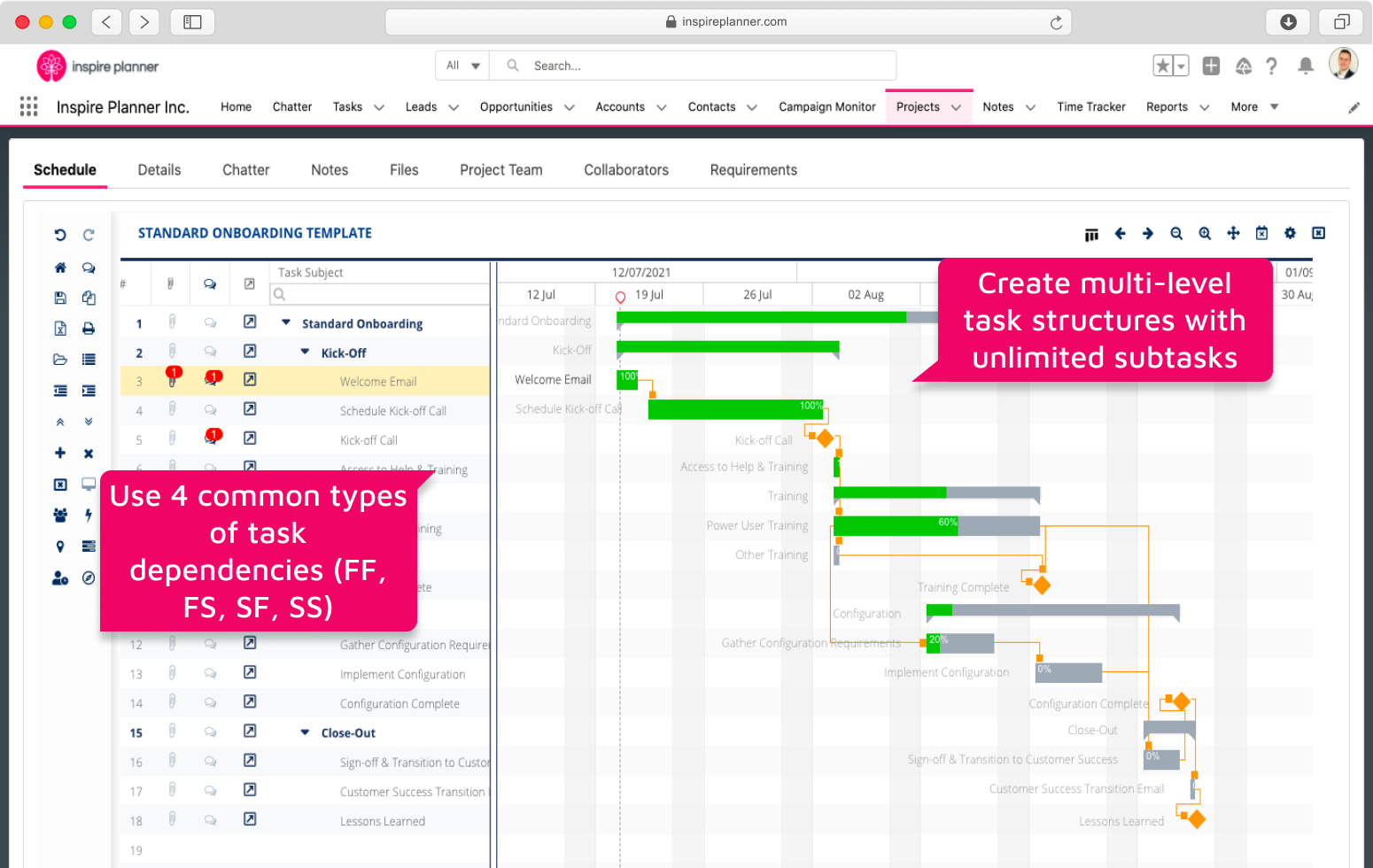 Once set up, these predecessor and successor Tasks can also be viewed in a simplified Component on the Task page by end users. So that even if your team members don't have access to the project or are not familiar with Gantt charts, they can still easily understand what depends on them in this project.
Automation of Notifications
Another major element of project management automation in Salesforce is notifications.
If you want to deliver your projects on time, you will need to keep your project team up to date on upcoming deadlines and milestones. To start with, you can configure automatic alerts and notifications for Project Tasks through Salesforce. This will send your project resources email reminders about their tasks and will also display a notification reminder in Salesforce itself.
For example, you can set up task notifications a few days before the task is due, when the start/finish dates of the task were updated, an alert notification when the task is overdue, and more. Since Inspire Planner fully integrates with standard Salesforce Tasks, some of these notifications will be available to you out of the box.
Finally, you can configure alerts in Inspire Planner for actions like Ready-to-Start Tasks. When all predecessors have been completed, Inspire Planner automatically marks your tasks as "Ready to Start". You can then send alerts to the people assigned to this task or use a list view that displays only such tasks. This way your project team will easily know what they have to focus on next.
Automation of KPIs and Reports
The next idea to automate project management in Salesforce is by automating KPIs and scheduling the delivery of your project reports.
You might decide to manage KPIs manually based on the current state of your projects or to automate them if you have standardized criteria for KPIs internally. In any case, you can configure alerts for your project managers when any of the project KPIs go from Green to Amber or Red.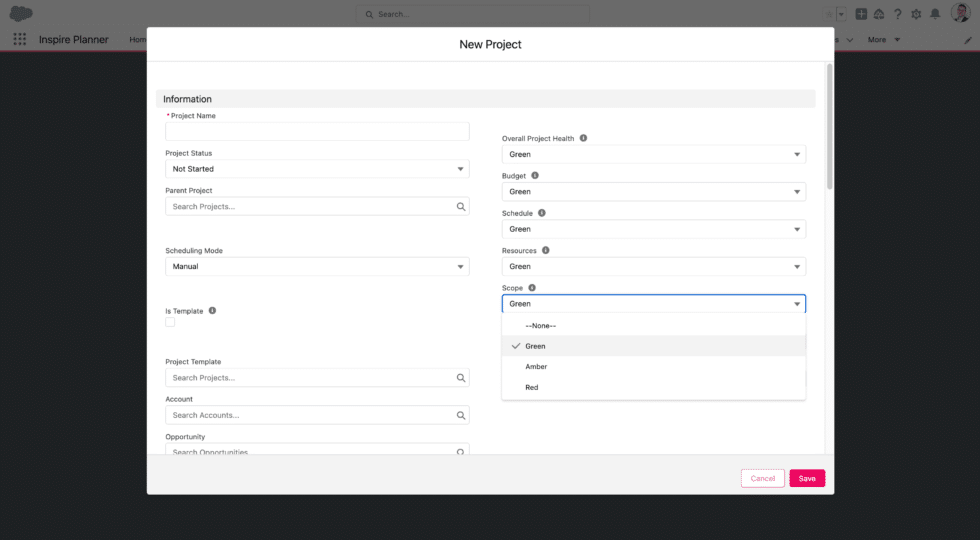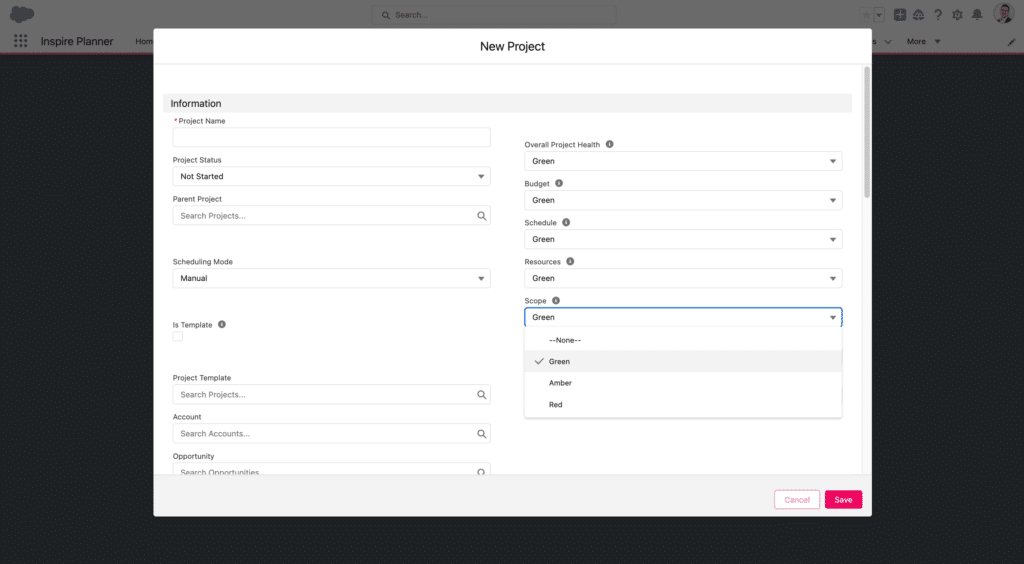 By using Salesforce native project management apps, your team can benefit from powerful Salesforce Reports and Dashboards. For example, Inspire Planner offers out-of-the-box a whole folder full of project reports, an ability to generate your project status report with a few clicks, and also two dynamic dashboards for your Portfolio and Resource Managers.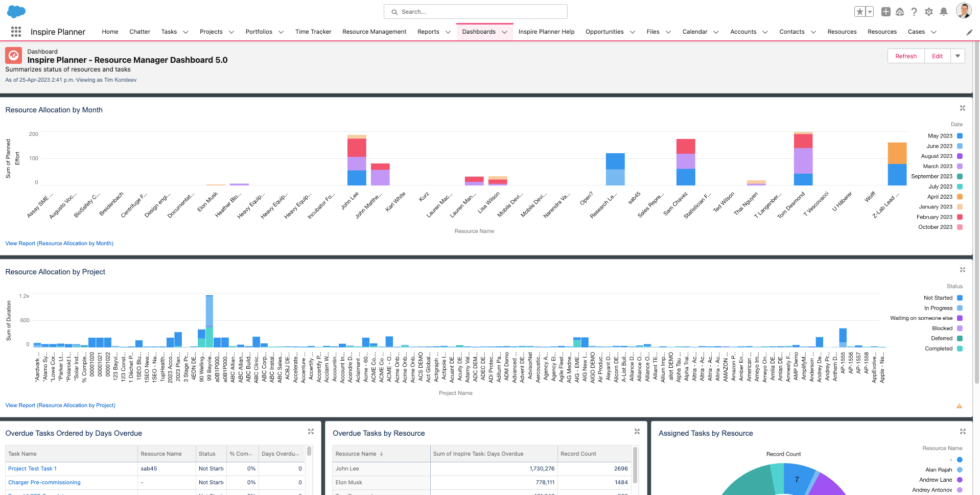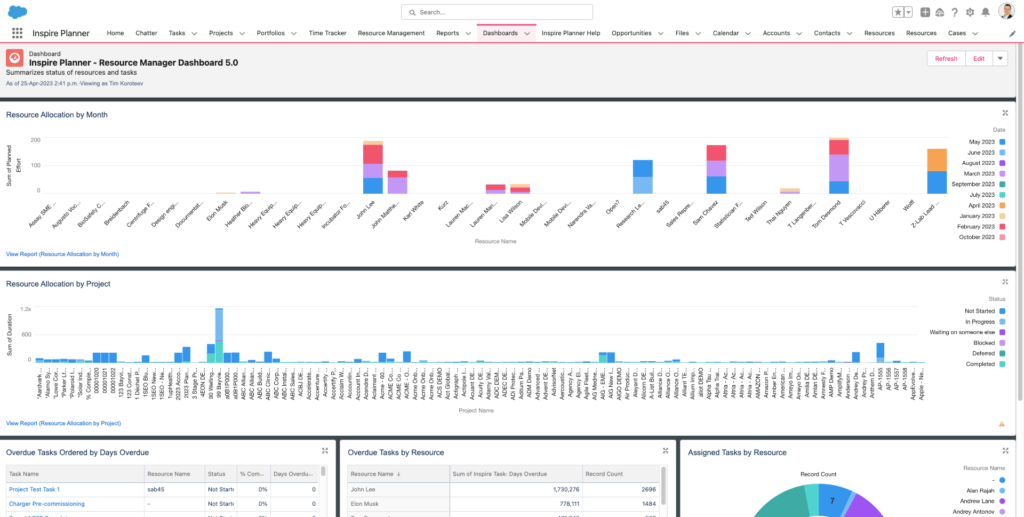 Salesforce then allows you to schedule and subscribe to your project reports. This way your team can receive notifications about the most important project metrics without manually running and emailing reports.
One of the best practices for reporting on your projects is to create Project Baselines in Inspire Planner. The Baseline can be used to report against your planned Project Schedule and the actual performance of your Project. The Baseline can also be used to track and send notifications when there are delays in the Project and when Tasks fall overdue. These notifications may draw attention to areas of the Project that need more focus, which will result in a reduction in delays.
Automate Project Management in Salesforce with Approval Processes
Approval Processes can help you automate project management in Salesforce when you need to get a sign-off for something in your organization.
Typical examples of approval processes in project management include employees requesting PTO from their managers, project managers getting approval for changes within the project scope, getting invoice approval, and more.
With Salesforce Approval Processes, you can easily define your approval steps, lock records, allow recalls of approval requests, define an approver, create notification templates, and more.
To launch approval processes in your projects in Salesforce, you can use custom buttons (e.g. "Submit for Approval") that users need to click or launch approval processes automatically with a Salesforce Flow.
Automate Project Portfolios
Project portfolios allow you to group together and view a set of projects in a single combined Gantt chart. With Inspire Planner, you can create an unlimited number of Portfolios for various needs, e.g. a portfolio of your projects, a portfolio of projects for a specific customer, and so on.
Portfolios can display the overall project schedule, overall project health, percentage completed, project milestones, and more. Furthermore, one project can belong to multiple portfolios.
With Inspire Planner, you can add projects to Portfolios or remove them manually or with automation via Salesforce Flows. For example, when a project is completed, you can automatically remove it from a portfolio.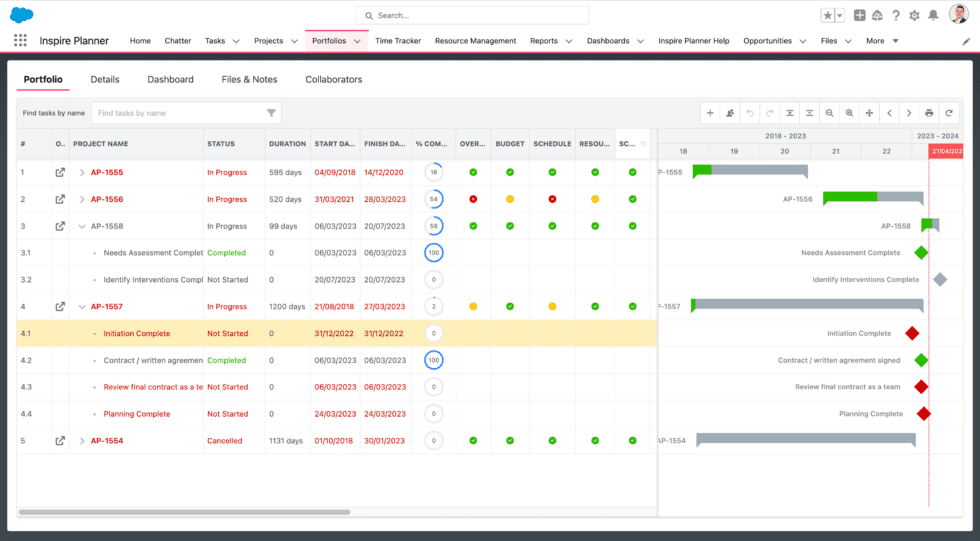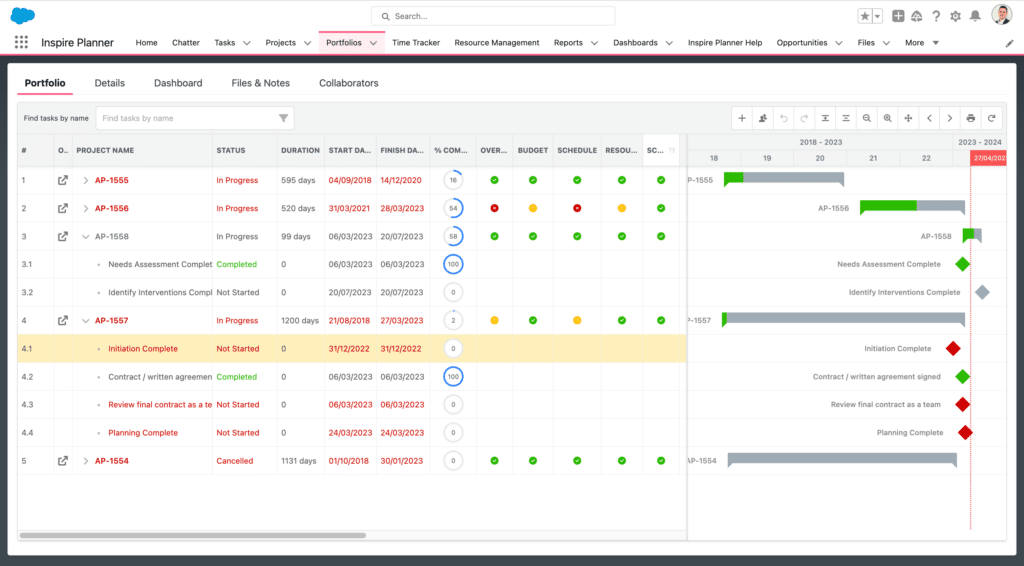 And with our upcoming Dynamic Portfolios feature with inline editing, managing portfolios automatically is getting easier than ever before. You are able to create different Salesforce list views to automatically organize and filter your project portfolios based on various criteria.
Calculate Risks and Issues Priority Levels
Having the ability to see the risks and issues related to your project means that these risks can be mitigated in a timely manner throughout the project. If you are looking to identify and prevent unforeseen project risks, check out our guide on reducing project risks in Salesforce.
If you are looking to take your project risk management to the next level in Salesforce, you can do so by automating the calculation of risks and automating the prioritization of these risks.
The Project Risk Register is a feature that Inspire Planner offers that allows you to keep track of your project risks and limit their impacts. It tracks both risks and issues (with risks being the issues that could occur in the future, and issues being risks that have come to fruition and actually happened).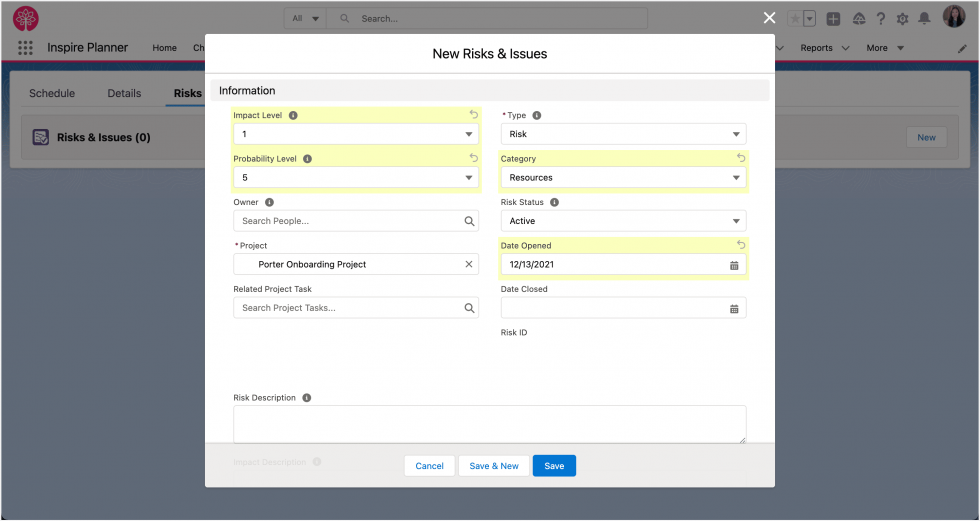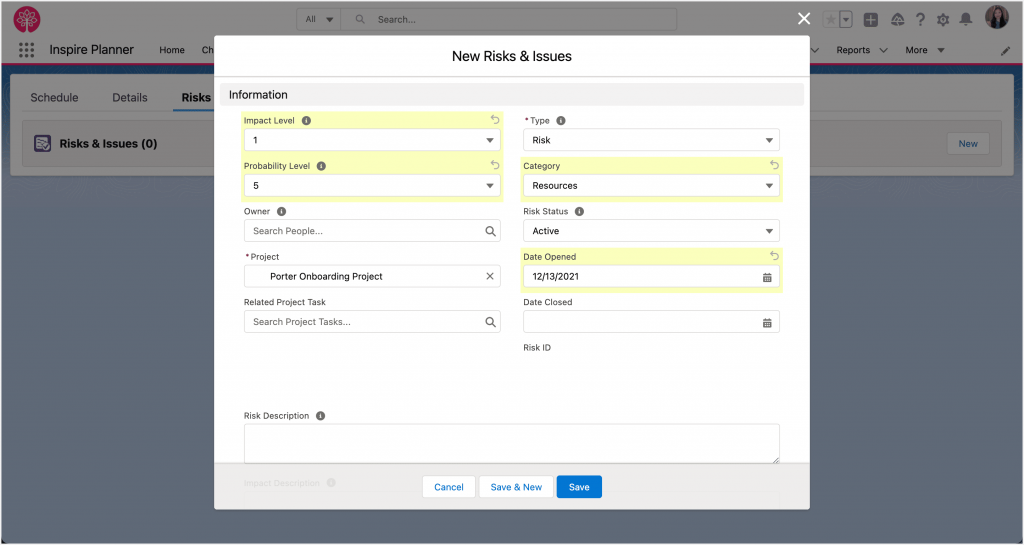 The Priority of your risks is automatically calculated by multiplying the Impact by the Probability. This way, you simply need to ensure you are capturing the Impact and Probability of your risk and Inspire Planner will do the rest for you.
When and Why You Should Automate Project Management in Salesforce
While you now know a number of ways to automate project management in Salesforce and how Inspire Planner can potentially be the solution that enables you to do this, you may still be wondering why it is worth automating.
What will your business gain from automating Project Management in Salesforce, and what negative impacts will you mitigate? Below are three explanations of this value and why automation is not only a good idea but almost a necessity.
Save Time on Repetitive Tasks
Effective Project Management is the difference between a successful project and a failed one, and often takes quite a bit of time to execute carefully for optimal results. Given that there are a number of tasks that can be done by your Salesforce investment in automation, it makes complete sense to free up your team to focus on the key issues rather than have them bogged down by manual repetitive tasks.
Research performed by AutomationAnywhere shows that in some industries (namely public service and general administration) professionals can spend up to 3.51 hours daily on repetitive administrative tasks. These are tasks that could be easily done by some form of automation!
When it comes to reducing the time taken for repetitive tasks in Project Management, you can return time back to your day by implementing some of our automation examples described above, such as project templates, assigning tasks based on resource roles, and more. Ultimately, you may be able to deliver a successful project faster by offloading these sorts of tasks to Salesforce.
Reduce Human Error
While we all try to be completely accurate all the time, we are only human and as such we are prone to errors. Salesforce, on the other hand, is not human and not prone to the same ability to make mistakes that humans are. Smaller tasks may garner less attention from a busy Project Team, which may lead to larger issues down the line due to the cascading nature of these errors.
Setting up your Org to automate your Project Management in Salesforce is the best way to reduce (or effectively eliminate) your risk of human error while managing the project (assuming it is set up correctly at the beginning, of course).
Automatically Manage Multiple Templates/Scenarios
If your business offers multiple different services or products, each with its own set of tasks or even different project management methodologies (Waterfall vs Agile/Scrum), then you may run into issues where a Project Manager doesn't have enough experience working with a specific product or service type and might run into issues setting up the Project in Salesforce.
This issue is completely removed when your Project Management is automated in Salesforce using multiple Project Templates that your Project Managers can apply at the outset of a project. Not only does this mean that there is far less work for them to do, but it also removes any potential errors or forgotten tasks and provides a degree of training for Project Managers who are new to a specific type of project.
Automate Project Management in Salesforce with Inspire Planner
As you can see, there is an insurmountable amount of value that can be gained by managing your projects within Salesforce and then layering on some project management Automation.
Your customers will benefit from your efforts by having an effective Project Team that is able to deliver on time while ensuring that communications are consistent, risks are being managed and mitigated, and the team is focusing their efforts on the work instead of the administrative tasks.
If you are ready to automate project management in Salesforce for your organization and reduce the manual and repetitive work, then check out Inspire Planner with our free 30-day trial today or request your personal demo of Inspire Planner.