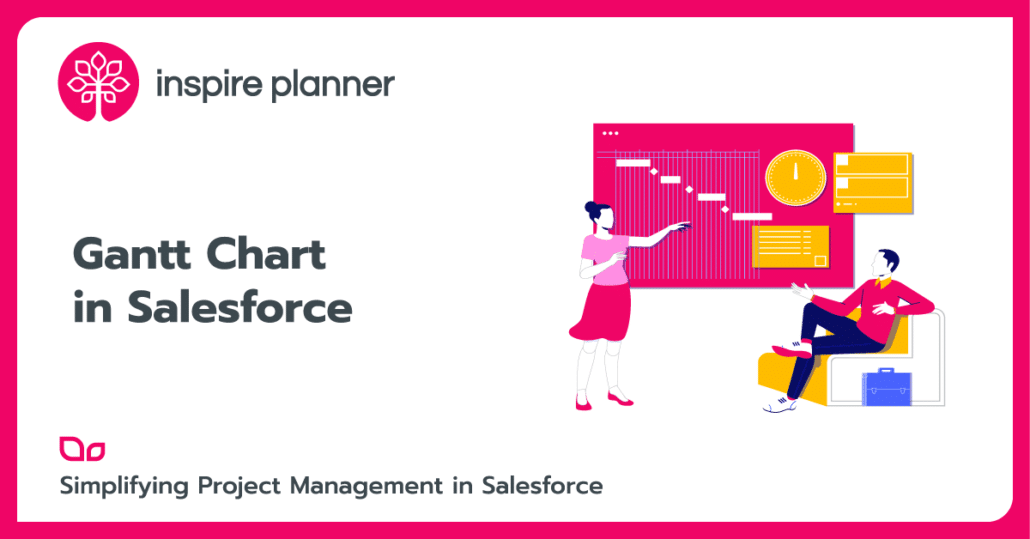 Salesforce Gantt chart is one of the most effective and preferred tools for managing projects of all sizes and types in Salesforce. 
To accomplish a project successfully, a large number of activities must be planned well. You need to complete them on schedule and within the budget. The whole project goes for a toss in terms of delivery and budget if you miss a deadline for a planned task.
And if you are using the #1 CRM in the world, then this is where the Salesforce Gantt chart software like Inspire Planner comes to the rescue.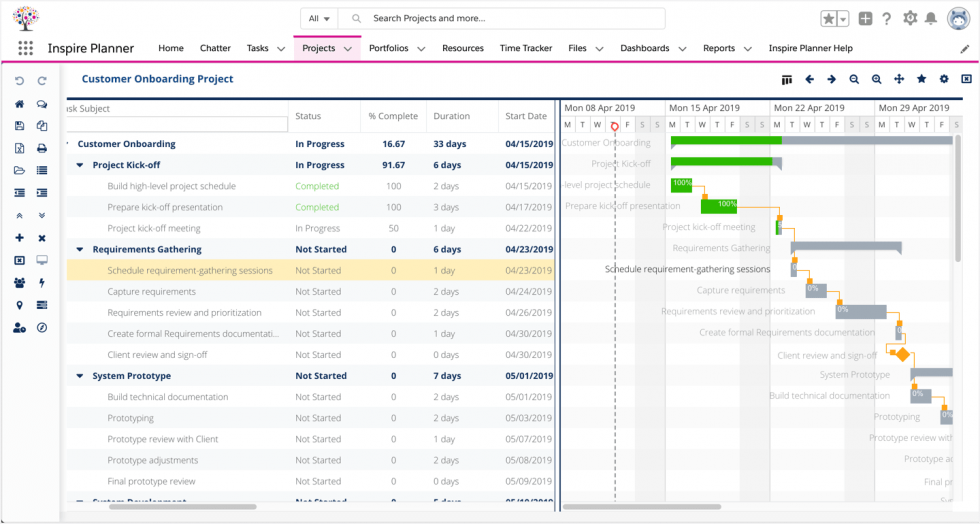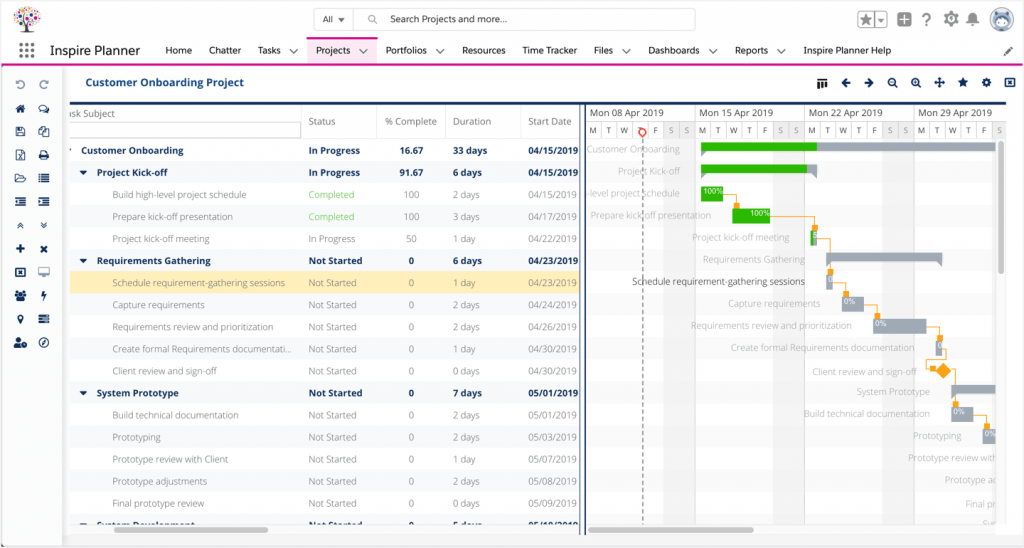 What is a Gantt Chart
Lots of people have never heard of Gantt charts. In simple words, the Gantt chart is a type of a horizontal bar chart that visualizes your entire project schedule over time.
The first time you see the Gantt chart, it might seem overwhelming. Although, once you understand the basics of Gantt charts, you will appreciate their simplicity.
The beauty of the Gantt chart is that it shows you the key elements of the project in an easy-to-understand timeline view:
The start and end dates of a project
All the tasks, subtasks, and milestones
When each of these activities begins, how long they should last, and when they are due 
How your activities are connected and dependent on each other
How they are grouped together and where they overlap
Gantt charts are commonly used in project management because of their intuitiveness. You list all the tasks and milestones on the left of the chart, and a timeline along the top axis. Each task is represented by a bar, which clearly shows start and finish dates, duration, and how much work on the task is already completed.
Gantt Chart History
As you might assume, the Gantt chart was named after its inventor Henry Gantt. Yet, it's only partially true. 
Henry Gantt was not the first one to have an idea of planning projects with the help of horizontal bars. In fact, a Polish engineer and a management professor Karol Adamiecki invented "harmonogram" in 1896 to display processes in production schedules. "Harmonogram" is believed to be the first "Gantt" chart.
However, Adamiecki published his chart only in 1931 and only in Russian and Polish languages, so the information did not spread well to the English-speaking countries and the rest of the world. 
Back in 1910, an American engineer and a project management consultant Henry Gantt came up with his version of the project management system. Since then, it became one of the most widely used management tools for project scheduling and control, and it adopted the "Gantt" name.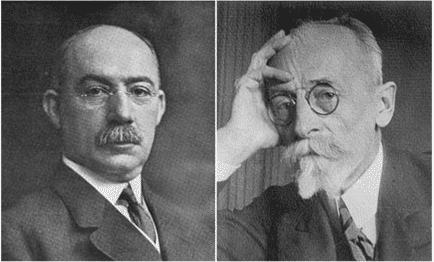 Salesforce Gantt Chart Software
Nowadays, there are plenty of project management software tools available on the market that offer Gantt chart functionality. Some examples of traditionally used tools here might be Microsoft Project, Smartsheet, or even Excel. But, these tools don't integrate well with Salesforce. 
So, how can you create a Gantt chart in Salesforce? 
As you might know, Salesforce does not offer built-in project management functionality, and therefore it does not offer an out-of-the-box feature to generate Gantt charts in Salesforce. 
The good news is that you can find several project management apps on AppExchange that support the Salesforce Gantt Chart feature, such as Inspire Planner.
For anybody that has experience with traditional project management apps like MS Project, Inspire Planner would be a very seamless transition in terms of user experience. While being very easy to use, the app supports advanced Gantt features such as predecessors and multiple task dependencies, milestones, critical path, baseline, and much more.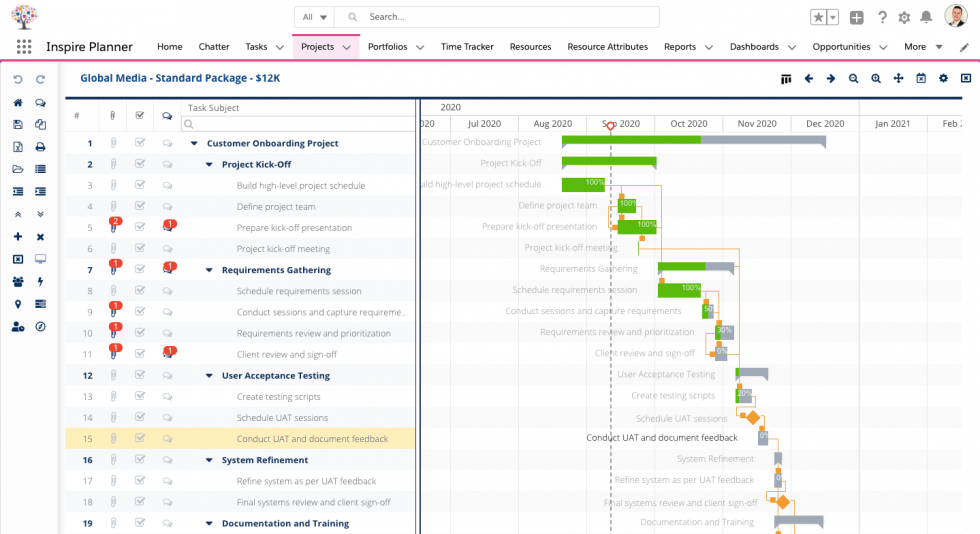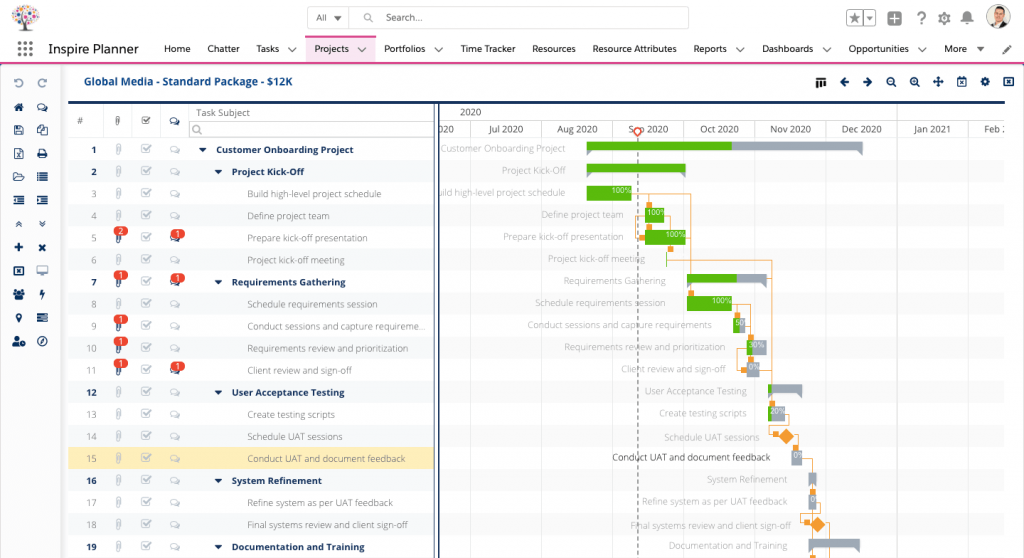 Overall, there are many reasons why relying on Salesforce-native tools like Inspire Planner is preferable instead of trying to integrate external project management apps with Salesforce. The following article describes in detail 5 main reasons why you should be using native apps. And before you start looking for a new tool on AppExchange, we highly recommend you check out the following tips to find the right apps on Salesforce AppExchange.
Main Benefits of Using Gantt Chart in Salesforce
The Gantt chart tool has lots of benefits, so below we have gathered the main ones for you.
Simplicity
With the increased popularity of project management software, today even people without training can create Gantt charts in Salesforce to visualize their projects and tasks. 
You simply need to create a task list, specify the start and finish dates, and the software will automatically plot the tasks over time. And once you set up task dependencies, then no matter how you change your tasks, your Salesforce Gantt chart will be recalculated accordingly in real-time. 
Visualize Your Entire Project Schedule in Salesforce
Complex projects typically involve multiple stakeholders, as well as lots of tasks, milestones, and deadlines to track. Gantt chart gives everyone a clear overview of the entire project as well as individual assignments to help you stay on track with your successful project delivery.
The detailed planning helps to ensure that your project's schedule is workable, that the right people are assigned to each task, and that there are workarounds for potential problems before you start.
See How Tasks Are Connected
This tool also helps you work out practical aspects of a project, such as the minimum time it will take to deliver based on all the activities, how your project deviates from your plan in case of delays or changes, and which tasks need to be completed before others can start.
While Salesforce does not offer task dependencies out-of-the-box, using a Salesforce project management app with Gantt chart functionality will let you set the predecessors and the order in which tasks have to be performed.
Keep Everyone on the Same Page
You can use the Salesforce Gantt chart to keep everyone on your team informed of the progress. Moreover, with the apps like Inspire Planner, you can also share your projects with external contacts that do not have Salesforce licenses, such as your partners, subcontractors, and your customers. 
Through our proprietary External Portal, these external contacts can have real-time access to either a full project or only to the tasks assigned to them. No more wasting time on emails back and forth with the status updates.
Compare Planned Versus Actual Timelines
If your Salesforce project management app supports a baseline feature, then you will be able to easily see how your actual performance on the project compares to the original plan. This will help you understand how well your projects are developing and where the delays are coming from.
Must-Have Salesforce Gantt Chart Software Features
Creating an interactive Gantt chart in Salesforce is very easy with Inspire Planner. All you need to do is create a new project from scratch or by using an existing template, quickly populate tasks, enter their duration, and watch as your Gantt chart automatically builds out. 
However, on top of being very easy to use, Inspire Planner's Gantt chart also offers a great set of powerful features at your disposal. Let's go through the key components so that you know what to look for when evaluating a Salesforce project management app.
Different Task Dependencies
Predecessors, or task dependencies, specify the relationships between project tasks and indicate when a task should begin or end in relation to other tasks.

Unlike other Salesforce project management apps, Inspire Planner supports four common types of dependencies:
Finish to Start (FS) – Task B cannot start before Task A is finished, the most popular type.

Start to Start (SS) – Task B cannot start until Task A starts. The SS type of predecessors does not require that both tasks start at the same time.

Finish to Finish (FF) – Task B cannot be completed until Task A is completed. The FF type of predecessors does not require that both tasks are completed at the same time.

Start to Finish (SF) – Task A cannot finish until Task B starts, the least popular type

Furthermore, Inspire Planner lets you easily build complex task dependencies by setting up multiple predecessors, adding lag or lead time, and more. You can also create multi-level task structures with an unlimited number of subtasks.
You can populate the row codes to define predecessor relationships or what we recommend is just use our simple Drag and Drop interface to connect tasks within the Gantt Chart. Once the dependencies are set up, moving one task will automatically change start/end dates for other tasks in the project and will automatically update your Salesforce Gantt chart.
Templates and Project Cloning
Project templates can make your work much more efficient and Inspire Planner fully supports this functionality. A template within Inspire Planner is simply a project that you flag as a template, which then becomes available for searching in the Project Template field. You can also use our Save As feature to clone projects.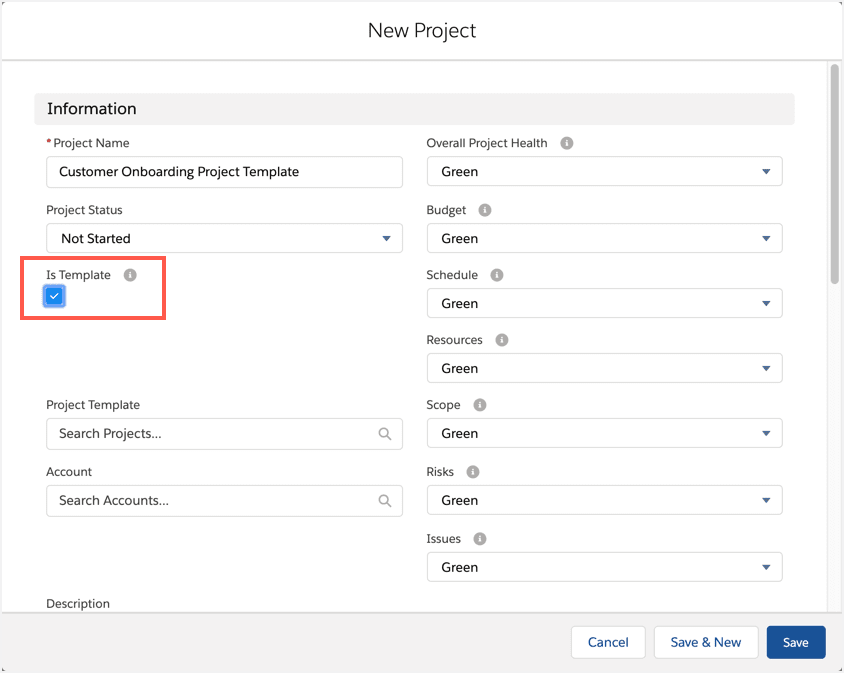 Integration with Salesforce Tasks
Another important feature to consider is if your Salesforce Gantt Chart software is integrating with native Salesforce Tasks. Your teams probably already utilize Tasks to create To-Dos, reminders, send proposals, and more. With Inspire Planner, when you assign a project task to a user or a contact, the app would automatically create a corresponding Salesforce task for them as well. Your projects are seamlessly updated when Salesforce tasks are completed. How cool is that!
So if people are not really interested in the overall project Gantt chart, they can simply work off their Salesforce Tasks. As you can imagine, it's much more convenient for your users to have all of their personal and project tasks in one familiar place instead of launching a separate app each time they need to work on their project tasks. An additional benefit of integrating with Salesforce Tasks is that it allows your users to create their own list views of the tasks and different layout options (Table view, Kanban, Split view).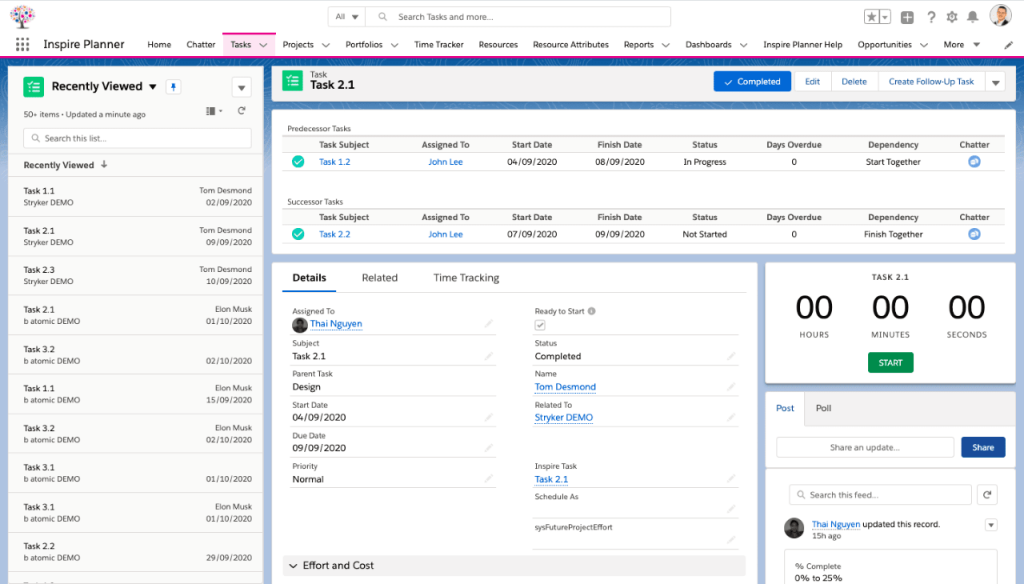 Sharing with External People
Oftentimes, teams need to assign tasks and share their projects not only internally but also with any external contacts – generally, that might be customers, partners, or subcontractors.
With Inspire Planner, sharing projects externally is very easy. By simply adding external contacts as Collaborators, you can share either full project with them or assigned tasks only. This will send them an email with a link to our secure external project portal.
By default, external contacts are set as a viewer permission level. In addition to your contacts being able to see the project in real-time, they can view the list of all of their Salesforce tasks. At this point, they can even update the status of their tasks, edit the actual effort and provide a brief description, which will be automatically synced with your project in Salesforce.
The nice thing about this feature is that there is no additional cost. These external contacts do not require Salesforce or Inspire Planner licenses, so you can share it with as many contacts as you want. This functionality also comes out-of-the-box, so there is no complex setup necessary.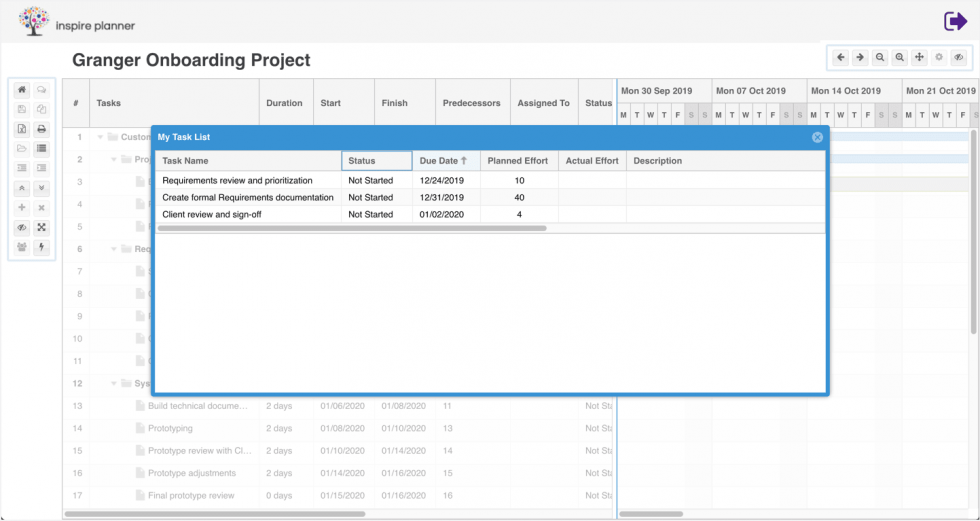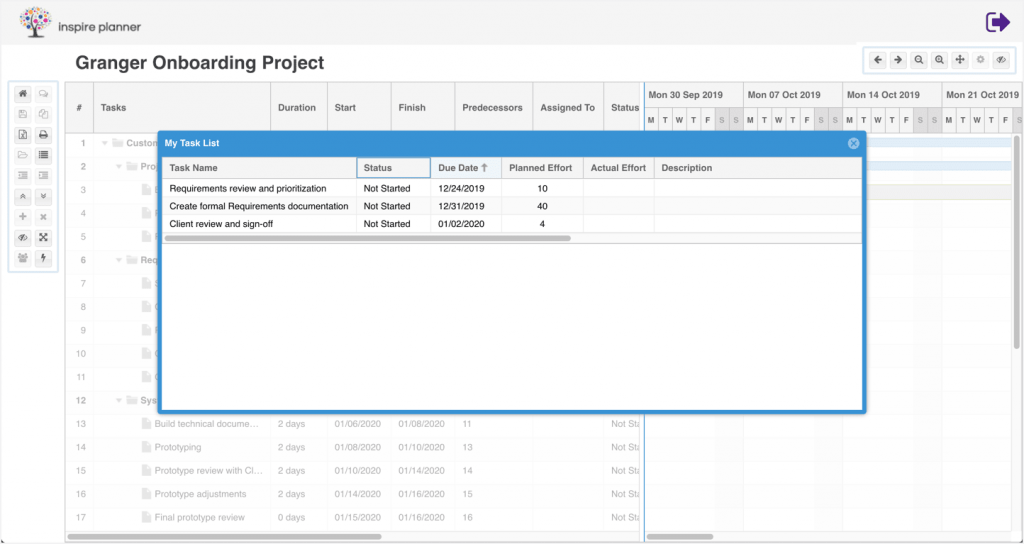 Other ways to share projects externally include exporting your projects in a nicely formatted Excel file or by printing them. Typically, it might be hard to print Gantt charts as they span horizontally and might not fit well on your page. However, with Inspire Planner you can zoom in/out your chart and roll up your tasks (especially if they are already complete) to make the chart easier to print.
Integration with Salesforce Chatter
Collaboration is a very important aspect of project management so it's crucial that your Salesforce Gantt chart software handles it well. Salesforce already comes with a powerful collaboration tool – Salesforce Chatter. Inspire Planner fully utilizes Chatter, so that's how teams working on the projects would interact and share messages with each other, leave comments, upload documents and files, create polls, and more. Your users will be able to get emails and notifications in Salesforce when your projects are updated, and they will always know where to find all the files and conversations related to their projects.
Automation
Typically, there are a lot of tasks that can be automated when managing projects, so you can increase your efficiency if your Salesforce Gantt chart software has such capability. For example, with Inspire Planner you can automatically launch a new project when an opportunity is Closed/Won based on a specific customer onboarding template. This will label your project the same as the opportunity, pre-attach all the documents that you commonly use, define predecessors, so all you need to do to get started is just select the Start date.
Similar automation can be applied to any other object that you have in Salesforce and you can make it much more sophisticated by creating different criteria, launching different templates, and more.
Furthermore, in Inspire Planner you can also define a Role that will be working on each project task (project manager, customer success manager, sales, etc.). Instead of manually assigning each project task, Inspire Planner will automatically assign tasks within the project to the project team members based on role.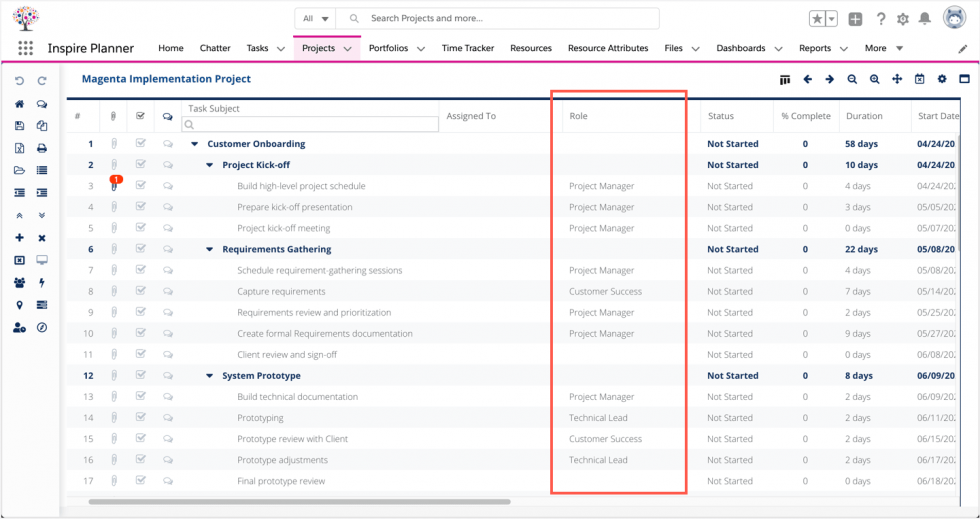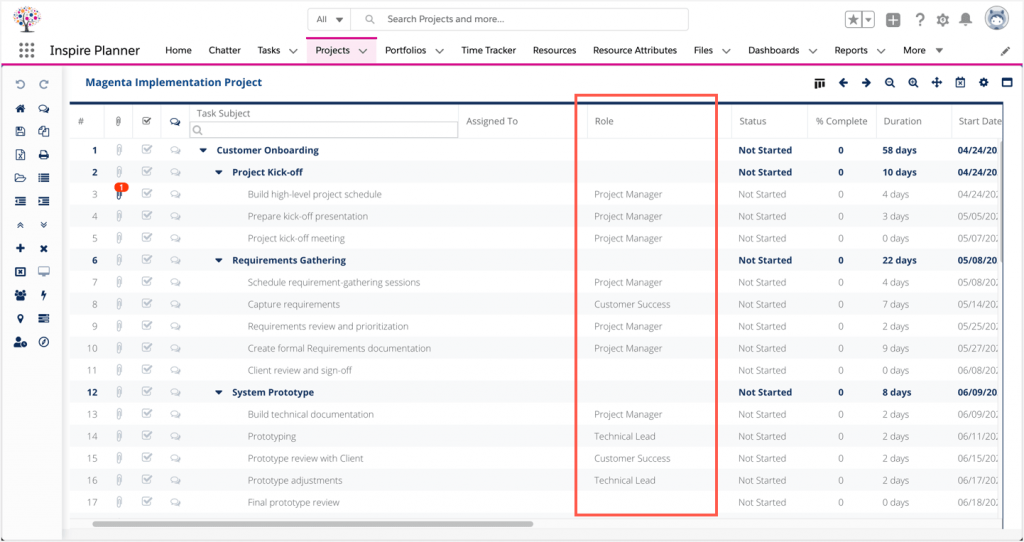 Portfolio View
In project management, you often need to quickly see the status of several projects at a time. With Inspire Planner, Portfolios allow you to view a set of projects in a single combined Gantt Chart. Portfolios display the overall project schedule, overall project health, % completed, and project milestones.
You can group and organize your projects in a variety of different portfolios (e.g. by project status, project owner, etc.), as well as configure the columns displayed in this view.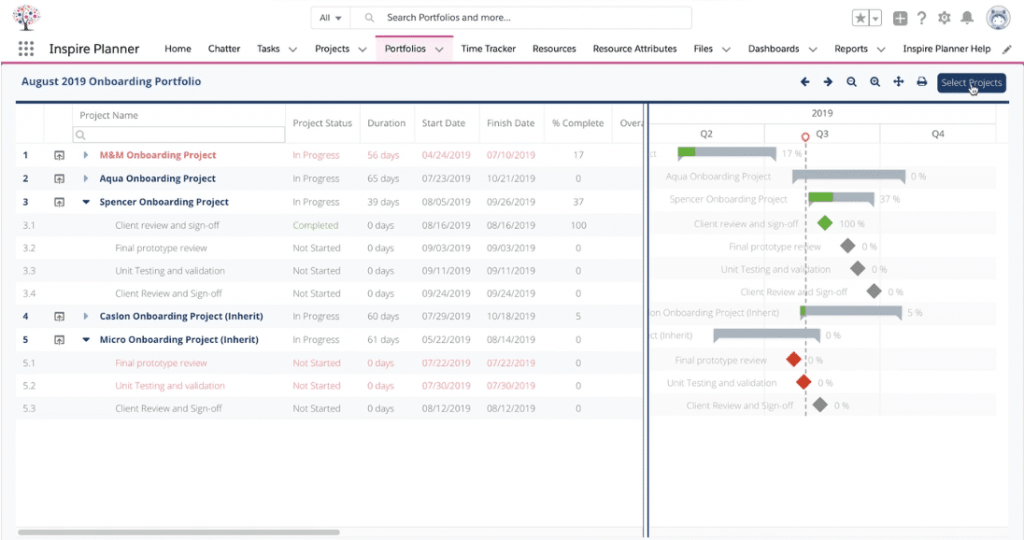 Baseline
The project's baseline shows you how your actual project deviates from the original plan. Make sure that your Salesforce Gantt chart software supports the baseline feature, which lets you assess the performance of your projects over time.

In Inspire Planner, you can see the baseline details on the Gantt chart as light grey task bars. We also have reporting fields such as start variance, finish variance, and slippage percentage, so you can run those reports and identify some trends and key bottlenecks across your projects.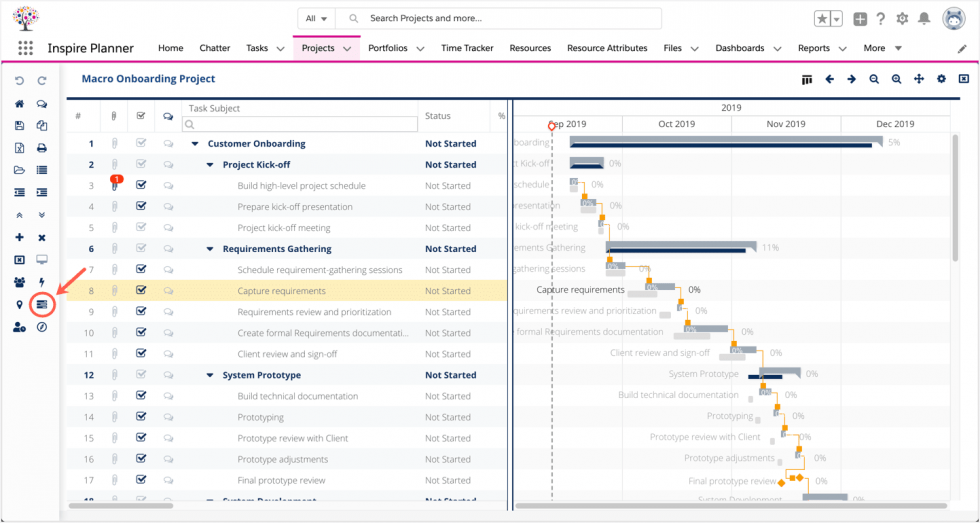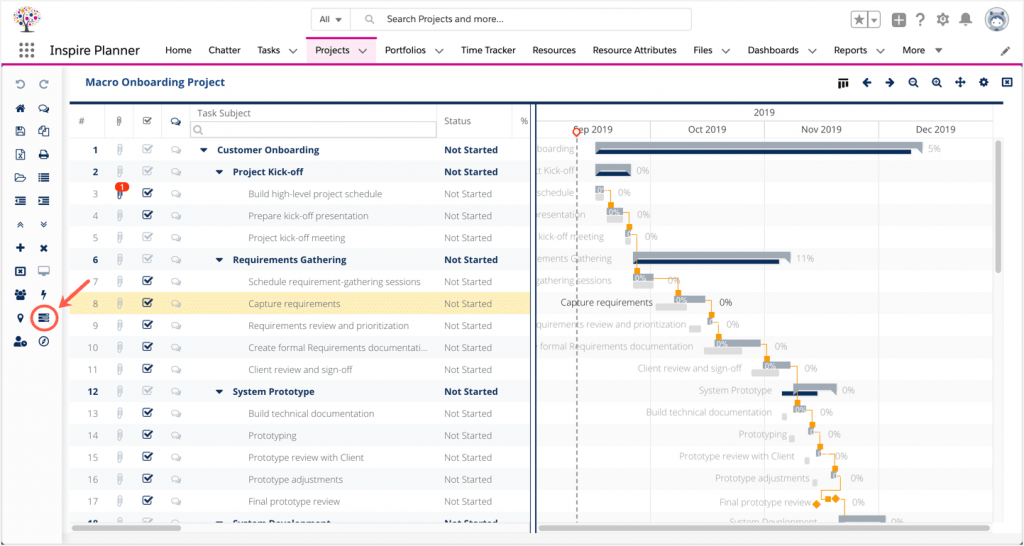 Milestones and Constraints
If you specify a task with a 0 days duration, Inspire Planner would turn this task into a Milestone and will show it with an orange diamond on the Salesforce Gantt chart. Milestone is a great tool to visualize fixed dates or important points in your projects (e.g. key dates, completion of a project phase, etc.). You can also utilize them in the Portfolio view to get a high-level overview of your projects' progress.
You can take it one step further and get specific how you are sequencing and defining your tasks by utilizing the constraints. For example, if your task must start or finish on a particular date, or it can't start any earlier than a specific date, you can specify this in the Constraint column. These constraints are not going to move based on the other predecessor dependencies that they have. Inspire Planner can automatically validate these constraints values for you, and the app will prompt you with some warnings if your actions are breaking the constraints that you've identified.
Get Started with Salesforce Gantt Chart Software
The above is just an overview of the Salesforce Gantt chart software features and benefits. Now it's time to get some practice, since the best way to get comfortable using a Salesforce Gantt chart is by creating it in a Salesforce-native project management app like Inspire Planner.

The more experience you have with Gantt charts, the more you will fall in love with the simplicity and effectiveness of this tool for managing your projects. And for those of you who still can't get used to Gantt charts, Inspire Planner supports a simple Kanban interface that presents your tasks as cards.