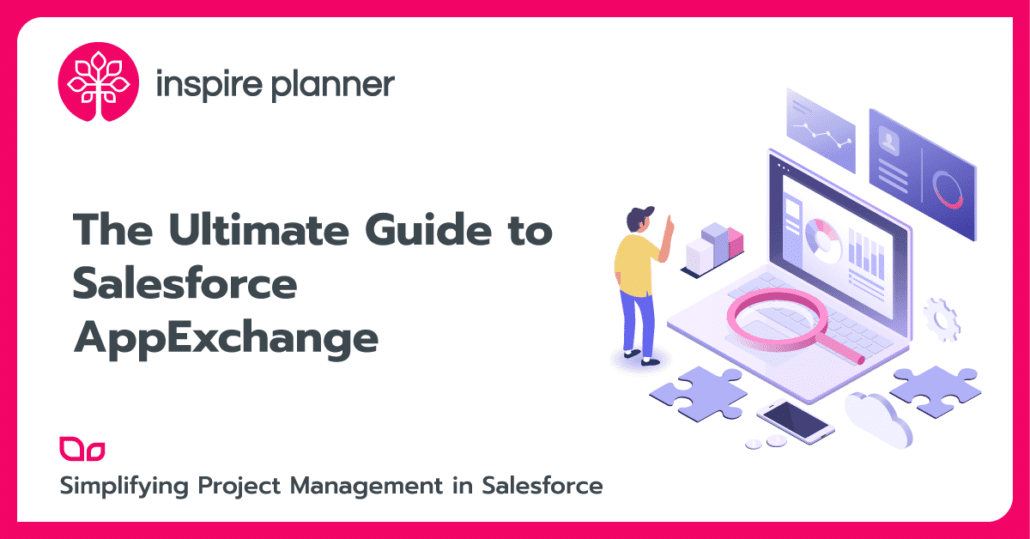 One of the reasons Salesforce has been the world leader in CRM for successive years is because of the wide range of customer processes that can be enabled on the platform using out-of-the-box modules. However, since every company has different processes, more often than not, the Salesforce platform has to be customized or integrated with custom solutions and 3rd party apps to incorporate business-specific needs that are not covered by the platform and its modules. With this view in mind, Salesforce AppExchange was introduced.

What is Salesforce AppExchange?
When it comes to people who are part of Salesforce Ohana, well AppExchange is our Amazon. It is the go-to place for Salesforce customers to discover amazing apps and other solutions for their Salesforce extension and implementation needs, be it searching for pre-configured solutions for their custom processes, or identifying the right consultant for their CRM process.
Salesforce AppExchange is the world's No. 1 enterprise marketplace and the hub of the Salesforce ecosystem with over 5,000 listings, about 8 million customer installs and 90,000 reviews so far. In fact, more than 88% of Salesforce customers and 95% of the Fortune 100 have at least one app installed from AppExchange.
Anyone from individual Salesforce developers to mature Salesforce ISVs can launch and sell the business solutions in the form of installable apps on AppExchange. The scale of these solutions may range from point solutions created for a single use case to full-blown process automation apps. The research from IDC finds that Salesforce and its ecosystem of partners will create 4.2 million new jobs and $1.2 trillion in new business revenues worldwide between 2019 and 2024.

Brief History of AppExchange (and what Steve Jobs has to do with it)
Salesforce AppExchange was launched in 2006 there was nothing out there like it. Force.com would follow in 2007, a place where you could build an app using Salesforce's development resources and find a market for your software. AppExchange disrupted the way businesses discovered, developed, and purchased apps.
In fact, the idea for the app store came out of a meeting between Steve Jobs and Marc Benioff, Parker Harris, and Dave Moellenhoff three years before the launch of AppExchange. During the meeting, Steve Jobs explained that to really grow and develop as a company, Salesforce needed to develop a cloud software ecosystem, which was a new concept back in 2003. Only two years after Salesforce, Apple launched its famous consumer-oriented App Store in 2008 with the same concept where you could sell and distribute the apps.

You might not know, but Apple's App Store trademark and URL once belonged to Salesforce. Benioff liked the name App Store so much that he had his lawyers register the appstore.com domain the next day. However, based on the customers' feedback, Salesforce decided to go with AppExchange name. Later, when Benioff heard Steve Jobs during the iPhone keynote in 2008 saying "I give you App Store," he went backstage and gave the "App Store" trademark and domain to Apple as a gift to Steve Jobs, who was Benioff's mentor.

Salesforce AppExchange Solutions
Though started as an app marketplace, AppExchange today covers solutions to most of the needs Salesforce customers may have for every industry and budget. It is very easy to try out these solutions before actually purchasing them, and you can be sure the security team of Salesforce comprehensively evaluated every offering.


Below is the list of different offerings that are available on AppExchange.
Ready-to-install solutions
Salesforce AppExchange offers over 5,000 pre-configured solutions that can be directly added to your Salesforce org or used in your existing configurations.
Apps: Apps are pre-built and tested solutions that can be installed in your Salesforce org. AppExchange provides a myriad of free and paid apps, which are categorized according to the solution use case, industry, and business process.

There are thousands of apps available on AppExchange catering to different use cases like document generation by Conga Composer, full project management solutions such as Inspire Planner, intuitive CPQ solutions like SculptorCPQ (use a special 10% discount code "CPQ10" for our readers), eSignature solutions by DocuSign, forms and surveys builder by Formstack, apps for importing and exporting data like Dataloader.io, mapping solutions such as Geopointe, image management like SharinPix, and a lot more.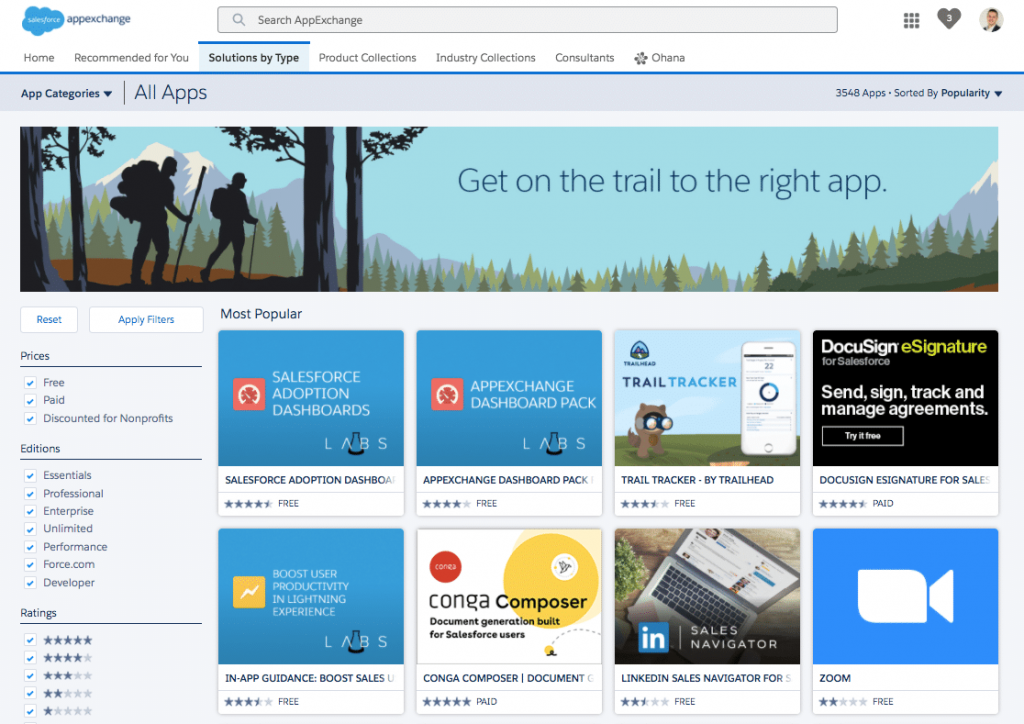 Components: Salesforce customers benefit from Lightning-based development and UX, so AppExchange provides hundreds of predefined Lightning components that can be added to your apps and pages by drag and drop efforts, thereby reducing development efforts for your team.
Bolts: Salesforce communities enable businesses to provide an unprecedented experience for their external and internal stakeholders, and to help with it, AppExchange offers Salesforce Lightning Bolts. Those are Industry solution templates built by an ecosystem of partners, helping you get to market faster. Lightning Bolts contain industry process flows, Apps, Lightning Components, and Communities, all integrated seamlessly with the Salesforce platform and CRM. Bolts are included as part of the services agreement with the listed SI Consulting Partner.
Lightning Data: Lightning data provides pre-integrated, approved and scalable data solutions to automate data operations like filtering, scoring, deduplication, and more. As a result, end users can work on improving their business and not identifying relevant data to work on.
Flow Solutions: Lightning flows provide pre-built and configurable process automation flows that can be directly added to your workflow automation logic without any need for code. You can download configurable pre-built business processes with flow templates and install standalone building blocks with flow actions.
Industry-specific solutions
Every industry has its own unique needs. To aid your search to what's relevant for your business, AppExchange allows users to search in one place all industry-specific solutions to extend your Salesforce org. You can find industry-specific Bolts, process automation tools, process apps, and components.

For example, if your business operations are focused on Banking, Financial Services and Insurance (BFSI), you can check out the myriad of solutions applicable to the financial services industry like data backup and recovery by OwnBackup, survey solutions such as GetFeedback, data cleansing and deduplication apps by Cloudingo, pre-defined integration solutions with leading tools used by BFSIs, and more.
While it's obviously convenient to start from specified categories and industries, be aware that AppExchange allows only one category and two industries per app.
Certified Expertise
So far we have been discussing how AppExchange is a marketplace for solutions that aid your Salesforce extension needs. However, AppExchange also helps customers identify the right mix of consultants and Salesforce system integrators to partner with. You can refer to the Consultants tab and identify the certified Salesforce experts to reach out to based on your functional, industry and technical expertise needs.
A detailed categorization of the consultants by partnership tier, level of expertise, certification, and rating is presented to help your decision-making. The Consultants tab also includes a Job Marketplace where you can take the next step in your Salesforce journey or post an opportunity at your company. Alternatively, you can find Salesforce freelancers and consultants outside of AppExchnange on websites like TopTal.

Categories of Salesforce AppExchange Solutions
Solutions on AppExchange can be categorized based on how they are built and how they can be managed. All solutions fall under the following categories:
Native Apps: Native apps are the ones that are built and hosted inside Salesforce using the Lightning Platform. A native app resides within Salesforce and doesn't need a separate integration with Salesforce. With native apps, all of your app data is also securely stored in Salesforce. That is exactly how we built Inspire Planner, our Salesforce-native project management app.
Non-native Apps: An app built outside of Salesforce and integrating with Salesforce using the Salesforce API is a Non-native App. The app will be hosted outside the Salesforce platform and also data might be stored outside the Salesforce servers.
Managed Packages: Managed packages are full-scale installable solutions wherein the provider is responsible for customizing and upgrading the apps for optimizations. Customers just have to install the package in the org to leverage the desired business outcome without the need to edit it.
Unmanaged Packages: Unmanaged packages are distributed as open-source solutions that can be used by developers as a baseline while developing functionalities. Developers can use these packages and build/modify them to accomplish project goals. The providers are not responsible for customizing or upgrading such a package.

How to Use Salesforce AppExchange?
Now that we have discussed the offerings and benefits of using Salesforce AppExchange, below is a brief yet conclusive list to using AppExchange:

Step 1: Log in to Salesforce AppExchange using your Salesforce credentials to get a truly personalized experience based on your needs

Step 2: Intelligent recommendations: Discover solutions to solve your business challenges on the "Recommended For You" page. AppExchange tracks your business problem, search history, similar searches and shows tops picks suitable for your needs. The more you use AppExchange, the better these recommendations get. (Didn't we say it's our Amazon?)

Step 3: Look up for industry or solution specific products and/or consultants that suit your needs

Step 4: You can click on the search tile for a solution/service provider along with the details like cost, business use case, demo, customer reviews, website address, rating, and more.

Best Tips to Find the Right App on the Salesforce AppExchange (+ our Checklist)
Finding the right App for your business need is one of the challenges you might face. In this section, we have gathered the best tips that will help you find the right Salesforce App on AppExchange.
Clarify the reason for the app

To begin with, you need to have a clear understanding of the business challenge you are trying to solve. This will help you to create a list of must-have and nice-to-have features that you are looking for in an app.


Plan strategically

To know what app you are searching for, spend some time aligning internally with your team and answering the following questions – What's your budget for such a solution? What's your time frame for deploying it? What business processes will be impacted? Does the solution need to be compatible with a specific Salesforce edition or feature?


Try Out AppExchange Trailhead

If you haven't used Salesforce Trailhead yet, you're missing out on one of the Salesforce's most useful resources. Trailhead has various interactive "trails" that guide you through how to use Salesforce functions. Unsurprisingly, there is a trail about AppExchange Basics! First, you learn about AppExchange itself including what kind of solutions are available and pricing. Next, the trail teaches you how to best navigate through AppExchange with tips on how to incorporate AppExchange into your Salesforce strategy. The final unit is all about installing AppExchange packages, or how to put your new app into your own org.


Credit: Trailhead


Log in to Salesforce AppExchange

As we have mentioned in the previous section, logging in using your Salesforce credentials will bring you a truly personalized experience and will show you great app recommendations based on your profile, install history, previous searches, and more. Find more relevant apps under the "Recommended for You" tab.


Search like a pro

Salesforce AppExchange uses machine learning search algorithms to suggest more relevant apps. If you have listened to our Tip #2 and have an AppExchange strategy, then head to the search bar. Try different keywords since to appear in your search results, a listing should contain the keyword you have entered. As a result, you will get a list of the first 10 apps based on your keyword search. However, if you click on the 'View All' button, you might discover some hidden gems. If you are not sure where to start with the keywords, browse a collection or check out solutions by type.

Be aware that AppExchange search puts sponsored solutions on top, obviously. It also considers app popularity, which is based on last month's app activity to determine rankings. While it makes the search convenient, do not consider the list of search results as the ranking of the apps from best to worse.

When you found the app that you think is the right choice for you, save it as your Favorite to quickly find it later and move on to our next tip.


Go through our Checklist for evaluating an app

✅ Start with the Listing Summary Section

Here you can quickly see a short description of the app and key details such as:

– pricing (how much does it cost and what is the pricing model)
– average customer rating
– the dates when the app was launched and last updated
– images/screenshots and demo videos.

Based on this essential step, you can already decide whether it is worth your time to explore the app further or to look for another one.



If you liked the information from the app summary section, we suggest you then take a look at the Highlights, Requirements, Support, and Additional Information.

✅ Review App Compatibility

Check if the app is actually compatible with your Salesforce edition (e.g. Professional, Enterprise, Unlimited, Force.com, Developer, Performance). Otherwise, the app will simply not work for your org.

✅ Check if the App is Lightning Ready

Lightning Experience is the future of the Salesforce User Experience. More and more customers are switching from Classic to Lightning Experience, and for good reason. Each Salesforce release delivers new Lightning-exclusive features that customers want to use, and therefore you also want your 3rd party apps to be compatible with these features.

A good thing is that Salesforce made it mandatory for all new apps entering the Salesforce security review to be Lightning Ready. However, some of the older apps that are not well supported might still lack this feature, which can create you problems down the line.

✅ Check the Latest Release Date

Another crucial piece of information to check is when was the latest release of the app. A recent major release within the last half a year gives you a good indication of how well this app is updated and supported.



✅ Look at the Overview Section

So far so good? Then it is time to check the Overview section, where the app provider can describe in more detail the main features of their app and other important information. Typically, on the left side, you will see three main highlights, while on the right side there will be the full description.

✅ Read Customer Reviews (and write yours too!)

This is probably one of the most important sections of the listings and you should pay a lot of attention to it. Authentic customer reviews can give you a lot of additional insights about the user experience that you might get. For example, if everything works as advertised, how good customer support is, if the app is easy-to-use, and more. If the app vendor replies to customer reviews on AppExchange, it is often a good sign that the company cares about customer feedback and takes it into consideration.



After you use an app for a while, it would be beneficial to the entire AppExchange community if you write a review on their AppExchange listing. Even better if you can provide additional details about your organization and how the app helped you solve the challenge you were trying to address.

✅ Look for Customization Guides

Most of the good apps will have at least one Customization guide mentioned on their listings. Good documentation that is easily available is yet another sign of an app, which you can rely on. In addition to the Customization guides, there might also be webinars, customer testimonials, datasheets, and whitepapers.


Talk to your Salesforce admin.

Keep in mind that only admins have the ability to install apps and configure them based on your needs. Therefore, make sure to contact your Salesforce admin in advance and let him/her know which apps you would like to try for your particular need.

If you still want to try the app on your own, you can sign up for a free trial org. Then log in to AppExchange with your new Salesforce credentials and install the app.


Test-drive the app first or install in your Sandbox

Before installing a solution in a production org, we always recommend testing in a Developer Edition org or a Sandbox. This is a great feature that comes along with most apps in AppExchange is the chance to try a demo of the app in your actual Salesforce org before having to purchase it. It is up to the app provide to decide whether to offer a test drive or free trial, so not always you will have a chance to try the app.

To see how it works, feel free to try it with our own Inspire Planner project management app for Salesforce, which you can find here. You can download a trial version into one of your Sandboxes, log in as a User, and test the app to get a feel for how it would work.



credit: Trailhead

This is very beneficial because it lets you see how the app works with your existing unique Salesforce functionality. You can have your employees or other Users test the app in the Sandbox too! Having your actual Users test the app before you buy it saves you from spending a lot of money on an app that runs the risk of not being used. Before purchasing an app, always download a trial version and test it out so that you are certain that the app will help your business. You can also read our article about other ways to use your Salesforce Sandbox.
Those were our main tips to select the right apps for your org. To help you even further, here are some additional guides from AppExchange itself:
If you still can't find the right app for your organization, or simply want to improve your Salesforce experience even further, we encourage you to check out some of the best Google Chrome extensions for Salesforce.

The Salesforce AppExchange Character – Appy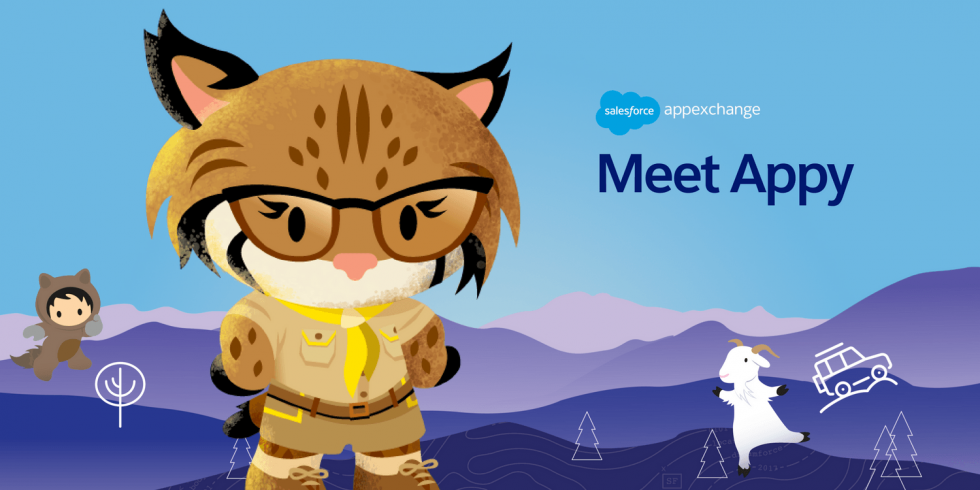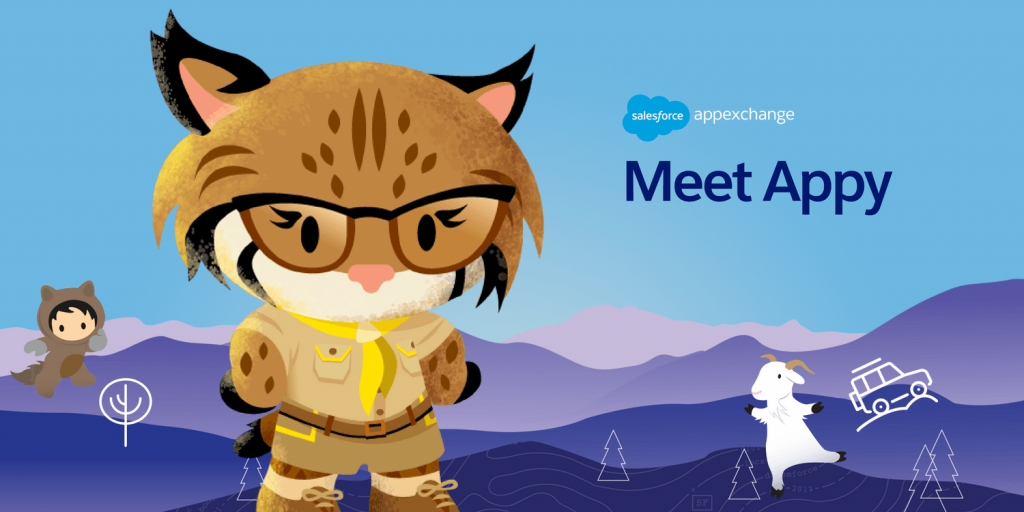 Salesforce has quite a few Trailhead characters that it introduced to inspire the Salesforce Ohana to blaze new trails. Each of the characters has a specific job and purpose. And for AppExchange, there's Appy. Appy is the guide that everyone wishes they could have. Since she knows a lot about all things Salesforce, she leads the way to help you navigate the AppExchange ecosystem to solve your business challenge. Know what Appy is up to by following the hashtag #appyness

The Future of the AppExchange
AppExchange has come a long way since its inception from being just an app provider to including solutions of various kinds (bolts, components, flows, etc) for different organizations. AppExchange continues to grow and surely it will further expand into new domains as Salesforce as a platform itself advances to enhance its features not only by adding more capabilities but also by acquiring different companies into the Salesforce platform.
Salesforce's huge acquisitions like Tableau, Mulesoft and its inclination towards technology trends like Artificial Intelligence (Einstein) and personalization open up immense opportunities for app builders to bring in new customizations into Salesforce via AppExchange.
So what are you waiting for? Check out how you can get the best of Salesforce with minimal effort and find the right app or partner for you on AppExchange.