One App For All Your Project Management Needs In Salesforce
Inspire
Waterfall Projects
A traditional schedule-based approach to managing even the most complex waterfall projects.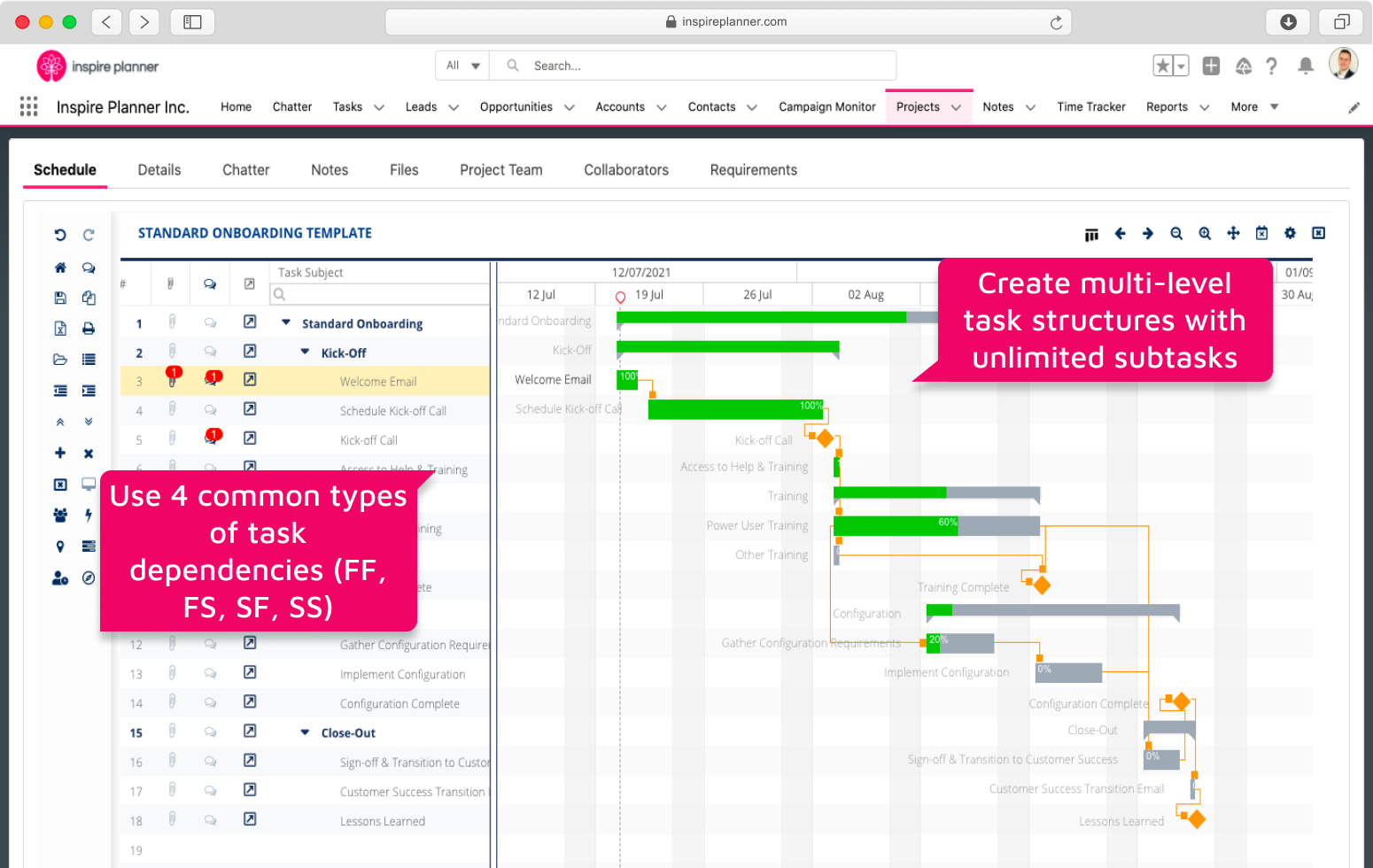 Inspire
Agile Projects
An iterative approach to delivering Agile projects through backlogs, sprints (Kanban), and releases.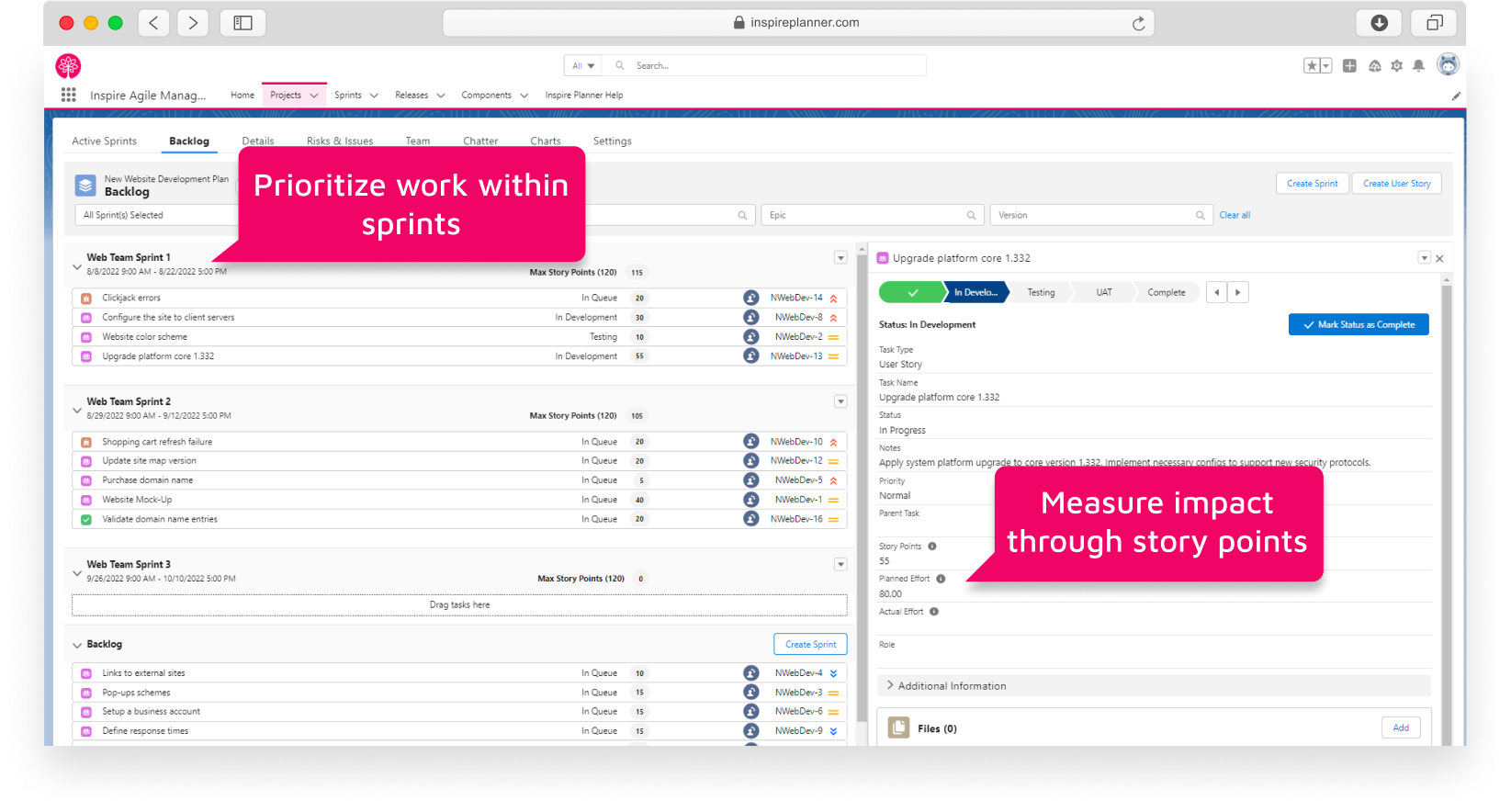 Inspire
Task Lists
A simplified way to stay organized and manage tasks and processes across teams.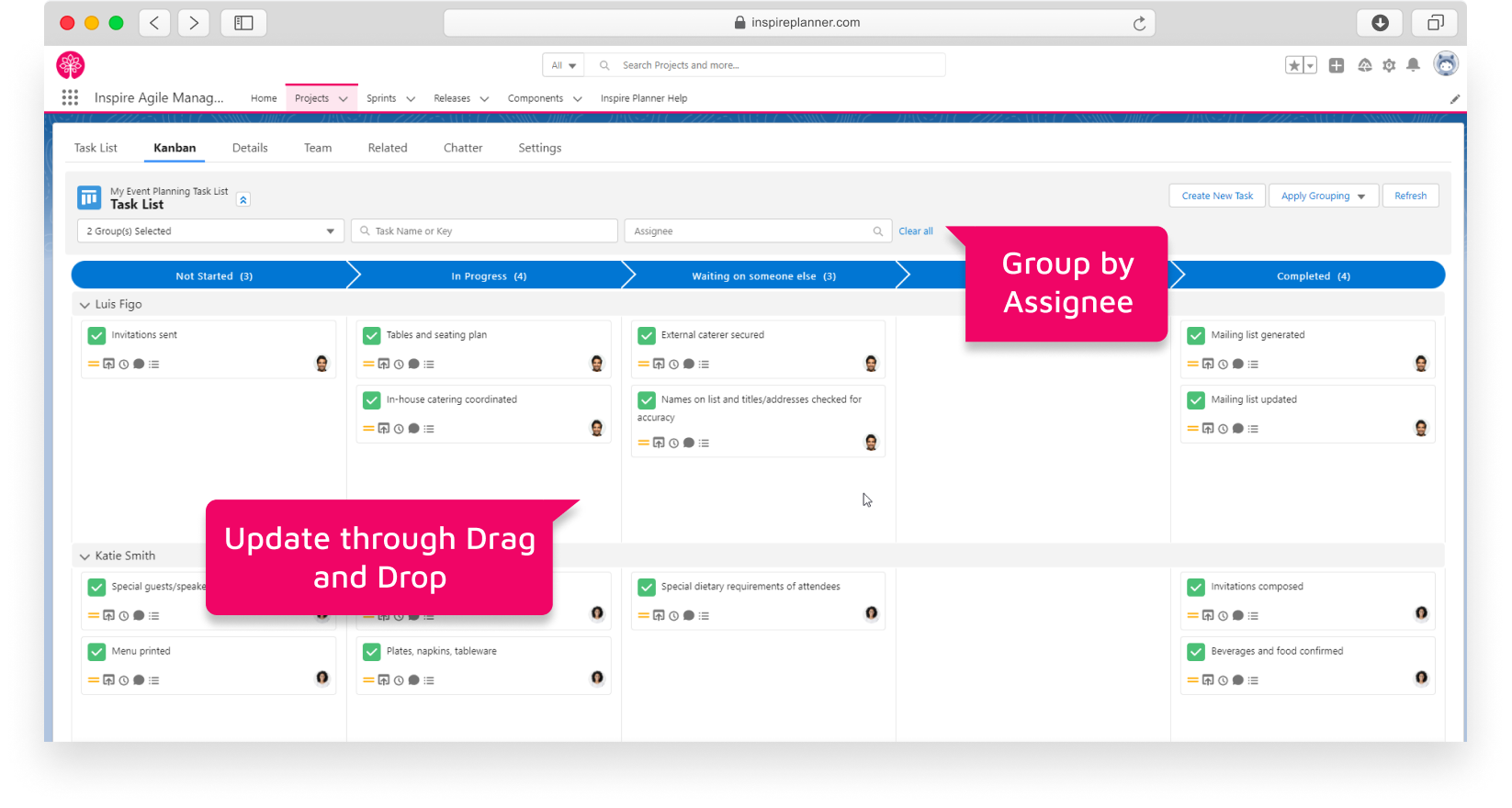 Customers
Inspiring hundreds of teams worldwide










Key Features
Accelerate your productivity through our powerful yet easy-to-use features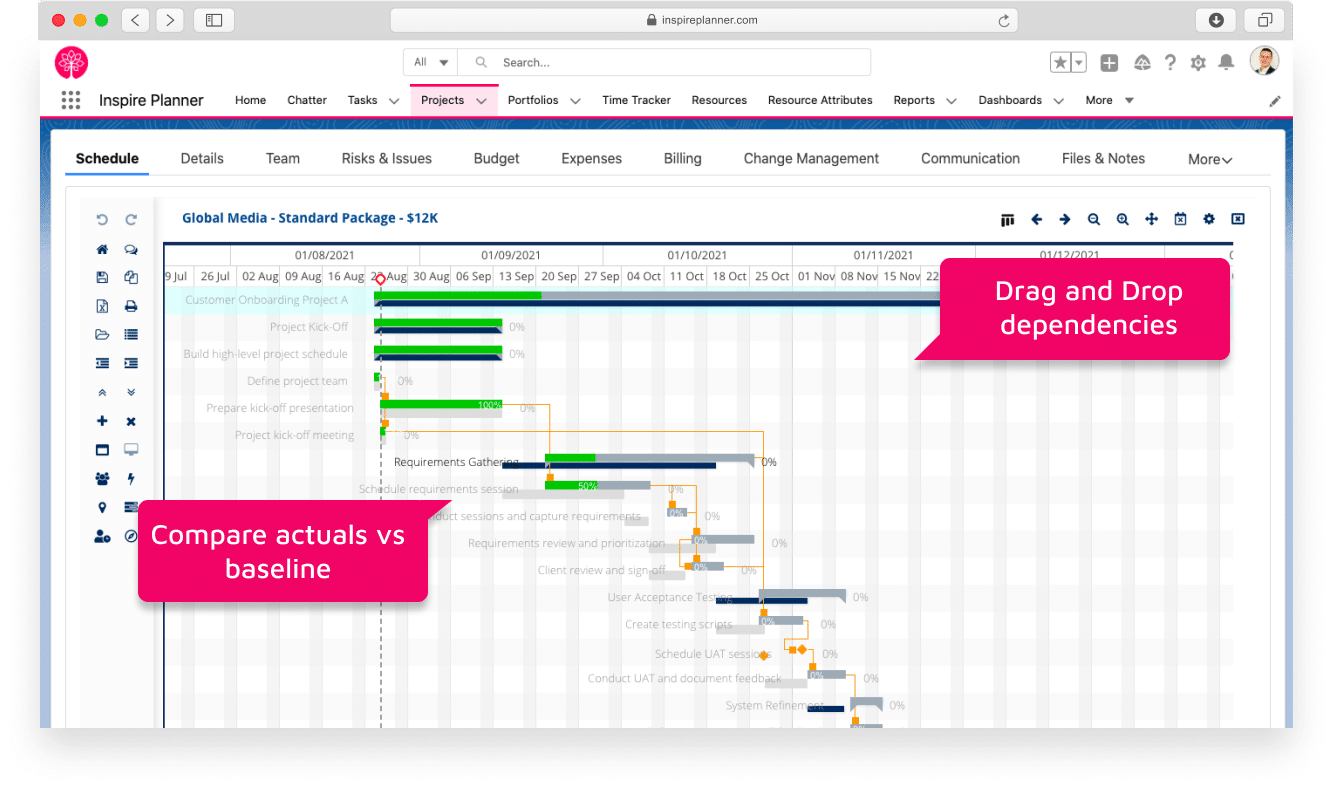 View your entire project schedule, define predecessors, set milestones, identify critical path, and compare against your baseline, all within our drag and drop Gantt chart.
Visualize your project tasks and where they sit within your process. Kanban boards are perfect for prioritizing, organizing, and managing your work.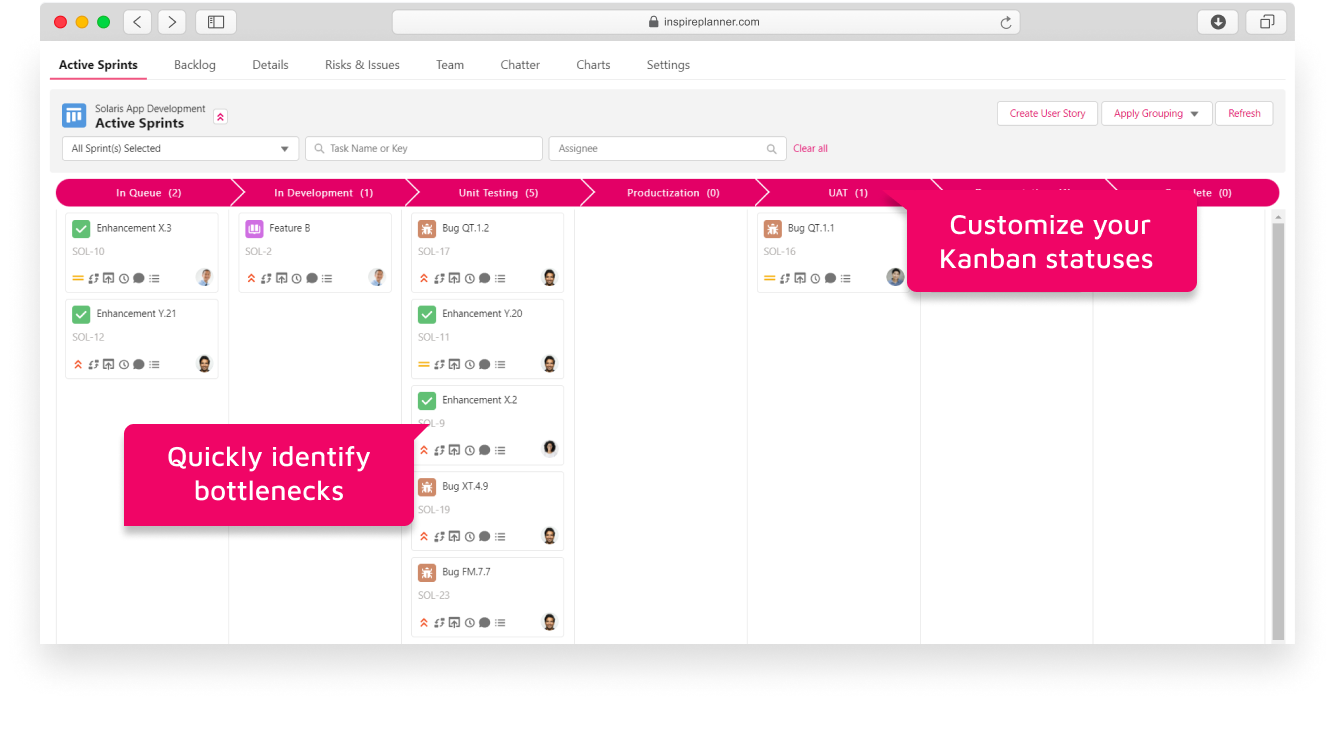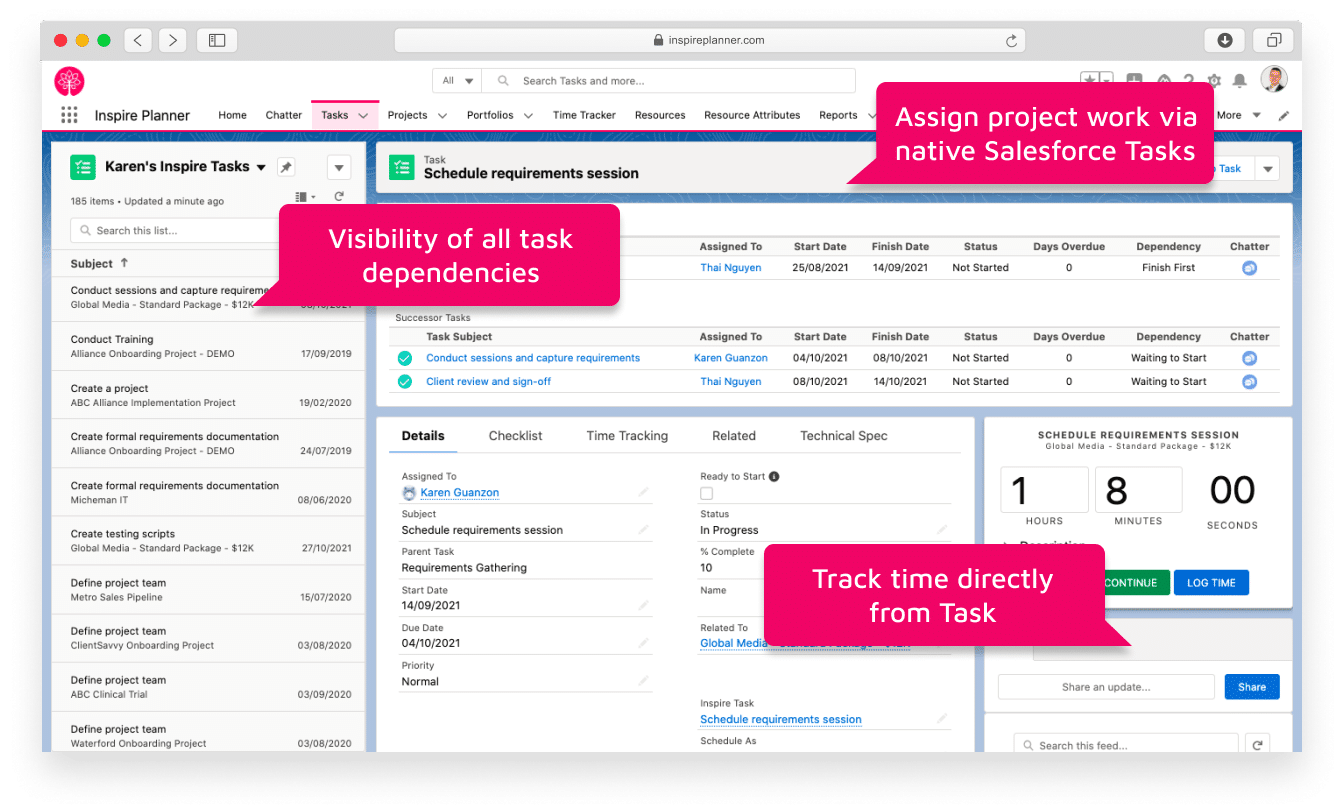 Integration with native Salesforce Tasks
Leverage native Salesforce tasks to give your teams an intuitive way to effectively prioritize and manage their work.
Quickly log time against any object in Salesforce through the daily, weekly or stopwatch features. Measure and report on Planned vs. Actual Effort.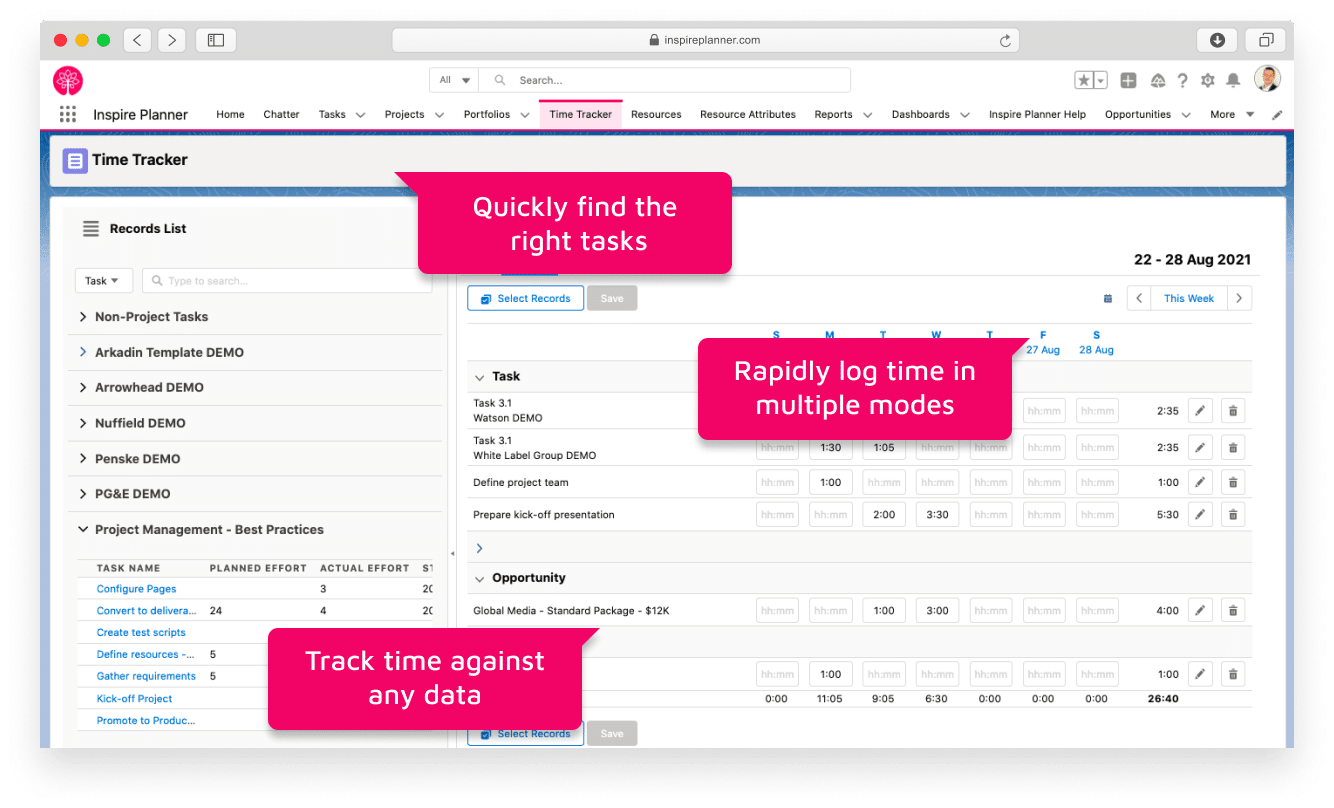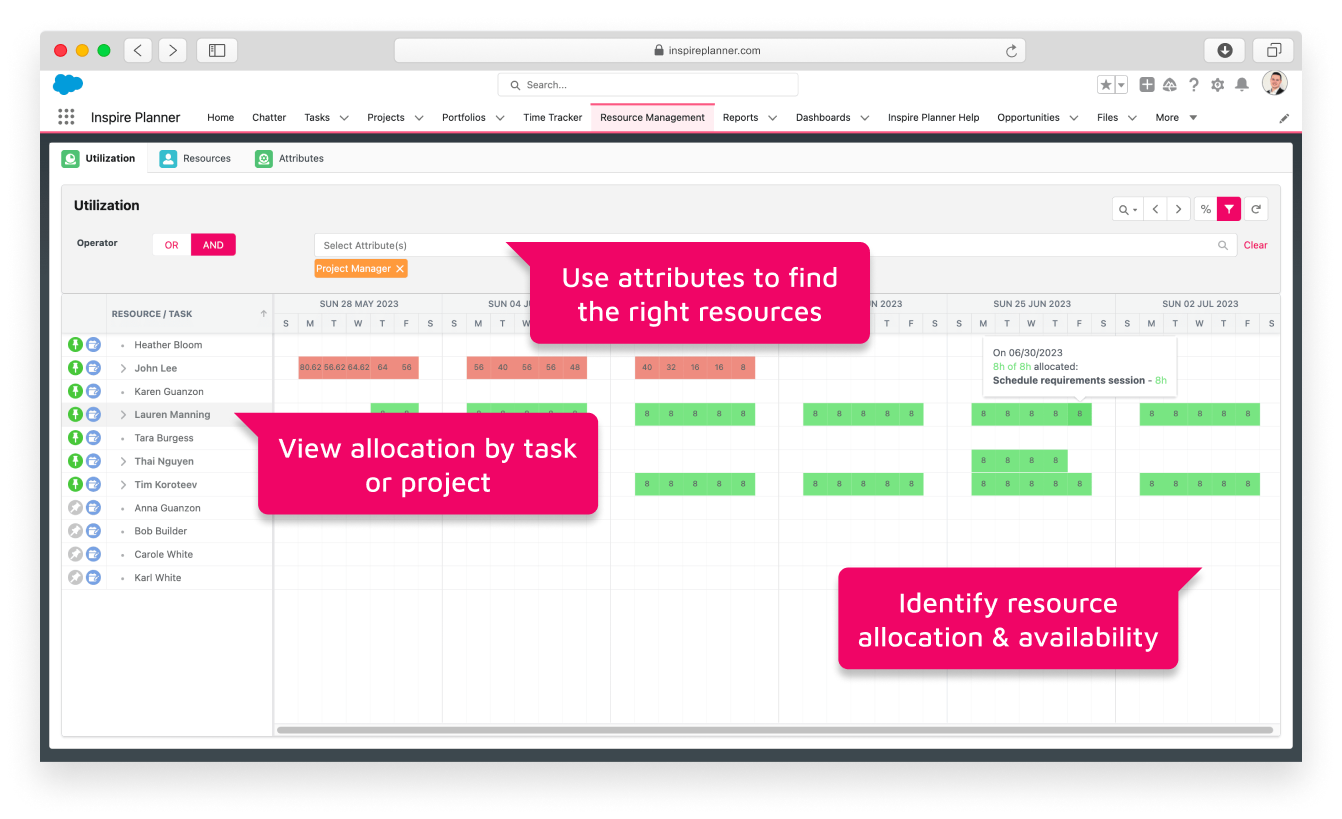 Search for resources using assigned attributes. Conveniently view capacity and allocation while managing hard and soft bookings, including PTO.
Effortlessly collaborate with external team members through a secure portal. External contacts can update the status, effort and comments of their assigned tasks (no setup or additional licenses required).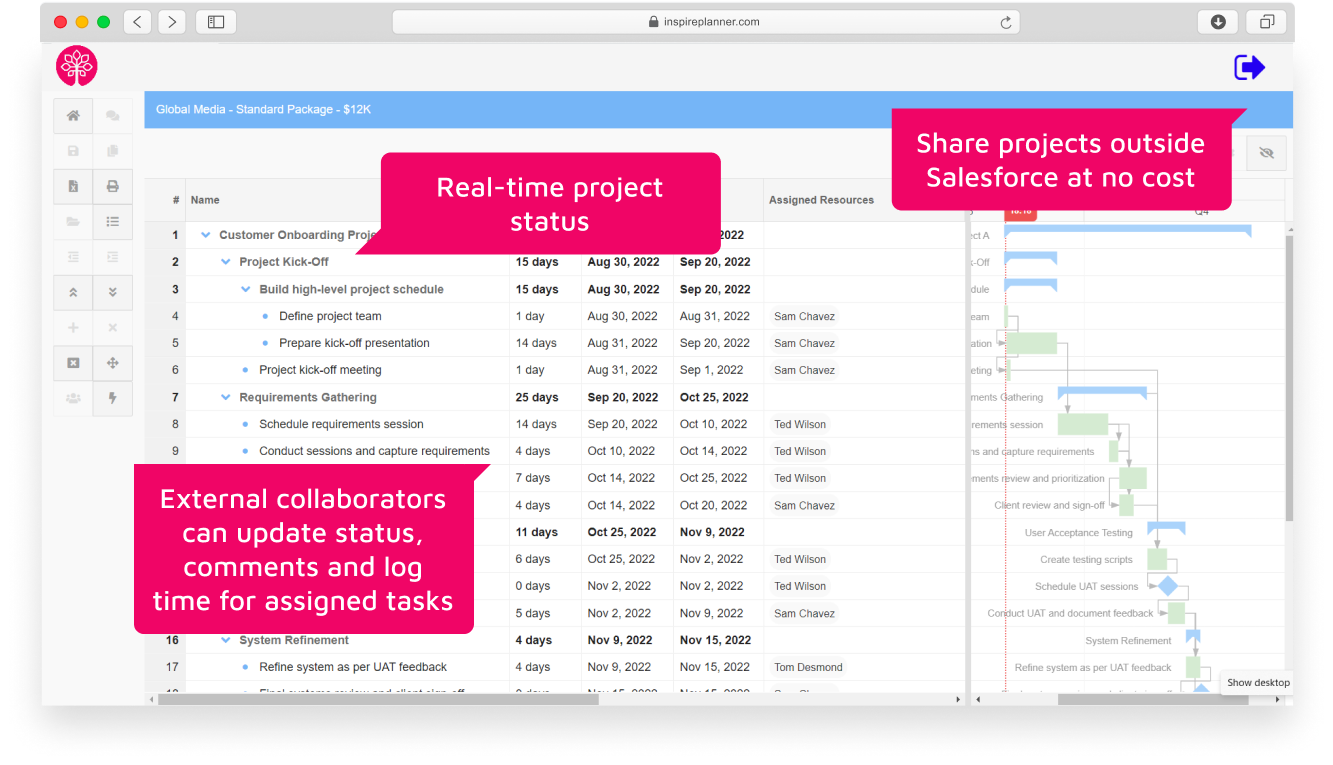 See all available features
100% Salesforce native
Built exclusively for Salesforce, Inspire Planner delivers a seamless and familiar user experience.
Set up in minutes
No more complex Salesforce integrations, Inspire Planner is ready to go in minutes.
Automate your workflows
Utilize Inspire Planner and Salesforce automation to propel your business processes to the next level.
Testimonials
See why our customers love Inspire Planner

Richard McMillen
President
Totally impressed!!!
As a consultant I was looking for the best program to keep my client's staff on the same page as they are positioned for significant growth. Some of their staff needed to be able to handle a lot of detail while others just needed an overview. I reviewed 31 software solutions, some with cute bells and whistles, but not the substance needed. The only one that met all the needs was Inspire Planner. I had one minor problem (my misunderstanding, not Inspire Planner's) and they responded quicker than any other firm I can ever remember.

Paige Elmore
Customer Success Manager
Perfect Tool & Team
The Inspire Planner add-on for Salesforce is an absolute requirement for any project tracking. We use it for both client-facing and internal projects. Inspire Planner has been easily able to handle our exceptional volume of projects. The Inspire Planner team has been fantastic to work with and assist in leveraging the tool to best support our "Agilefall" processes. If you are going to run projects and use SF as your backend, there is really no point in looking at any other tool. I spent over 30hrs on demos and research before landing with Inspire and they won by a landslide of features, team values, and pricing

Linda Taylor
Executive Officer
Great project mgmt app
Inspire Planner was exactly what I was looking for when searching for project planning software. It integrates seamlessly with Salesforce which was important for us, as we didn't want yet another software system. It's intuitive and easy to use, and the ability to categorize projects into different portfolios is useful. The Inspire Planner team have also been very responsive and helpful. Would definitely recommend if you're looking to add project management to Salesforce.

Fabrice Cathala
Salesforce MVP
Great Project Management App
I wish more apps were so easy to install and run. The makers of Inspire Planner chose to go the "native" road rather than relying on external data centres and I think it's a very good choice as you would expect that the Salesforce platform is already validated from a security standpoint at least. Then, the UI is awesome and has nothing to be ashamed of when comparing to better know Project Management apps. To finish I think that cost-wise, this app is well-positioned for whoever needs a professional way to manage projects and collaborate on them. I honestly believe that trying it is adopting it. Enjoy!
Read more testimonials
Solutions
Easily configure Inspire Planner for your unique needs.
Technology & Communications
Healthcare & Life Sciences

Small/Medium Teams
For teams looking to quickly deploy a Salesforce project management app, Inspire Planner is cost-effective, scalable and will grow with your business.

Enterprises
Since Inspire Planner is native to Salesforce, you can have confidence knowing that even your most complex needs will be addressed. Whether it's data security, integrations, performance or customization potential, Inspire Planner is designed for the enterprise.

Non-profits
As a proud Pledge 1% organization, we believe in the power of social impact and supporting nonprofits in our communities. In addition to donating 10 free licenses to any qualifying non-profit organization, we also offer discounts for any additional users.
See Inspire Planner in Action