Inspire Planner

non-profit program
Supporting our global community
through shared technology
Impact Statement
We believe in social impact: not only in principle, but as active participants. Our founders have a long history partnering with, and consulting for non-profit organizations. Giving back has always been an integral part of their vision.
Our goal is to provide a project management solution to non-profit organizations across the globe, empowering them to implement efficiencies, processes, and visibility so that they can focus on fulfilling their missions.
Our History of Giving
in Numbers
To date, we have donated:
Totaling nearly ½ million
CAD annually
Non-profits
FREE
First 10 licences
Discounts available on additional (11+)
Self-Starter Onboarding package required
How to qualify for 10 free non-profit licenses:
1
Install
Install
Inspire Planner trial
2
Send
Send a copy of your government-issued document verifying your non-profit status
3
Sign
Sign the agreement for non-profit licenses and Self-Starter Onboarding
Self-Starter Onboarding
$700 USD
Post-Install Review
Access to Pre-recorded Training Library
Additional Onboarding plans are available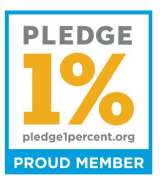 Proud Pledge 1% organization
We are proud to be a Pledge 1% organization committed to donating 1% of
our product and resources to support and improve non-profits within their
communities.
Testimonials
See why our customers love Inspire Planner


Elizabeth Walker
Associate Director, Programs
Intuitive product that helps us work together better
We've been using Inspire for a few years now and find it very helpful. As a nonprofit, we use it for all parts of our work, including, program development/management, communication campaigns, staff management, events, etc. It's a fairly intuitive platform that everyone on our team is able to use. It was important to use, when selecting a PM tool, that it integrated with SF tasks so we would be able to see the full scope of our workload in one place. Inspire does this beautifully, taking advantage of native SF tools (like tasks and chatter, etc.) – it means less of a learning curve for people and easier adoption across the team – which means we can be more collaborative and transparent in all of our projects. The Inspire team is also big on listening to their customers and finding ways to improve their product.


Carly Galli
Vice President of Business Systems and Processes
Clear winner for project collaboration
Within our global organization we manage complex projects across multiple users in different countries. Inspire Planner drives results with an intuitive interface and user-friendly features including integration with Salesforce Chatter. Focus less on project administration and more on team collaboration!
Frequently Asked Questions
Does Inspire Planner offer a free trial?
Do all my Salesforce users require an Inspire Planner license?
No, users need a license if they need access to any data related to Inspire Planner. We recommend licenses for anyone who needs the following:
Create or manage projects
Will have project tasks assigned
Need access to reports and dashboards
Non-Inspire Planner users can still be assigned project tasks, which will result in standard Salesforce tasks, but they won't see all the details without a license. Such users will have very limited project collaboration capabilities.
For example, the users without a license won't be able to participate in Chatter collaboration, access shared files, log time for their tasks, see task dependencies, or any custom fields related to Inspire Planner. That is why we strongly recommend all project collaborators have a license.
Do external contacts require an Inspire Planner license to view projects?
No, in order to view projects in our External Project Portal, your external contacts do not need Salesforce or Inspire Planner licenses. On top of being able to view your project in real-time, your external contacts can also update the status of their tasks, edit actual effort, and leave a comment for your project manager. Through this fully secure portal, you can share projects with an unlimited number of external contacts, while all your data stays in Salesforce.
If you need your external contacts to have full access to all the functionality of Inspire Planner, then you can use a paid Salesforce Community and purchase Inspire Planner licenses for such contacts
Does Inspire Planner offer onboarding help?
Yes, we have a required Standard Onboarding package. We also have a full professional services team that can help with any sort of additional customization, or guidance, on a per-hour basis. Please see the details here.
What kind of support does Inspire Planner offer?
Standard support is included in the license fee. It includes unlimited email help tickets, unlimited access to Inspire Planner Training Resources, as well as access to the Inspire Planner User Community.
Inspire Planner also offers two premium Customer Success plans, which include priority help ticket routing, support & diagnostics for extended configuration and development, assigned customer success manager, custom release schedule, and more.
For additional details, please visit our Customer Success plans page or contact us at customer.success@inspireplanner.com
Are there any discounts available?
Yes, volume discounts are available for 50+ users. Also, non-profit organizations can benefit from an additional discount on user licenses.
Do you offer monthly payments?
No, all of our plans are billed annually.
Does Inspire Planner have a mobile app?
Inspire Planner doesn't have a standalone mobile app but since Inspire Planner is a 100% Salesforce-native solution, it works with the Salesforce mobile app.
We support the following functions:
Updating tasks
View/update project attributes
Posting to Chatter
Logging time
View reports and dashboards
The Gantt chart interface is not intended for mobile devices.
Can I customize Inspire Planner for my needs?
Absolutely, you can customize Inspire Planner to meet your exact needs through standard Salesforce configuration. Inspire Planner is built on native Salesforce components and your data is stored in custom Salesforce objects. Therefore, customers can create additional fields, automated workflows or process flows, change page layouts, and more
WIll my data be secure in Inspire Planner?
Inspire Planner is a 100% Salesforce native solution. That means that you will benefit from the most advanced security standards of Salesforce as well as 99.99% availability of Salesforce. Within Inspire Planner, you can also control your data security setup by using profiles and permission sets.
Can I be invoiced instead of paying by credit card?
Yes, any customer can be invoiced and payment can be made via check or wire transfer. Please contact
finance@inspireplanner.com
to request this method of payment
Do you accept PayPal payments?
Yes, we accept payments via PayPal.
As a non-profit, what do we need to provide to qualify for your non-profit program?