How to Become a Successful Salesforce Administrator
Salesforce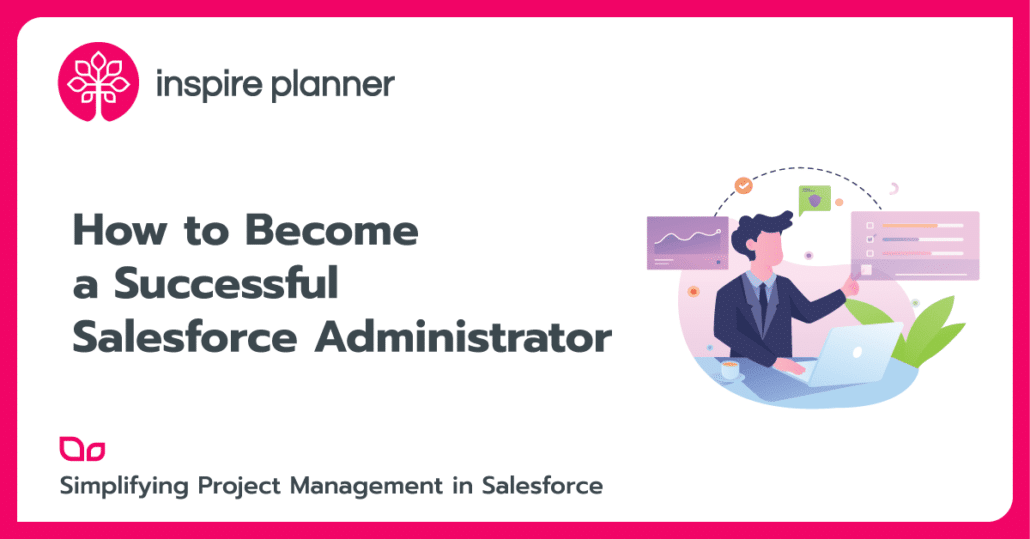 The world of Salesforce is growing every day. From the acquisitions of RPA provider Servicetrace into MuleSoft, to the communications giant Slack, to the ever-increasing 150,000+ organizations relying on their CRM solution, there seems to be no end in sight to the meteoric rise of Salesforce. And, as the platform and ecosystem grow, so too does the number of people wanting to train in Salesforce. Fortunately, there's a role for everyone in Salesforce, and – as the role that requires the least amount of technical experience to get started – Salesforce Administrator is rapidly becoming one of the most popular.
In this article, we'll discuss why Salesforce Administrator is such a great place to start in the ecosystem, as well as a few core skills and attributes you need to succeed as a Salesforce Administrator.
First – what is a Salesforce Administrator?
Put simply, Salesforce Administrators are people who help businesses get the most out of their Salesforce set-up. They are responsible for defining system requirements and customizing the platform to the needs of their business.
In Salesforce's own words, a Salesforce Administrator can often be found:
Maintaining the businesses implementation of the platform
Ensuring it's as easy as possible for users of any technical level to use Salesforce
Staying up to date on any new tools, capabilities, or updates that have been released on the platform
Salesforce Administrators are experts at creating dashboards, sharing vital information, and managing lead generation operations through the platform.
And, because you don't need a degree or technical background to start learning to be a Salesforce Administrator, it's often the place that people start out in the ecosystem. So what skills and attributions do you need to thrive as a Salesforce Administrator?
Certifications are more important than ever before
According to Mason Frank's most recent Salesforce Salary Survey, 77% of professionals working with Salesforce hold at least one official certification, and 39% stated their salary increased after getting one.
The certification trend is growing within Salesforce and – nowadays – it's fairly rare to find someone who works professionally with the platform who is not certified, at least once.
As the ecosystem has expanded and become more competitive (a 400% annual growth rate of Salesforce Administrators will do that!), certifications have become a way to signpost to employers that you are someone who knows your stuff.
The certification exam itself will cover concepts such as:
Managing users, data, and security
Maintaining and customizing Sales Cloud and Service Cloud apps
Building reports, dashboards, and workflows
Here are some courses that can help you get prepared for the certification exams:
Udemy:
WeLearnSalesforce:
(Bonus: Anyone who signs up through our special link is eligible for a 40% discount on any Study Workbook, Practice Exam Bundle, or Lifetime Course Enrollment. Sign up today and use the coupon code INTROSPCL!)
Salesforce Administrator should master the art of communication
It doesn't matter where you work in Salesforce, as an Administrator, Developer, or Architect, good communication skills will always be crucial to your success in a role.
To land and keep a job in Salesforce, you must be able to communicate effectively across multiple stakeholders; including clients, technical and non-technical employees, and even your own Salesforce team. One of our favorite ways to do it is by generating visual step-by-step guides automatically in Scribe by simply recording your process. It can be easily done in minutes and your stakeholders will love your intuitive guides!
You'll also have to gather and understand requirements effectively, support individuals to understand briefs, present to stakeholders, and confidently explain any proposed solutions.
In short, there's a lot of communicating to be done! For example, if you're proposing a new solution, you'll have to be able to explain its benefits in a way that everyone can understand. And the same goes for updating historic processes or tools that are no longer needed – communication is key to any successful Salesforce project. There are plenty of great online courses to help you improve your communication skills.
A little time and a little patience
Becoming a Salesforce Administrator may take a little time. While many Salesforce Administrators got into the role because someone in a business needed to learn to support their new Salesforce implementation if you're training to become a Salesforce Administrator on your own, it may take a little more time.
Generally, it takes an absolute minimum of 4-6 weeks to earn a new Salesforce certification, but it can take a bit longer if – for example – it is your first time taking one. If it's your first attempt at your first cert, it could potentially take up to 8-10 weeks of learning at a pretty intensive rate!
So have a little patience, and don't be put off by the initial learning rate – it'll absolutely be worth it in the end!
Plus, if you feel you need a little extra support to complete your certifications, take a look at our compendium of Salesforce training resources and providers.
Salesforce Administrator is expected to put theory into practice
With many organizations hiring one or more people to take care of the administrative side of their Salesforce implementation, there's plenty of opportunities to land a job as a Salesforce Administrator.
But, to be a sure-fire choice at the interview stage, you'll need to be able to stand out in the hiring crowd.
In Salesforce, the best way to stand out is to have strong practical and commercial experience of working as a Salesforce Administrator in an organization before. It's as simple as that.
Businesses want to see that you can handle everything the job can throw at you, while still providing useful reporting on their Salesforce data and customization of their implementation. Having actual experience of this can really help you land that role you wanted.
Fortunately, there are ways to gain commercial experience, even if you haven't been paid to work for a business as a Salesforce Administrator before. Such as working for charity organizations to improve their Salesforce implementation. Or you can try training with providers like Revolent, who offer Salesforce career programs that include training, certification, and those all-important paid work placements.
If you're not interested in working for charity orgs or non-profits, you could sign up for a free developer org and gain experience solving problems with Salesforce with some practical examples outlined in this highly useful article by Gordon Lee. Or, alternatively, you could join a local community group and collaborate on a project you're interested in.
Creating and managing a unique, active LinkedIn profile will help massively when looking for experience as a Salesforce Administrator. Standing out in the ecosystem is a large part of the battle when you first get started. The best way to get noticed is to stand out and be unique, so build your LinkedIn brand around all the things that make you authentically you. People love to see the "real" side of people, and helping people understand how your unique qualities would be of benefit to them will make you much more attractive as a potential prospect.
---
Whilst breaking into a new career can be challenging, especially to find your first paid role, a career in Salesforce will bring with it numerous rewards. Not only can it be very lucrative depending on your specialism, but you'll be also working in one of the most supportive ecosystems around and one that is built around sharing knowledge, helping each other, and giving back. You'll also work with a technology that is constantly innovating and is the market leader in CRM technologies – and for people who want a career in tech, what is more exciting than that!