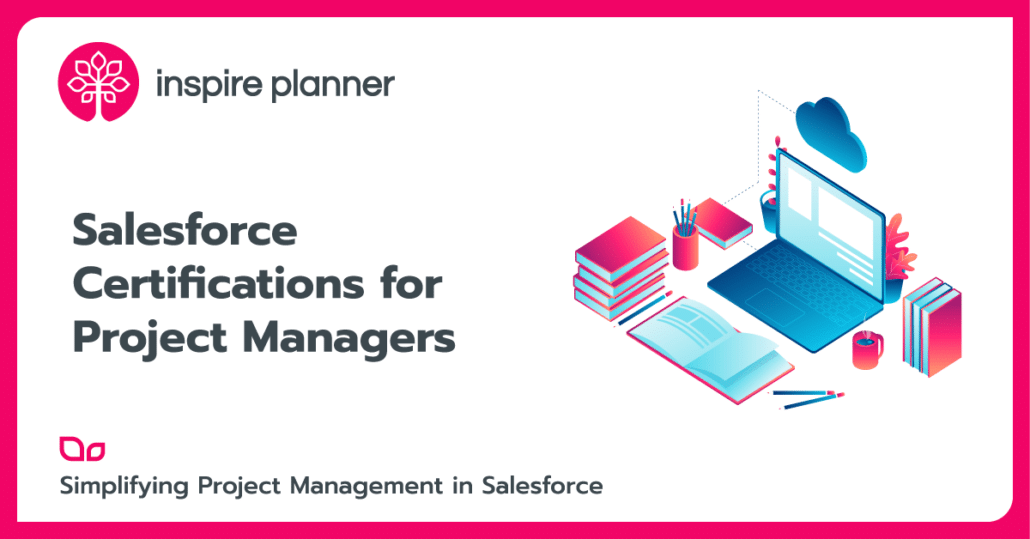 From finalizing the timeline to making sure it is adhered to, from getting business requirements to handling client discontent, from project roadmap to daily issues – project managers are the backbone for any project delivery. And in projects involving CRM platforms like Salesforce, the project managers have to wear more than one hat. Apart from the technical skills that are required, these are the top 5 must-have skills for a Salesforce Project Manager. But having Salesforce certifications for Project Managers on top of these skills will definitely help you stand out from the crowd.
We are in times where agile has been established as the norm and companies are rapidly moving towards Continuous Integration/Continuous Deployment (CI/CD). Projects today have to be delivered at a much faster pace and with greater accuracy compared to what it used to be just a decade ago. Talking about project management itself, planning delivery involves a lot more than just a process understanding of the requirements. Even in agile projects, every aspect has to be defined as per logical expectations. There's simply no time to go wrong.
These trends have led to a much-accepted realization of the importance of product knowledge for Project Managers. Understanding the tool helps Project manager at every stage right from setting correct expectations during requirement gathering, accurate estimation for sprint planning, requirements prioritization, User Acceptance Test (UAT) execution and Go Live administration.
Benefits of Getting Salesforce Certifications
It's best to start by learning as much as you can about project management overall and the best practices that you can use, and preparing to get PMP certified. 
However, being only a functional manager in Salesforce would not be enough without technical expertise. A great project manager must get into the details of the project even if it involves code. As such, getting Salesforce certified has lots of benefits for you and your team:
Better Scheduling: You'll get better at scheduling work for your team as a certified project manager you now know which item-wise tasks should be prioritized to get a task completed by your team.
Understand Estimates: You'll have a better understanding of estimates for the tasks. You would know how many hours a process builder task takes, or if an apex trigger is required and how complex or easy a particular task is.
Technical Advice: You'll be helping the team and able to advise technically if needed along with your Technical Architect. Combining practical experience with theory and best practices helps to create a true and lasting understanding of a subject.
Feel Valued: You'll be better equipped with Salesforce knowledge in your meetings. Going ahead with the business in confidence leads to positive results. Within the team and your organization, you'll feel more valued as you are contributing beyond expectations.
If you still don't feel motivated enough to get Salesforce certifications as a project manager, then check out what Salesforce professionals from all around the world have to say in this amazing roundup article about being Salesforce certified.
Stage 1: Attaining the Knowledge for Salesforce Certifications
If you wish to explore how you can leverage Salesforce knowledge in your projects, below is the approach we suggest. Salesforce has a one-stop-shop for learning everything Salesforce – Trailhead. Create a trailhead account and start by looking up the following content:
Start with basics – Functional
Before you get into Technical details, here are some great Trailhead modules specifically looking at the Project Management side of things in Salesforce:
Here's the complete Trailmix if you need further understanding of Project Management basics
Start with basics – Technical
Below are some reference links on specific beginner topics. This involves understanding the platform, data model and UX delivered.
Understand the modules
Establish an understanding of the functionalities executed by Key Salesforce modules, the features available with configuration and ones requiring customization. Look up project management modules that are specific to your project. Below are a few:
Understand deployment in Salesforce
Now that you have an understanding of the platform and different offerings, the next step is to understand the development approach in Salesforce. Salesforce has provided detailed content on the application Life cycle & development model applied in Salesforce implementations.
Alternative to Salesforce Trailhead – Revolent
As an alternative to the traditional Trailhead options, we encourage you to check out Revolent, which offers fully-funded Salesforce courses during their intensive training programs. (disclaimer: we are not affiliated with Revolent and do not receive any commission from them).
Since the traditional methods of gaining Salesforce certifications can be pricey, Revolent created their innovative program to help fill the digital skills gap and encourage people into the Salesforce ecosystem. Following the 10-week training course, Revols progress to gain hands-on experience on client sites around the world for two years.
Currently, Revolent offers four main career programs – Salesforce Consultant program, Salesforce Admin program, ServiceNow Consultant program, and Salesforce Developer program. If you believe that now is the perfect opportunity to improve your skills and cross-train, you can apply here. These certifications would definitely increase your value as a Salesforce project manager.
Head to Salesforce AppExchange
Even with great features provided by Salesforce, there's always room for more. That gap is covered by the Apps built into the platform by Salesforce Partners, Customers, Enthusiasts which are available on AppExchange. AppExchange is a fast and easy way to extend Salesforce. With thousands of solutions that install in just a few clicks, there's something for every business challenge.
Salesforce content is well thought out to suit the needs of both functional and technical folks. After you had an orientation of the platform, explore the ocean of knowledge that Salesforce provides via Trailhead, help manuals, Partner Communities, Salesforce blogs, and community groups.
Stage 2: Exercising Knowledge for Salesforce Certifications
Once you have had a certain level of hands-on the product, you can embark on your journey to Salesforce certifications.
About Salesforce Certifications
Salesforce offers varied certifications for every role and industry (as highlighted below). For a Project Manager, it is required to have high-level knowledge on each of these verticals. Start with the Administrator certification. As a Project Manager, you wouldn't be required to do an Advanced Admin or even Developer certifications. Head straight to the Consultant certifications after the Admin. Depending on your interests and project requirements, choose the right consultant certification – it could be Sales, Service, Community, Marketing related certification.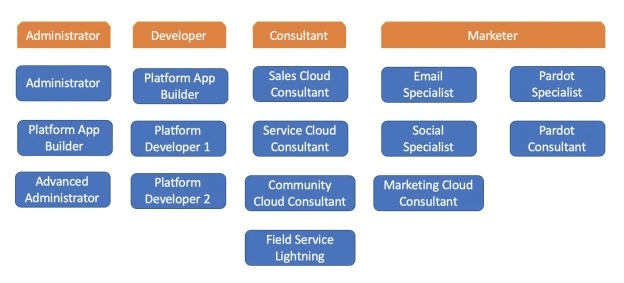 For most of the consultant certifications, the Administrator certification is pre-requisite
All the above-mentioned certifications are priced at $200. A retake exam for those who fail is offered at half-price.
To maintain Salesforce certification credentials, all certified professionals must successfully complete release maintenance exams specific to their credential. Depending on your credentials, you may have anywhere from one to three release exams per credential to complete each year.
You can schedule your proctored exam onsite at a test center or online
Salesforce Certifications for Admins
As mentioned earlier, the one certification to start with would be the Salesforce Admin Certification and training. Refer to the training available for admin certification for further details.
If you are looking for even more materials, here are some great training courses:
Consultant Certification: After you have attained admin certification, you can move ahead with module-specific Consultant certifications. Consultant certifications are designed to test the understanding of users on the process and functionality that Salesforce modules deliver. Some of the Consultant certifications to start with:
All the best for your journey to Salesforce learning and getting your Salesforce Certifications for Project Managers. Surely there's a great journey ahead. And yes, don't forget to stay updated on the latest upgrades by maintaining your certifications and on some useful Salesforce tips and tricks by subscribing to our blog by Inspire Planner. Bon Voyage!