Top 5 Most Helpful Salesforce Trailhead Trails
Salesforce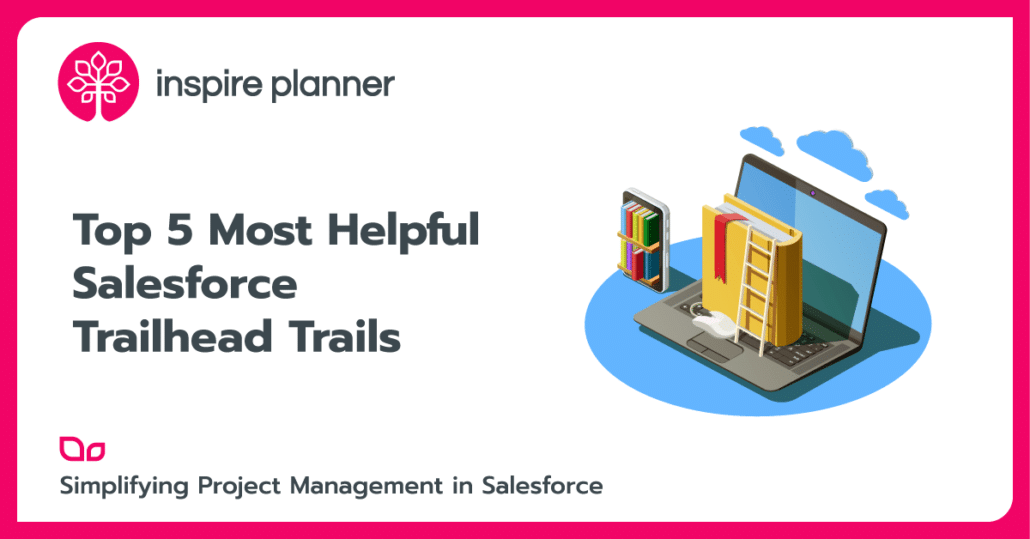 Salesforce Trailhead is an interactive way to learn how to use the Salesforce.com platform. You learn through "Trails" or collections of modules that each teach you about a specific Salesforce feature. You read through examples, take quizzes to test your knowledge, and even practice building configurations in Sandboxes or practice environments to gain hands-on experience with the features. However, with over 85 different Trails to pick from, getting started with Trailhead can be intimidating. Here are 5 of the most helpful Trails to focus on so you can become a Salesforce expert today and help your team work quicker, faster, and better!
1. Learn What Salesforce Is: Grow Faster With CRM
Even if you have never heard the term CRM before, (Customer Relationship Management), the Grow Faster With CRM is a great Trailhead to start off with. It provides a clear, high-level overview of what a CRM is, how Salesforce is a CRM, and what Salesforce can do for you. It also provides a great introduction to the different main product offerings of Salesforce: Sales Cloud, Service Cloud, and Marketing Cloud. This entire Salesforce Trailhead Trail is only 3 hours and 15 minutes long, but if you are trying to save time and if your company doesn't use Service Cloud yet, try just skimming the last module, Contact Center Transformation.

2. Salesforce Trailhead Trail for Admin Beginner… & Medium, & Advanced
Where else better to start learning Salesforce.com than the Admin Beginner Trail? This Trail gives you an introduction to what exactly you can use Salesforce.com for. It touches upon Data Modeling, which sounds intimidating, but really will teach you about objects and what they are used for. Next, you learn about data management best practices as well as what Salesforce Lightning is and how to build in it. Finally, the Trail wraps up with touching upon Mobile customization options and how to build reports and dashboards in Lightning too. If the 8 hours and 55-minute trail sound too daunting, you can break it down by module too. The first module, Salesforce Platform Basics, is only 55 minutes long. Once you master Admin Beginner, check out Admin Intermediate, and then Admin Advanced too!
3. Understand & Get Started With Lightning Today
Salesforce Lightning is the future of Salesforce, so you should understand how it works sooner as opposed to later. What better way to do so than through the Get started With Lightning Trail? This Trail gives a great overview of the basics of Lightning as well as includes a Lightning Experience Rollout module that helps you set your Users up for success since Lightning comes with a completely new User interface. Although this Trail is listed to take 9 hours and 25 minutes, we think you could get through it quicker than that too. Understanding how the upgrade to Lightning works is crucial for the future of Salesforce and success of your team.
4. Salesforce Trailhead Trail about the Basis of Salesforce: Discover Sales Cloud
Sales Cloud is where you begin when you first use Salesforce.com. It's the basis and backbone of your Salesforce org. Often, other Cloud products are added once you have an established Sales Cloud. The Trail Discover Sales Cloud is a quick 1 hour and 40 minute Trail that is divided into two sections: What Sales Cloud is and how you can further customize it to work with your company. The first module, Sales Cloud: Quick Look, is actually in the Grow Faster With CRM Trail too, so if you've completed that one, you're already on your way to becoming a Sales Cloud Expert!

5. Customize & Enhance Your Salesforce Org: Learn the AppExchange Basics
A simple but helpful Salesforce Trailhead Trail to take a quick look at is called AppExchange Basics. This 45-minute crash course will prepare you to navigate the AppExchange quickly and easily to find helpful apps for your Salesforce Org. First, you learn about what AppExchange is, and then you spend some time learning how to navigate the vast AppExchange. With so many apps ranging from documentation tools like DocuSign to fully integrated project management tools like Inspire Planner, it can be a lot to take in at once. This Trail will help you feel comfortable in the sea of Apps and even teach you the best way to install apps so your teams will be able to sell quicker, easier, and more than ever before.