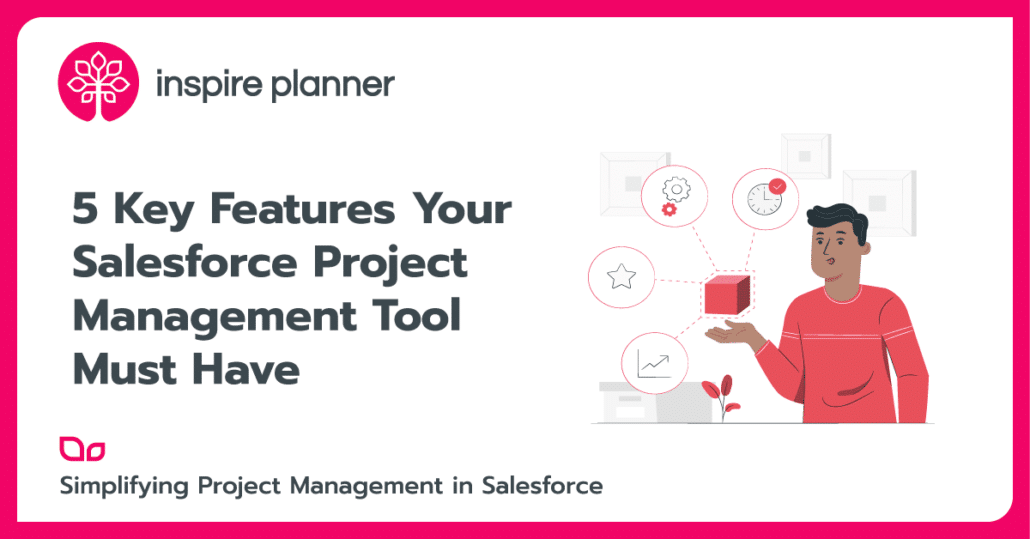 The Salesforce platform is great for holding customer information, tracking and making new sales, and automating business processes. However, Salesforce comes up short in one major way: it does not support project managers in the best way possible by offering a built-in Salesforce project management tool and functions.
Fortunately, project managers can get the tools and functionality they need by installing a project management app from the Salesforce AppExchange. There are tons of options and picking one that meets the specific needs of your company or team can be tough. To help, we've identified 5 essential features that your Salesforce project management tool must-have if you want to increase productivity and complete projects better than ever before.
Essential Salesforce Project Management Tool Features:
1. Resource Allocation
When picking a Salesforce project management tool, you should definitely consider one that gives you the ability to clearly see what projects your resources are being used for, and how you can allocate tasks amongst them for the best results. You may have employees or coworkers who are completely overloaded with tasks, while others may not be busy enough. With a tool that gives you visual insight into how your resources are being used, you will be able to spread tasks around more evenly to fully utilize all of your resources.
2. GANTT Chart
Gantt Charts are a project manager's best friend. If you are unfamiliar with them, a Gantt Chart allows you to easily visualize all tasks within a project, understand project timelines and task dependencies, and identify what work needs to be completed by what deadline in order to keep the project on track. Salesforce currently does not offer a Gantt Chart type resource for project managers, but luckily, some apps like Inspire Planner do.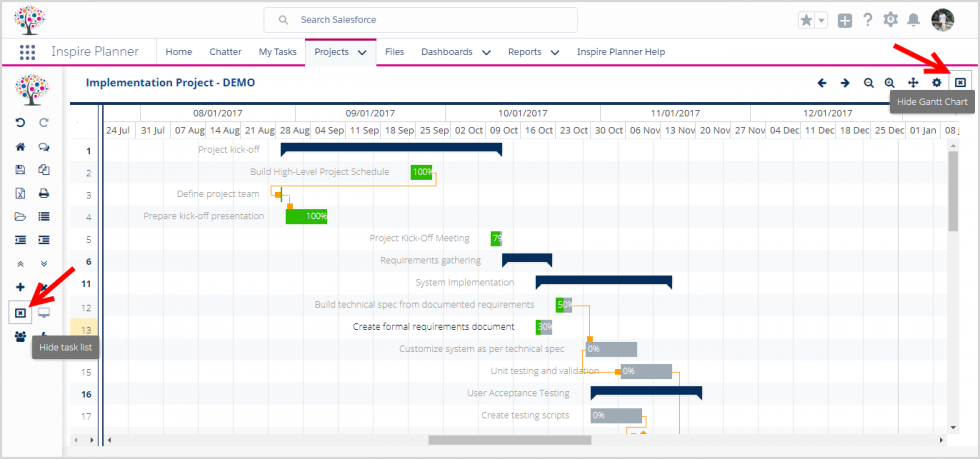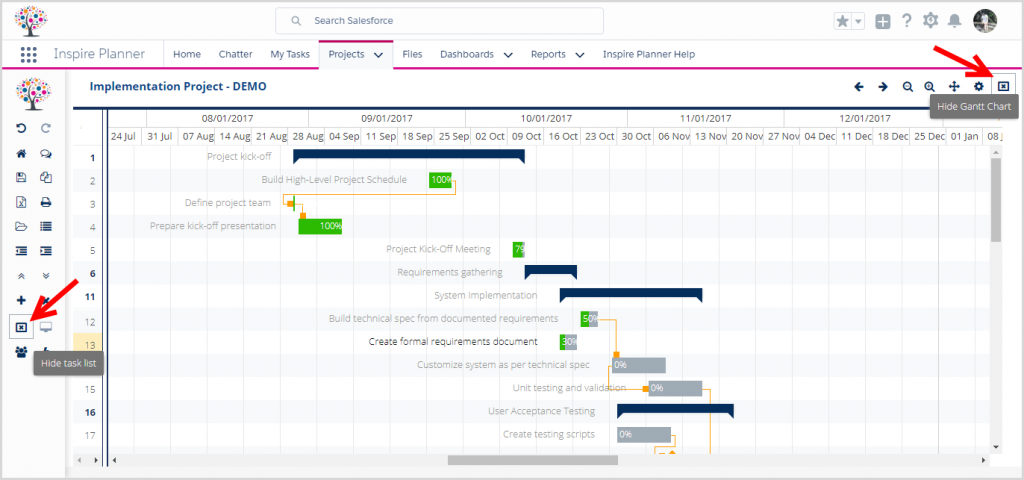 3. Time Tracking in a Salesforce project management tool
A time tracking feature will come in handy when you are forecasting project timelines. You want to look for a time tracking feature that you can use to compare "Actual" time spent on projects with "Estimated" and see the difference. A feature like this will help you see where potential project bottlenecks are and understand what types of tasks may take your team longer than others. Then, you will be able to create realistic project or task deadlines to set your team up for success!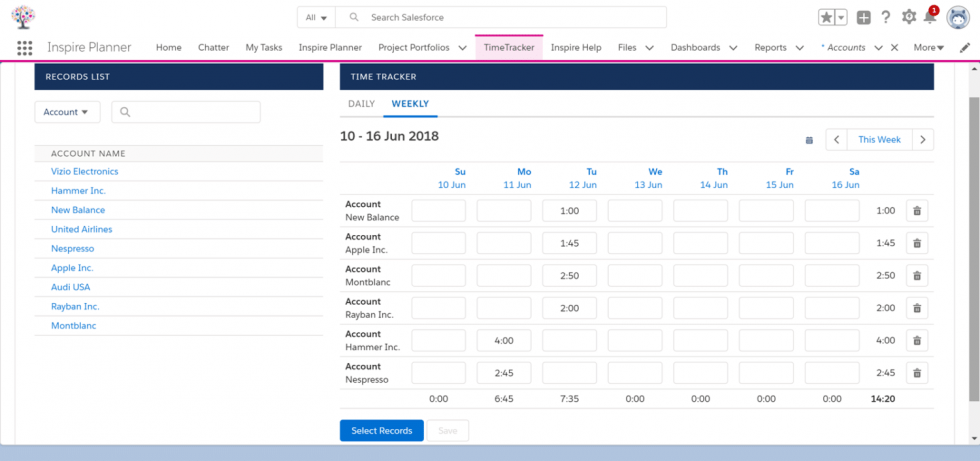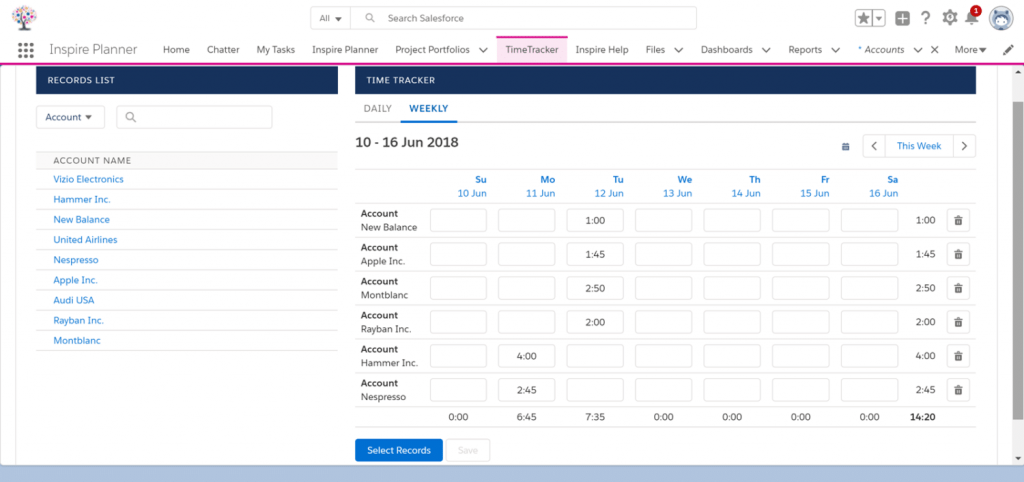 4. Projects Templates
If you often have similar or repetitive projects, you should consider a tool that has a project template feature. Just like Salesforce Email Templates that save you time from writing the same type of email over and over, you want to consider picking a Salesforce project management tool that offers pre-loaded project templates so you don't have to create new projects from scratch every time. This will save you countless hours of project setup so you can instead focus on managing your team and helping them succeed.
5. Team Collaboration Capabilities
Every project manager knows how important collaboration is for a successful project. Communicating the right information at the right time (and communicating it well) is vital to make sure every team member has what they need to succeed.
Your Salesforce project management app must have the capabilities for you to share your project with people both in and out of Salesforce, especially since some of your clients may not use Salesforce themselves. Additionally, you should look for a tool that is completely integrated with Chatter if your team uses it for communication so they don't have to learn a completely new communication method.
Learn more about 6 Awesome Chatter Features You Need to Start Using Today in our article!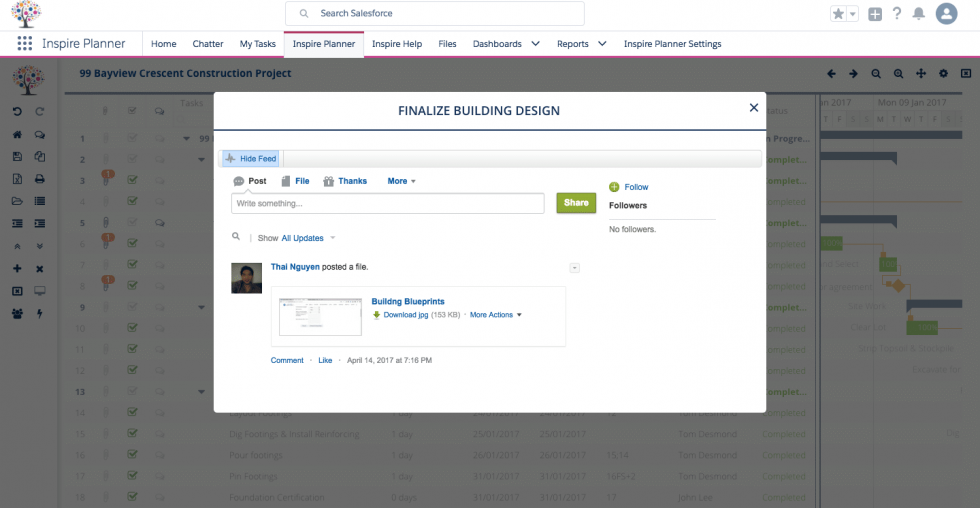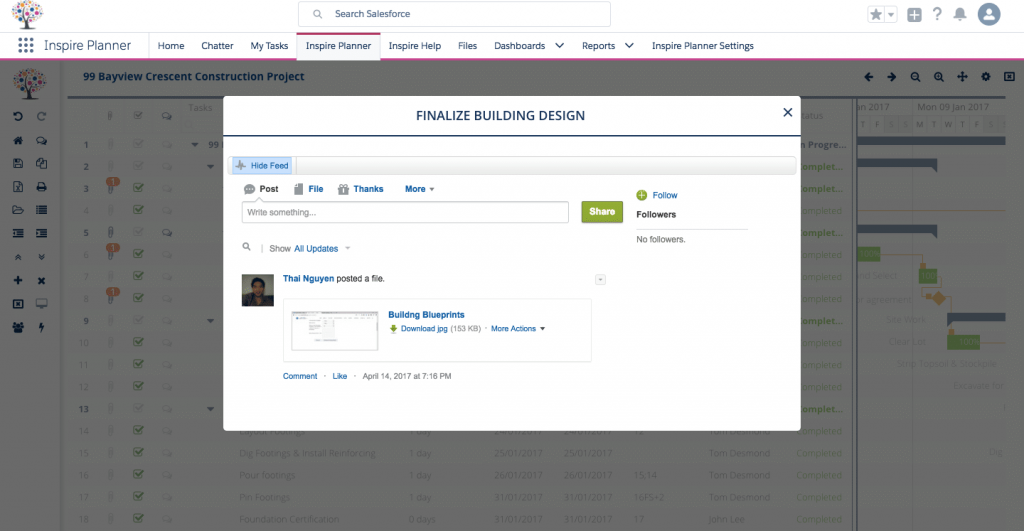 So, Which Salesforce Project Management Tool Should You Choose For Your Team?
When it comes to picking the right Salesforce project management tool for your company or team, you should definitely consider choosing one that has the 5 essential features above. These 5 features will not only help you gain more visibility into projects and how your resources are being used, but they will also make working together much easier as a team, saving time overall. We've created a list of our Top 5 Favorite Project Management Apps in Salesforce that have some of, if not all of the features listed above to help.  If you want to use Salesforce to its fullest capabilities but also have successful project management, getting a project management tool should definitely be a consideration in your near future!