Salesforce Spring '20 Release Highlights
Salesforce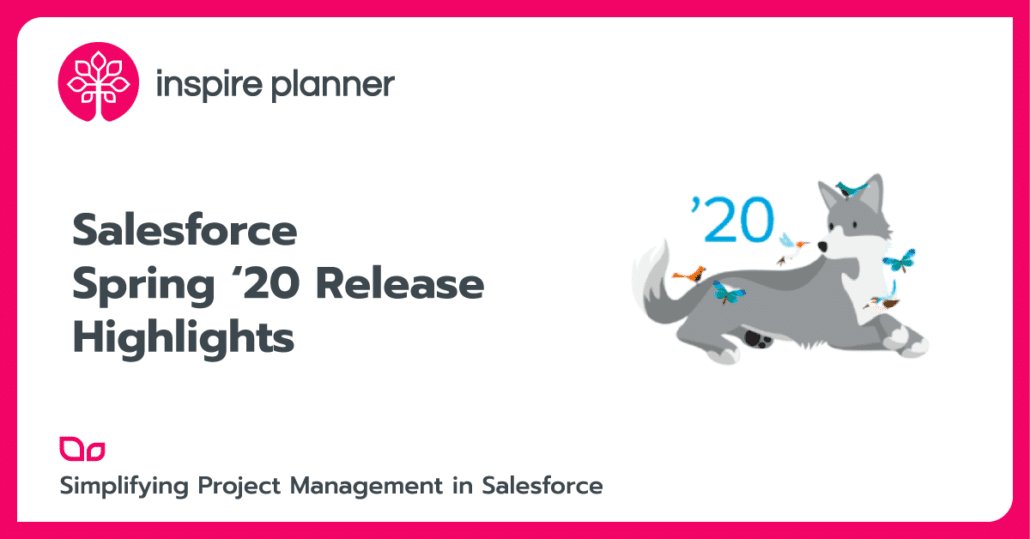 People in many parts of the world are excited about the upcoming spring season, but people in the Salesforce world are super-excited for the upcoming Salesforce Spring '20 release, deemed to be globally available from February 17, 2020. And they have all the reasons to be. The Salesforce Spring '20 release is marked to be an important one with many awaited features being rolled out and also some new features that will mark the path for Salesforce's future roadmap as a platform. 
Here we have consolidated a list of our favorite Salesforce Spring '20 release features you should definitely keep a track of. 
Our favorite highlights in Salesforce Spring '20 release for Sales Cloud
1. Revenue recognition reports:
With revenue recognition reports, Salesforce has extended its forecasting capabilities to include the real-time status of engagement from quotes, orders, billing, service delivered, products added and contracts. You can now track a quote with the revenue received versus pending and order status all in one report. Up until the Spring '20 release, this required complex reports running in centralized reporting systems fetching data from multiple systems. This will be very beneficial for the forecasting teams since the forecasts can be derived based not only on the opportunity stages but overall engagement status with Accounts.
2. Task – Queue assignment in Salesforce Spring '20 release:
Enterprise companies generally have operations teams that collaboratively work and divide different tasks. To automate the process of task assignment within teams, Salesforce will now enable users to assign tasks to queues in addition to people and groups. This will mean that after the Salesforce Spring '20 release, the tasks can be directed to predefined teams/queue from which users can pick up the tasks according to the availability.
Our favorite highlights in Salesforce Spring '20 release for Service Cloud
1. Channel Menu:
It's a well-known fact that enterprises worldwide are trying to shift towards an Omni-channel service experience for their customers. Enterprises generally struggle with enabling a connected experience for their customers on the preferred channels. To make things easier, Salesforce has provided an average of 10+ customer support channels. The new Channel Menu solves the issue by providing the ability for customers to see all available channels and choose their choice of communication. The channel menu can be embedded on any Website page for ease of accessibility. The setup itself is via configuration only and can be done with few clicks.
2. Global Actions for Field Service Lightning (FSL):
Thanks to the business process that FSL serves, enabling an easy-to-use and automated mobile experience becomes one of the key value-driving features for end-users. The new feature makes the life of field service agents simpler by enabling admins to configure regular Global actions within the agent's mobile app. After the Salesforce Spring '20 release, agents can now trigger regular actions like creating work orders, assets or launching a mobile extension right from their mobile app home page.
Our favorite highlights in Salesforce Spring '20 release for Marketing
1. Snippets for Pardot:
Marketers can now have content reusability within their communications with Snippets. Using snippets, admins/marketing teams can create reusable blocks of text, images, and links to be pulled into multiple email communications or templates. Any change made to the snippet will be auto inherited in all draft emails/templates.
2. Quick send from the case in Salesforce Spring '20 release:
This Spring '20 release feature allows users to send messages from the case. Users outside of corporate marketing can now quickly send messages to a primary contact, lead, or person account from a case record itself. The feature enables users to use and edit predefined email templates or create one from scratch without ever leaving the case record.
Our favorites for Apps, platform and Integration ecosystem
1. Salesforce Data Mask:
The much-needed enhancement to accommodate compliance policies is finally here. Admins can now mask data records to make them anonymous or delete from usage in Sandbox (meanwhile, in the following article you learn 6 ways to use Salesforce Sandbox)
2. Local development for Lightning Web components (Beta):
Lightning Web Components now offers Local Development for users to build components and test live without publishing the components to an org. Salesforce will be providing a CLI plugin 'lwc-dev-server' to configure and run a Lightning Web Components-enabled server on your computer. You can access the local development server from the command line and the Lightning Web Components Extension for VS Code.
3. In-App guidance for Lightning App Builder:
Developers can now check for compliance to performance and usability best practice right when they are designing a Lightning page with In-App guidance. Tips are available for performance, usability, and structural issues that can be rectified right when the page is being developed. You will see an indicator on the Help menu if there are any tips identified and developers can access the tips by clicking "View tips" on Help Menu.
4. Security:
Salesforce has introduced Apache Kafka on Heroku Sheild to ensure that the data your developers are working on is contained in a PHI, PII, and HIPAA-compliant environment. With the Salesforce Spring '20 release, reusability has been enhanced by allowing secure sharing of reusable system configurations.
Our favorite highlights in Salesforce Spring '20 release for Analytics
1. Dashboard Builder in Salesforce Spring '20 release:
One of the key enhancements bought to Einstein dashboards is the ability to have Dashboard versioning wherein users can easily switch between different dashboard versions and edit without impacting users. The other improvement is the introduction of syntax editor and validator for dashboard creation.
2. Collaborated analytics with Salesforce:
Salesforce has been striving to tightly integrate Einstein with other Salesforce modules by enabling Direct data that lets the developer to directly query into Salesforce objects with clicks. Admins can also leverage Data Catalog to explore and use Einstein assets in your org.
The Salesforce Spring '20 release delivers great features across the entire ecosystem, enabling you to get a single shared view of your customer and deliver more moments that matter. For more detailed information on the Salesforce Spring '20 release, please refer to the official release notes.