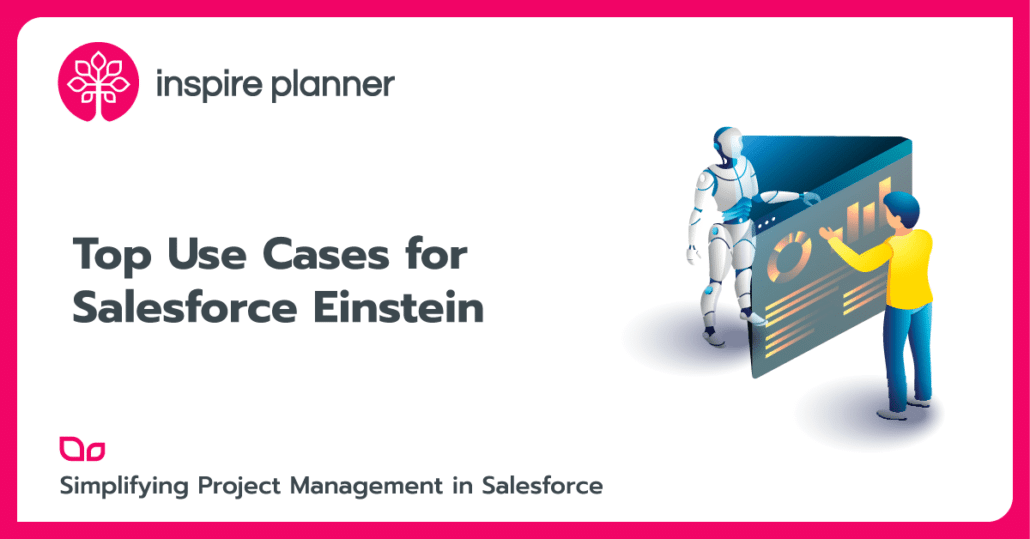 Worldwide spending on customer experience and relationship management (CRM) software grew 15.6% to reach $48.2 billion in 2018, according to research from Gartner, Inc. CRM remains both the largest and the fastest-growing enterprise application software category. With the highly optimistic growth trajectory and hundreds of players in the industry, a big question becomes on how to continue innovating customer CRM process to yield better Customer and employee experience. This is where the World Leader in CRM a.k.a Salesforce defined the future of CRM by introducing "Salesforce Einstein". 
What is Salesforce Einstein?
Salesforce introduced Einstein to enable a Smart CRM ecosystem on top of the existing Salesforce offerings. Einstein adds advanced AI capabilities on top of the existing Salesforce apps in your org for insight-driven actions and predictive customer experience. There are multiple use cases to automate the CRM process and improve the customer experience with Salesforce Einstein such as user and customer insights, predicting future outcomes, next best action recommendation, and process automation. Salesforce Einstein does all of this with the three offerings mentioned below:
Predefined Einstein components: Salesforce Einstein has a wide range of ready to install components that can be added on top of your Sales, service, community, marketing, and commerce cloud modules. 
Analytics Cloud Einstein: Einstein Discovery enables admins to create advanced and real-time reporting capability on varied data combinations and predict the next best actions for your end-users.
Einstein Platform: Einstein platform lets admins create custom AI apps and bots to enhance user access to insights and automate business processes leveraging you Org's CRM data.
---
How Salesforce Einstein helps at each stage of your CRM process
---
Predefined Einstein Components:
1. Einstein for Sales Cloud
Einstein components for Sales Cloud have been designed to assist Sales reps with proactive insights and accurate actions at each stage of the Deal cycle. Below is a list of Einstein components you can install on top of your Sales Cloud module.
Einstein Lead and Opportunity Scoring: Lead & Opportunity scoring engine gives you a view of how strong a given lead/opportunity in your org is so that you can make correct judgments before you start working on a deal.
Einstein Account and Opportunity Insights: Einstein keeps a real-time track of the developments being made on your opportunity and Customer account to guide you with Deal closure probability with details like Customer sentiment, competitor involvement, and company updates.
Other Components: There are other predefined components like automated contracts to reduce data entry efforts while creating contacts, Sales Analytics to enable proactive insights on your opportunity pipeline and Salesforce Inbox to extend the functionalities of the Sales cloud to your emails.
2. Salesforce Einstein for Marketing
Marketing is all about targeting the right audience with the right content at the right time, and Salesforce Einstein for marketing helps you enable those rights.
Einstein Recommendation: Einstein recommendations enable an insight-driven approach to increase order values, convert visitors and recommend the next best action.
Einstein Engagement Scoring: This is a real-time track on your email and website-based communications to define the next stage of your customer journey with insights on why customers perform an action like clicks or purchases. This also aids while defining future customer segments, content and journeys.
Einstein Vision for Social: Gone are the days of Keyword-based Social insights, Einstein Vision uses an image-based classification to recognize logos, objects on Social communications to recognize the communications associated with your brand. 
Einstein Journey Insights: AI-enabled analysis of Customer journey touchpoints to determine which channels, messages, and events perform best.
3. Einstein for Community
Einstein for community enables community members to do more with recommendations on connections and actions
Einstein Recommendations: Automated suggestions on connection opportunities based on member likes, behavior, and interests.
Einstein Feed insights: Feed insights lets you set the most preferred content on top for further promotion.
Einstein Expert: If you have a community where users look up answers to their questions, you can improve their experience by using Einstein experts to connect users with experts based on issue type/ subject/products, etc.
4. Salesforce Einstein for Commerce
Shopping via Salesforce Commerce cloud made more personal with product recommendations, user-specific product sorting and merchandise insights
Einstein Commerce Insights: Provide user behavior specific offerings on products, product bundles, and deals by leveraging Customer persona specific Cart analysis.
Einstein Predictive Sort: Customized view for web pages like search and category page on the blink of an eye based on Customer behavior.
Salesforce Einstein Analytics:
Einstein Discovery: Einstein Discovery lets you created advanced reports and dashboards on your Salesforce data that involve real-time tracking of data. You can track millions of data combinations at the same time and examine these variables for a data drive assessment and plan. 
Salesforce Einstein Platform:
myEinstein: myEinstein enables users to create custom apps for data analysis. You can define data combinations to track from your Salesforce data. logics/rules and triggers expected behavior/actions based on the rules. myEinstein lets you create multiple custom data analysis units within your org.
Einstein Prediction Builder (Pilot): Einstein prediction builder lets you define your own analysis model at field level by defining tracking parameters for the fields created in your org. 
Einstein Bots (pilot): Einstein Bots is a shop to design, build, train and deploy chat and voice Bots to enhance user experience and automate business processes.
Einstein Language: Einstein Language is a Salesforce Text analysis tool to perform the intent and sentiment analysis on texts created from your CRM process.
We know you are excited to start leveraging Salesforce Einstein in your daily CRM process. We are too and the excitement is set to only increase in future with Salesforce focusing on enhancing the ability of Einstein to enable New age AI-driven CRM systems at an enterprise scale.