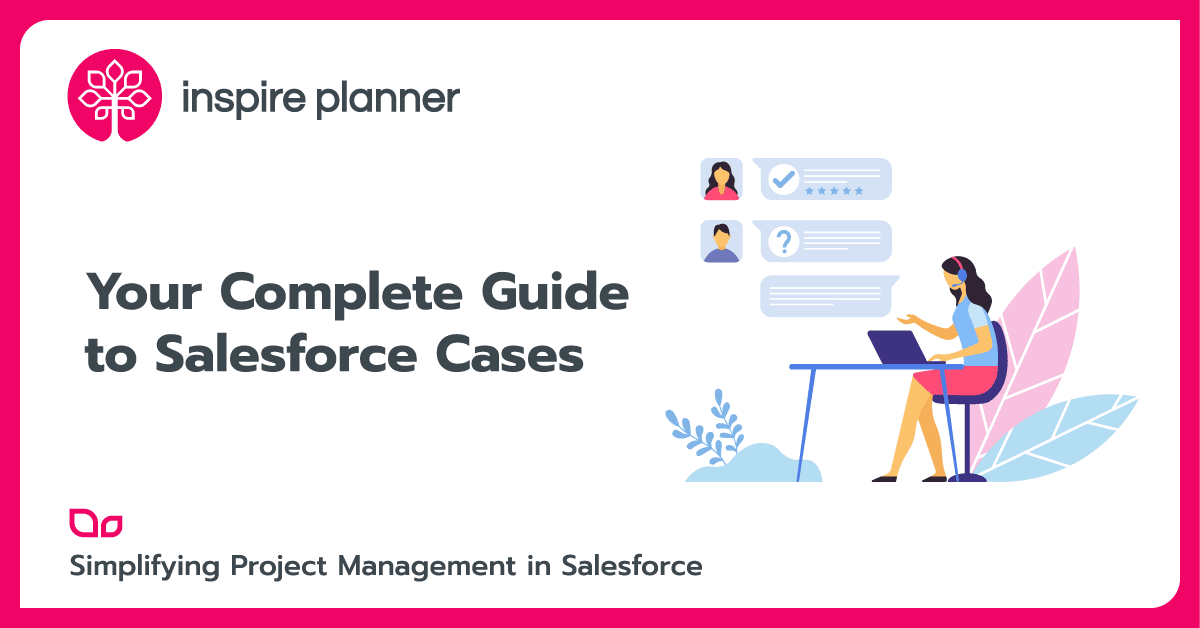 Customer service is the critical element post Sales following the CRM lifecycle. When customers are happy with the product as well as the customer service provided, there is a much higher chance that this vendor will have repeating revenue from their customers. To help organizations provide better customer support, Salesforce empowers them with Salesforce Case management functionality, one of the powerful features of their Salesforce Service Cloud platform.
The Salesforce Case object forms the base of the Case Management capability of Service Cloud which helps improve the overall user experience for both customers and staff.
What is a Salesforce Case
A Salesforce Case object can be understood as a workbook that holds all the complaints, queries, conflicts, and requests your customers have raised with your company.
The Salesforce Case object provides relevant fields to capture information about customers and their issues, offers an approach, and next steps assistance for quicker resolution.
On the Salesforce Cases home page, users have the ability to create, find, and edit cases as well as filter cases using standard and custom list views.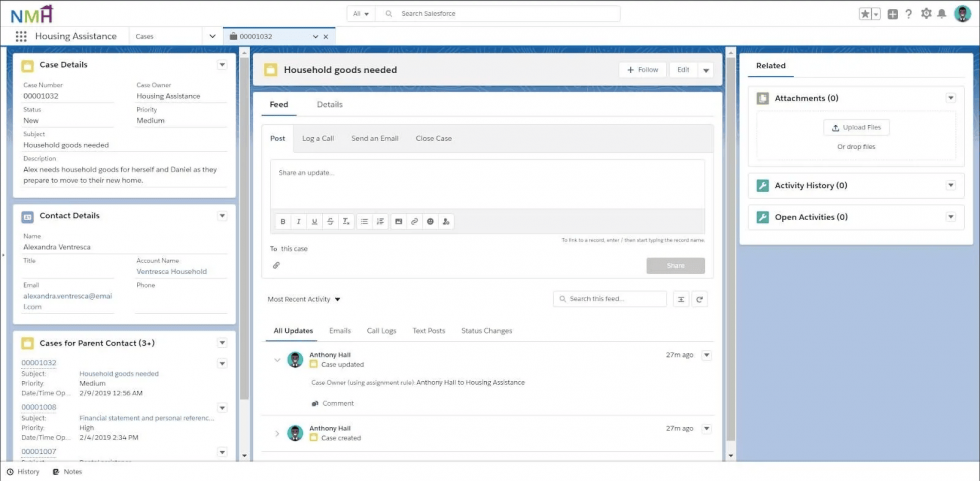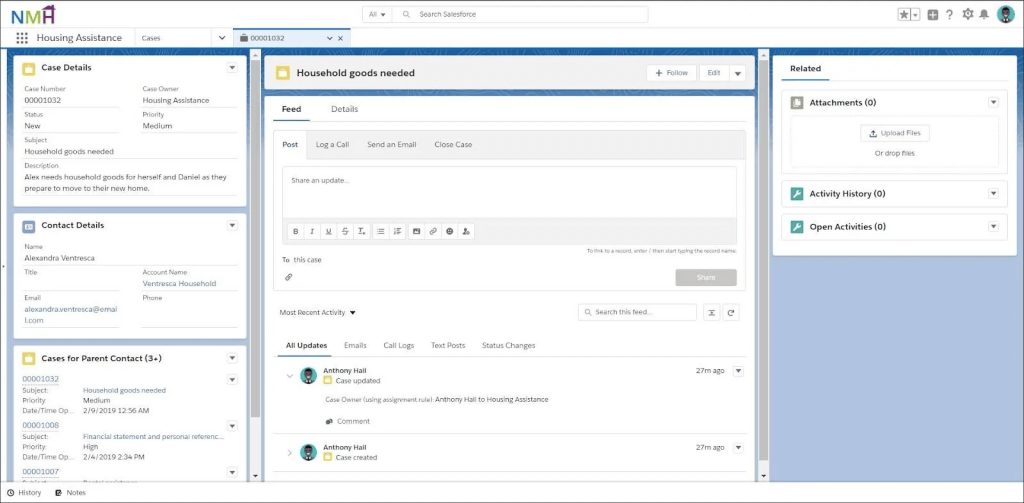 The Salesforce Case object can be linked to any standard or custom object. For example, many businesses use Cases on the Opportunity object for tracking any issues with Opportunity progress.
Another common need is to link your Salesforce Cases with various projects. Tools like Inspire Planner, a Salesforce native project management app, allow you to easily relate your projects with Cases.
You can then add a Project-related list to your Account so that you can see all the cases and projects related to that account in one place.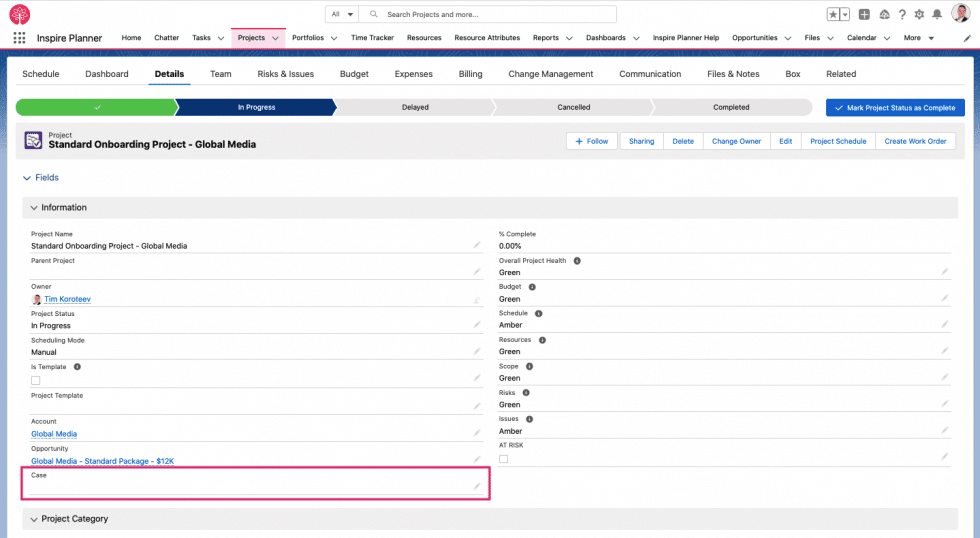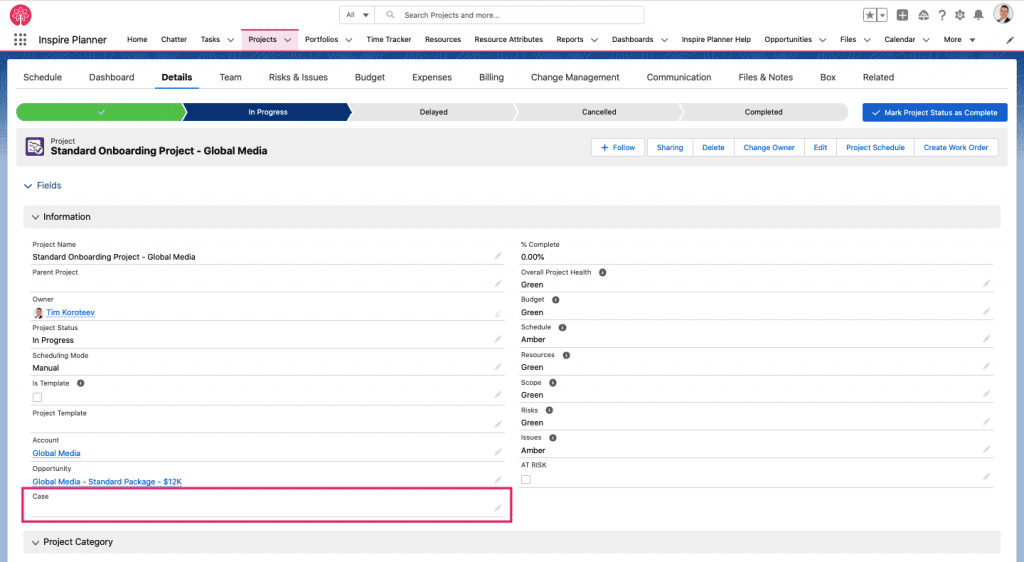 Furthermore, Inspire Planner also gives you the functionality to easily track time against any Salesforce objects, including Salesforce Cases.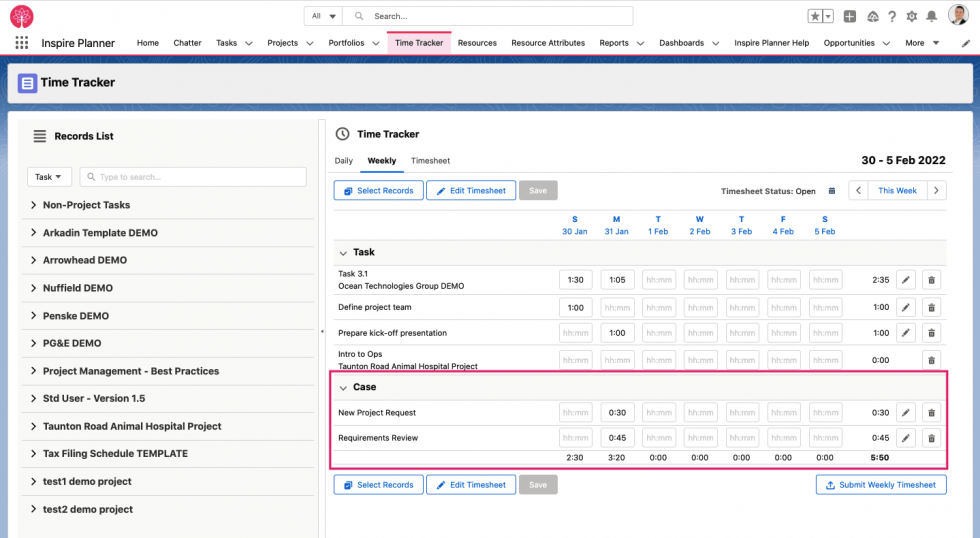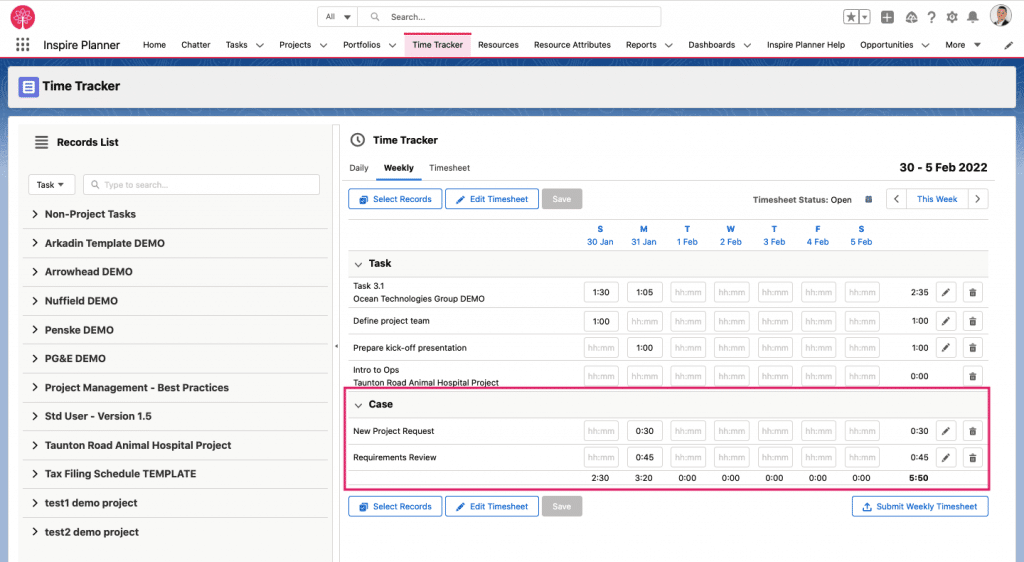 Main Features of Salesforce Cases
Salesforce Case management functionality can improve your customer experience. Here are a few features that can enable faster resolution of issues for your customers and make them happier:
Support Customer Interactions on any Channel with a Salesforce Case
Customers today expect not only a good product but also great post Sales service. Gone are those days when customers were patient to stay on long calls with the contact center or wait for weeks to get a reply on an issue. Now customers expect a seamless experience where their issues are heard and resolved at their fingertips without them needing to share too much information or spend time on interactions.
Salesforce Cases provide a plethora of channel options to customers now which makes their interactions with the contact center seamless, fast, and less tiring. Here are the different channels that Salesforce Case supports:
Social Media: Customers have the ability to raise their Salesforce Case via social media platforms like Facebook, Twitter, etc. which are logged automatically in Salesforce and can be worked upon.
Website: Customers have the ability to log their issues by filling a form on the website which automatically creates a Salesforce Case.
Email: Customers also can just send an email to a designated email address which automatically creates a Salesforce Case.
Phone: More conventional ways of calling in the contact center and registering their concerns are also made available and are seamless as agents get all customer information as soon as they pick up the call and the times where the customer had to provide all information are gone.
Live Chat: This option can be a preferred channel when the a customer prefer to get help in real-time directly with a live agent to get the issue resolved faster.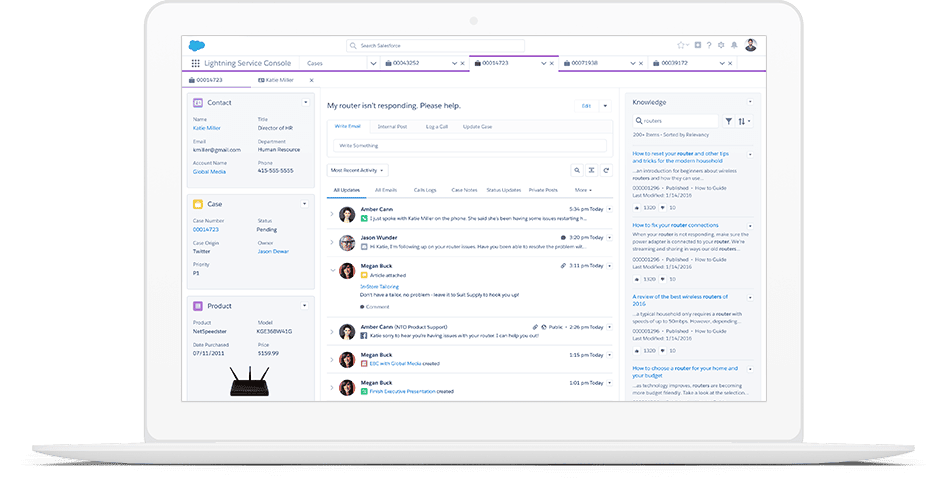 To top the experience up, Salesforce Case offers the ability to your agent to share replies and continue ongoing conversations on any channel customer prefers irrespective of the channel through which the customer had initially reached out. Any customer interacting via live chat or phone or social media can request the agent to send through details via email and the switch of channels for further conversations is entirely seamless.
Agents are also equipped with a customer 360 view which enables them with all customer information including purchase history, previous cases and interactions, and more.
Email To Case
With the out-of-the-box functionality of Salesforce's Email-to-Case, you'll be able to create a case when your customers send an email to your Support email address.
Simply, enabling Email-to-Case functionality from Setup will generate a long Salesforce routing email address. Any email sent to the routing email address will create the email as a Case. In your Email client (say Outlook or Gmail) of your Support email inbox, just set a Forwarding rule to forward the emails to the routing email address. That's it!
In short, Email Sent to your Support Email Address > Forward to Salesforce Routing Email Address > Creates a Case in Salesforce.
Merge Cases
You can merge cases from a Case List View.
When you merge Salesforce Cases, you select one case to be the master. You can compare the field values, and select the values that you want to use in the master record. All related lists, feed items, and child records are added to the master.
Do not forget to enable 'Case Merge' feature from Support Settings under Setup.

Mass Close Salesforce Cases
To mass close cases, create a Quick Action on Cases object with a predefined value of 'Closed' for Cases Status. Use this button on the Cases List View to close multiple cases at a time.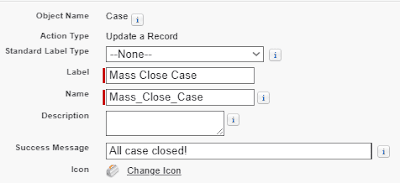 Get the Right Agent for Your Salesforce Case
Another feature of Salesforce Cases is omnichannel which provides excellent routing capabilities for each case based on agent skills and availability. This feature ensures minimum wait time for customers as they are automatically routed to the first available agent with the necessary skills in their problem area.
This feature also helps agents resolve cases quicker as they get to work on cases that they are skilled to resolve. Omnichannel gives agent supervisors advanced resource and workload management tools to efficiently manage the capacity of their teams and monitor individual performance.
Case Teams
Additionally, if your business requires multiple agents to work on the same case, then you can set up Case Teams. Create Case Teams to help groups of people work together to solve cases.
To let your team benefit from this feature, add the 'Case Team' related list to case page layouts. You may also define a 'Case Role' for each member in the case team to help differentiate their role on the case.
Access to Knowledge Articles
The Salesforce Case object provides the capability for companies to create knowledge articles that help agents and customers find a solution faster. What is even cooler is that in just a few minutes, you can easily record any process to automatically generate a beautiful step-by-step guide with tools like Scribe and then embed these guides in your Knowledge articles.
While customers can go through the knowledge articles to resolve their issues by themselves, agents can use such a knowledge base to share detailed articles with customers and even capture the Case resolution process for the standard operating process (SOP) and best practices for other agents.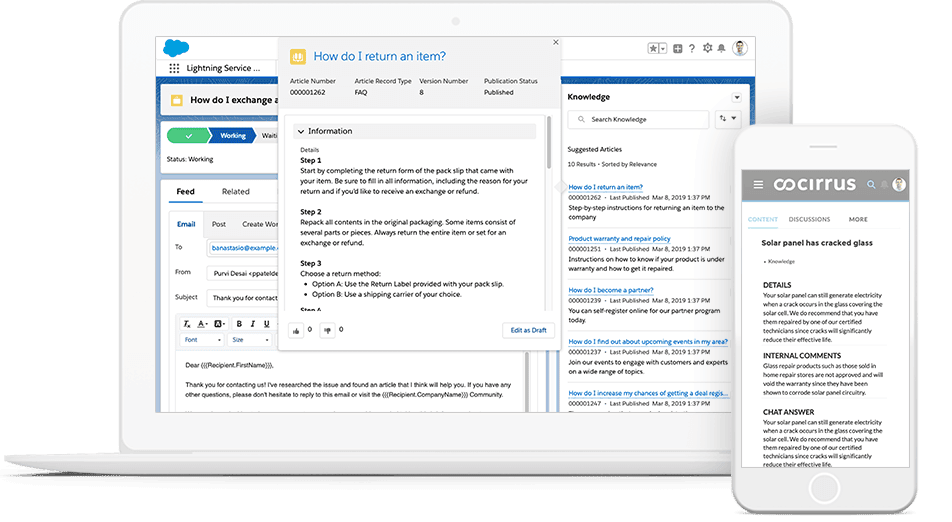 Reduce the Number of Salesforce Cases with a Self-Service portal
Salesforce also provides the ability to create a customer portal through Experience Cloud (formerly known as a Customer Community) where customers can log in and resolve their issues by themselves or reach out to live agents via chat from the same portal.
The self-service portal showcases all customer details providing an opportunity to customers to review and update their information, access knowledge articles for more details, access the latest updates, and more. These features can enhance the experience for your customers as they do not need to reach out to anyone and wait for a response to get their issues resolved.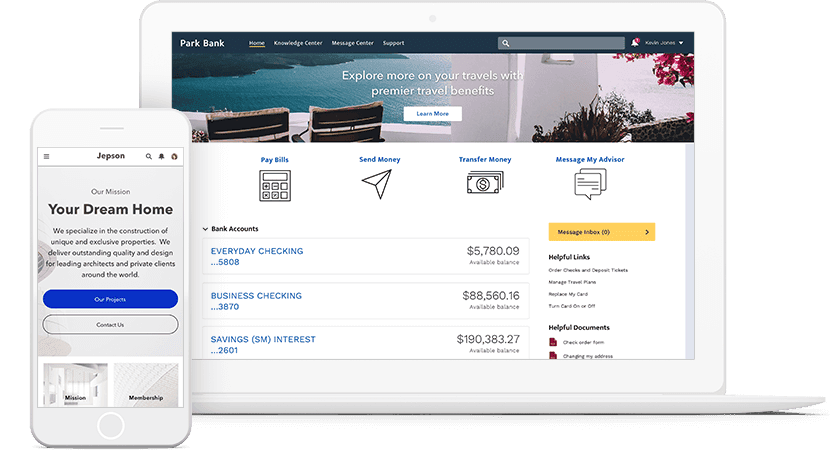 Service Cloud Voice on a Salesforce Case
Service Cloud Voice is a relatively new feature of Salesforce Cases where agents get an embedded voice channel along with their agent console which makes it seamless for them to serve customers preferring to get in touch via call.
Service Cloud Voice supports Cloud CTI and provides advanced abilities like automatic transcript attachment to a Salesforce Case, sentiment analysis, and others.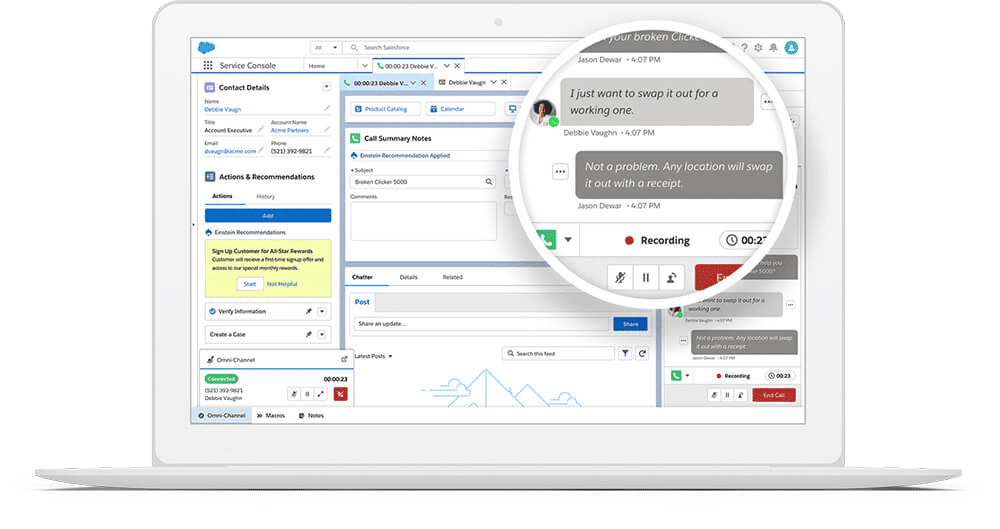 Considering the above, it's easy to conclude that Salesforce Case Management is one of the most powerful features of Salesforce which they are continuously working on to evolve further and provide better customer and agent experience.