Must-Have Salesforce Reports to Power Up Your Sales Team
Salesforce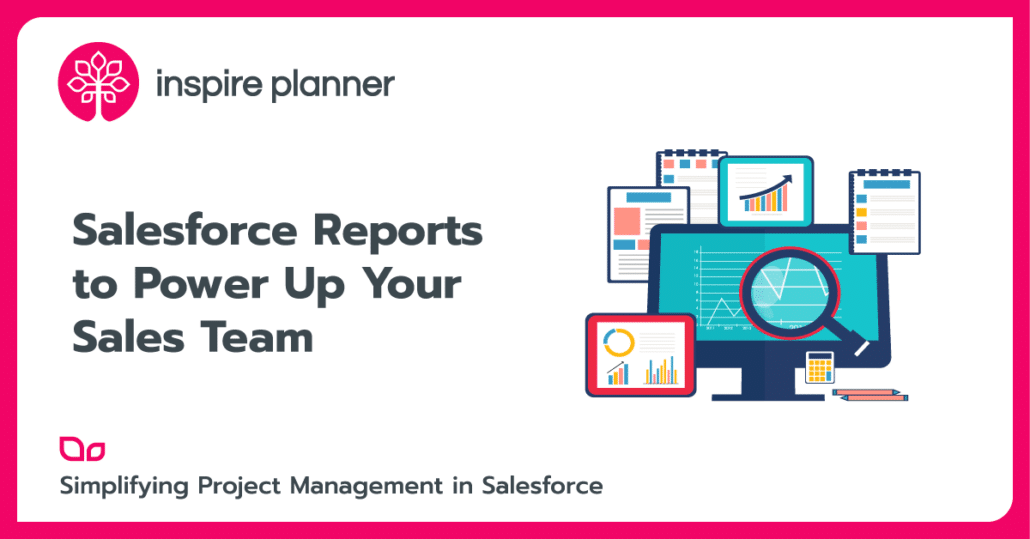 It is needless to say how important a good reporting engine is for any company. For all the budgets assigned to developing the latest systems for customers, Salesforce reports and dashboards form the first level of communication for the end-users of those systems.
When it comes to customer-oriented, fast-paced processes like Sales, it becomes all the more important to ensure users have an optimum view of the parameters impacting Sales at both Macro and Micro level.
Additionally ensuring the availability of proactive insights aid Sales in better planning their approach to prospects. An efficient reporting mechanism will also ensure that any potential upsell or cross-sell opportunity is identified and looked at proactively. Then your Sales team can use intuitive solutions like Sculptor CPQ to quickly generate more accurate quotes and close more deals (use a special discount code for our readers "CPQ10" to get 10% off Sculptor CPQ!).
Lucky for us, the World Leader in CRM aka Salesforce has us covered. If you wish to explore the must-have Salesforce reports to aid your Sales team, your search ends here.
Reporting in Salesforce
Before we deep dive into the reports that a Sales rep should incorporate to enable Sales with proactive actionable insights, let's understand how reports are created within Salesforce. Starting with the basic terminology of Salesforce reports:
Report: List of record meeting defined criteria. You can present the data in a report in the form of Summary, tabular or matrix
Dashboard: A dashboard is a collection of multiple reports and data points leading to a collective view of insights. Reports can be added to Dashboard components within Salesforce (and here is a great source about Salesforce Dashboard charts)
Report Type: Report type is a reusable reporting template with objects, fields, and the structure defined. Users can define primary and related objects that are often reported on together and create a report type for the same
Users can create a report from the Reports tab. There are three ways to create reports in Salesforce:
Leverage standard Salesforce reports: Salesforce has an exhaustive set of predefined reports on standard objects that accommodate the Sales process for majority customers. You can either use a standard report directly or create a new report from an existing report type by adding new fields and updating report structure.
Create custom Salesforce report types: Salesforce Admins can create custom report types to report on a custom object or to create reports that link multiple object details in a single place.
AppExchange based archives: Salesforce AppExchange has a number of free/paid apps that have an exhaustive set of complex and Industry-specific reports and dashboards. These apps can be installed in your Salesforce Org and you will have your own reporting repository to leverage from any time.
We have identified a set of key Industry-agnostic reports for Sales reps that will definitely aid in tracking the pipeline and guide the Sales process towards growth. We have categorized these reports in two ways (if you are a beginner, we recommend the following guide about creating reports in Salesforce):
1. Salesforce Reports aiding Sales Operations

Lead funnel reports: Lead funnel reports give a regular view within the entire Lead cycle starting from the efficiency of the marketing team in lead generation to understanding which situations aid a better Lead conversion. Below are some reports you can generate to get in-depth details on day to day Lead nurturing and conversion.

Leads conversion by month/week/quarter
Leads converted by Campaign
Lead status by Owner
New leads this month by status
Reasons for leads not converted
Lead Open time


Opportunity Tracking Reports: Opportunities form the heart of Sales operations in Salesforce. This is where the Sales team will record most of the customer interactions they make. Hence, keeping a regular track of opportunities assigned to a user/team becomes crucial for Sales reps. Here are some key reports you can use for tracking:

Opportunity conversions.
Opportunities converted in the team
Opportunities converted by Account
Opportunity by stage (User/team)
Opportunities lost per quarter (User/team)
Won v/s lost opportunities by user


2. Key Salesforce reports for Pipeline management

Quota Attainment: Organizations have different ways of tagging sales targets for Sales reps. The reporting KPIs on targets, however, remain similar. Here are some reports that can be used to track quote attainment on a regular basis.

Quota Attainment per user/team
Forecast by Stage
Forecast by Territory
Forecast Predictions (AI)
Opportunity by forecast stage

Sales pipeline Reports: For Sales users working on defining the overall strategy for the team/territory or region, it becomes important to have a view of comparing current Sales using parameters like time, territory, teams, etc.

Closed opportunities in last quarter/6 months/1 year
Opportunities by stage (running every month)
Accounts with opportunity size/closure

Most of the Salesforce reports mentioned above can be created and maintained with point-and-click. In other words, you can either use standard reports or create a new report type by building upon the available standard reports. In addition, we also recommend having regular meetings with your sales team to understand how their focus areas change so that you can align the reports and dashboards with Sales focus areas. Such meetings can also be leveraged to understand how the reports in your Org can be made more user-friendly. You are all set to start your journey of enabling data-driven sales in your organization.
As you review these Salesforce reports and all their potential to help you and your sales team, it's helpful to think about the life of a sales manager from day to day and how these reports might fit in various ways to enable them to meet and exceed goals along with their teams. For example, at the beginning of the day, the sales manager will generally do a check-in; it's a great way to see what's on tap in terms of meetings that they have and meetings their team members have. Keeping on top of email and voicemail is a must, too; if you get behind, it's difficult to catch up.
In addition to establishing a routine that keeps a day flowing smoothly, there are recurring tasks that any sales manager must fit in. What are the tasks that your company finds most helpful and how do Salesforce reports fit into that? This graphic can help you figure out maximizing the day and information.
Via Salesforce