Dreamforce 2021 – Your Ultimate Guide to the Biggest Salesforce Event
Salesforce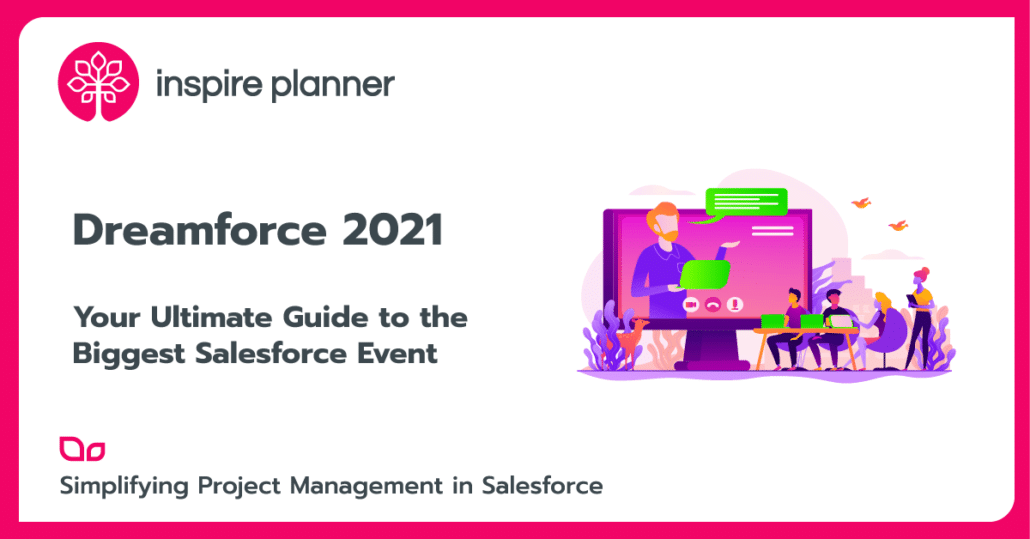 What is Dreamforce?
Dreamforce is one of the biggest tech conferences in the world. It is Salesforce's massive event with over 170,000 attendees completely occupying San Francisco over a 4-day period in the 2nd half of every year. Over 2,700 sessions and workshops with keynotes delivered by elite speakers from renowned companies take part in this event. Thousands of Salesforce trailblazers from all over the world come over for this extravaganza. Dreamforce has grown into so much more than a conference — it's an experience like no other. Admins, Developers, Consultants, Project Managers, Business Analysts, Technical Architects, Customers, Companies, App Builders, Visionaries, Partners, Salesforce MVPs – they all make this event a lifetime experience for everyone attending.
Preparing for Dreamforce is quite challenging, especially for first-timers. At Inspire Planner, we have put together this Ultimate Guide to Dreamforce full of valuable information about the event. We hope it will be your one-stop guide for Dreamforce 2021.
Dreamforce 2021 Comes Back as a Global In-person Event
In 2020, Salesforce had to completely reimagine the Dreamforce experience due to the COVID-19 situation, hosting the event virtually for the first time. And while the virtual experience still can't compare with the in-person conference, Salesforce has done an amazing job with Dreamforce to You gaining over 140 million views from all over the world.
In 2021, Salesforce's annual Dreamforce conference will be held in person again, which was confirmed by CEO Marc Benioff. However, Salesforce takes it even one step further by announcing the First Global Dreamforce event. It will build on the success of Dreamforce to You, bringing together both inspirational in-person experiences across a global campus with innovative digital ones available from anywhere.
We're thrilled to bring Dreamforce back as an in-person experience, and we can't wait to bring all our Trailblazers together for a completely new brand experience. Whether you join us in person or online, it will be the most innovative and immersive Dreamforce ever — another example of how, in this new all-digital world, we can achieve success from anywhere.
– Sarah Franklin, President and Chief Marketing Officer, Salesforce
To make an in-person Dreamforce 2021 a reality, Salesforce is focusing a lot on public health guidelines and safety of all the attendees. All the Dreamforce 2021 attendees in the U.S. will be required to be fully vaccinated against COVID-19, while those in Europe will be subject to local health guidelines. Salesforce is also partnering with the leaders in the medical community, including world-renowned epidemiologist Dr. Larry Brilliant, to ensure safety during the in-person event.
Below is some key information about Dreamforce 2021 that you need to know.
Dreamforce 2021
Date & Location
For the first time, in 2021 Dreamforce will be held in several Dreamforce Global Hubs around the world – San Francisco, New York City, London, and Paris.
Don't forget to mark your calendar – the biggest Salesforce conference will take place on September 21-23, 2021.
And since Salesforce will also offer digital experiences during Dreamforce, trailblazers will be able to join the event from the comfort of their homes through the brand new Salesforce+ video streaming platform.
Pricing & Registration
Salesforce plans to open the registration process for Dreamforce 2021 later during the summer. It looks like Salesforce decided to cap the number of attendees for the in-person event due to public health restrictions on major gatherings. According to Salesforce Ben website, Dreamforce is reported to be an invite-only event this year with 6,000 onsite attendees throughout all the "Dreamforce Global Hubs".
The exclusive invitations will be sent to key customers/target prospects (about 50% of the invitations), Salesforce employees (20%), Salesforce community members like MVPs (15%), sponsors (8%), and speakers/special guests (7%).
As soon as the information about the in-person passes is available, you will be able to find it on the official Dreamforce 2021 website.
Meanwhile, you can experience the magic of Dreamforce 2021 via Salesforce+ platform. The great news is that membership is free, easy, and available to everyone, so there should be no limitations on online attendees, as previously reported. And you can already sign up for the event on the official wesbite – https://www.salesforce.com/dreamforce/
As for the pricing, Salesforce claims that they are trying to make Dreamforce 2021 accessible to everyone and are preparing new opportunities for Salesforce Ohana members to connect with each other.
You can also sign up on the website to receive updates when registration goes live and more exciting announcements are available. To join the conversation on social media, follow the official Dreamforce hashtag #DF21.
In case you have any further questions about the registration process, you can contact Salesforce at:
U.S./Canada: +1-866-855-3818
International: +1-650-416-8832
dreamforceregistration@salesforce.com
Agenda & Speakers
Salesforce mentioned that the main shows will feature industry leaders, plus curated episodes, expert-led demos, and fun surprises.
We are confident that Salesforce won't disappoint us with the speaker lineup. For example, in 2019, Dreamforce featured such speakers as Marc Benioff, Tim Cook, Barack Obama, Emilia Clarke, Arianna Huffington, and more. In 2020, keynote speakers included Jeff McElfresh (CEO,
AT&T Communications), Adrian Hallmark (Chairman & CEO, Bentley Motors), Bret Taylor (President & COO, Salesforce), and more.
In 2021, Salesforce will feature inspiring speakers such as Marc Benioff (Chair & CEO, Salesforce), Will Smith (Actor & Musician), Jane Fonda (Academy Award-Winning Actor, Producer, Author & Activist), Ola Källenius (CEO, Daimler & Mercedes-Benz), Jennifer Tejada (Chairperson & CEO,
PagerDuty), and more.
Salesforce is promising 100+ hours of original content, 4 channels covering every role, industry, and topic, 100K+ Trailblazers from around the world joining the event, and 1 super-fun celebration.
The 4 channels include:
Prime Time Channel – for the big moments like major keynotes
Customer 360 Channel – for success stories from global thought leaders using the power of Customer 360
Industries Channel – for stories of industry innovators about reimagining driving growth
Trailblazers Channel – for learning from other Trailblazers and get a peek at future products and innovations.
The latest agenda can be found on the main Dreamforce 2021 website.
Venue
Dreamforce is typically held in downtown San Francisco, drawing focus on the Moscone Center.
So far, Salesforce confirmed that they will work with longtime partner Marriott to incorporate industry best practices to create safe experiences during Dreamforce 2021.
However, according to Salesforce Ben website, the venues would be the following:
San Francisco – downtown San Francisco, with many of the all-time favorite Dreamforce Campus locations (eg. the Moscone Center, Yerba Buena Terrace, Howard Str. and the St. Regis hotel). Capacity will be capped at 5,000 people.
New York – Bryant Park (outdoor only). Capacity will be capped at 500 people.
London – Tobacco Dock (outdoor only). Capacity will be capped at 50-100 people.
Paris – Porte de Versailles, Hall 4 (outdoor only). Capacity will be capped at 200 people.
Usually, there are various zones within the campus – Admin Zone, Dev Zone, Partner Expo, and the DreamPark. Each has its own purpose and value. At the Admin zone, there are mini sessions, Trailhead challenges, demos aimed at newbies and Salesforce admins. Dev Zone is on similar lines but it's for all the codeys' out there.
Dreamforce Expo usually has over 400 Salesforce partners showcasing their Apps such as Inspire Planner, a Salesforce-native project management app. Get ready to collect most swags here.
Hotels & Accommodation for Dreamforce 2021
A number of hotels in that area have contracts with Salesforce for discounted rates. Book hotels before they are sold out. You can also look at other hotel comparison sites likes Hotels.com, Booking.com, Expedia.com to find other hotels which might be less expensive than the Dreamforce list of hotels. Airbnb and Hostels are also decent options within the city. If you are looking at cheaper options, you can always go out of the city with the BART train system that is connected to Moscone within half an hour.
Why Attend Dreamforce 2021 – What's in it for YOU?
Learn: From learning about the newest products, getting inspired, discovering the future of technology, getting hands-on with it – there's a lot more Dreamforce can offer to you. Learning is endless with thousands of demos and solutions from Salesforce, partners, and insights from experts. In the following article written by Inspire Planner, you can find the main highlights and announcements from Dreamforce 2019. And at the end of this guide, you can learn about the key highlights from Dreamforce to You 2020.
Connect: Connect with the trailblazers with unlimited networking opportunities day in day out – it is the perfect place to meet new people, build careers, get inspired. Even just a lunch with someone there could lead to complete transformation to your career.
Charity: Philanthropy is a huge part of Dreamforce every single year. Dreamforce brings opportunities to make the world more equal. Salesforce has raised over $83 million to support the communities so far. By attending Dreamforce you are doing your part too. For example, during the Dreamforce To You 2020, Salesforce donatee $5 million to address today's economic, hunger, health, climate, and racial inequality crises – $2 million small business fund to provide financial relief to San Francisco small businesses, and $3 million to support organizations addressing hunger. In 2021, Salesforce is empowering the global community by donating $1 million to American Forests and One Tree Planted in the fight against climate change.
Party: What's all fun without a party? That's why there's Dreamfest. Typically, Dreamforce is a week-long celebration with parties and happy hours all over town. But it doesn't get more fun than Dreamfest. Past performers have included Metallica, U2, Bruno Mars, and Alicia Keys. What's more – all the money raised from Dreamfest supports UCSF Benioff Children's Hospitals. Given the current situation, we are excited to see what the plans for Dreamfest and all the parties would be.
ROI: Past attendees have seen significant increases of over 20% in ROI on sales productivity, customer retention, marketing lead volume, win rate, and deal sizes. Are you trying to convince your company to let you attend lots of sessions during the Dreamforce 2021? Then you'd better start working on a letter to convince your employer. This year with the virtual experience available, it should be easier than ever!
Dos & Don'ts at Dreamforce
The typical 4 days at Dreamforce can get seriously hectic without proper planning especially with the excitement around. Do not drain yourself in the first few days. Here are some useful tips on planning your journey to Dreamforce as an attendee.
Packing Tips
What to pack? Here's a comprehensive list. Do not miss any of these:
Smartphone: Pack your phone with useful apps like Salesforce events (your go-to guide for Dreamforce), Twitter (the entire SF crowd is on twitter), Maps (Google Maps or similar), Taxi (Uber, Lyft, or similar), Payments (Google pay, Apple Pay), Docs (GDrive, Quip or similar). Download Dreamforce Jetpack when it is available. Oh, leave lots of space for photos and videos to save your amazing Dreamforce 2021 memories.
Multi-port USB charger: To charge multiple devices at a time. Carry additional cables and laptop chargers. Make sure they are all portable.
Business Cards: A lot of them. Let everyone know who you are.
Walking Shoes: There would be a lot of walking as Dreamforce sessions are spread over multiple venues. Wear comfortable walking shoes.
Business casual attire: The most common question is what to wear to Dreamforce? The dress code has always been business casual. Look your best. Don't go too formal or too casual.
Warm Jacket: Remember DF21 is during late September!
Umbrella: It is San Francisco (or even London this year!)
Backpack: Salesforce generally gives a small backpack during badge collection on the first day. That is enough to go around. Leave some room for swags – Afterall it is Dreamforce.
A printed schedule: Your mobile can die anytime.
Pen and a book: Your mobile can die 2nd time.
Carry light grab&go snacks and water to keep you hydrated. Salesforce provides free lunch served at different locations around the campus.
Oh and bring lots of enthusiasm!
Travel Tips
If you're staying out of the city, refer to the BART subway to travel to-and-from Moscone.
Attend some of the late-night parties, especially the ones hosted by Partners are a great opportunity to network.
If you want to tour around the city of San Francisco, plan it over the weekends (before or after) and reserve your Dreamforce days just for Dreamforce.
There are bike tours to the Golden gate bridge, Pier39, Fisherman's wharf – plan or join one with your Dreamforce mates.
Pack an extra empty suitcase for all the swags that you'd carry back home.
Preparation Tips for Virtual Dreamforce 2021 Experience
While there is no need to pack for traveling to San Francisco this year, there are still several items that you could prepare for a successful online experience. Here's a comprehensive list. Do not miss any of these:
Right attitude: Treat even a virtual Dreamforce as you would a regular in-person event. Plan your time to attend the most interesting sessions, engage during the sessions. Take advantage of conference hashtags (#Dreamforce, #DF21, #Dreamforce2021, etc.), Twitter, live chats, slack channels, or any other online tools to stay connected with other trailblazers.
Limit distractions: Find a place where you would limit distractions so that you can get a full experience of attending this amazing event. You might also want to turn off notifications to stay focused.
Test your Technology: Make sure you have all the technology prepared for a perfect virtual experience. Test your Internet speed and think of a backup option (e.g. using a personal hotspot to share the cellular data connection).
Smartphone: Pack your phone with useful apps like Salesforce events (your go-to guide for Dreamforce), Twitter (the entire SF crowd is on Twitter), Notes (Google Drive, Quip or similar), and more. Download Dreamforce Jetpack when it is available.
Chargers and necessary cables: It's highly likely that with a fully virtual experience, you would need to stay connected over multiple devices at a time. Prepare the laptop and phone chargers as well as additional cables in advance. You don't want to have your devices run out of battery in the middle of a great session.
Business casual attire: The most common question is what to wear to Dreamforce? The dress code has always been business casual. There is a chance that you might need to connect with new people online, so even if you are attending Dreamforce from the comfort of your home, look your best. Don't go too formal or too casual.
A printed schedule: You might be doing lots of other tasks on your laptop/phone/tablet, so a printed schedule in front of you might come in handy.
Pen and a notebook: Your devices might die during the session, so keep a good old pen and a notebook next to you if you need to write something down.
Virtual background: if you have any virtual meetings during Dreamforce 2021, some video conferencing tools allow you to upload a nice virtual background. Why not use this opportunity to show off some of those nice Salesforce certifications? Here is how you can use Zoom to showcase them in front of the world.
Keep some snacks and water next to you. You don't want to miss any important announcements while running to the kitchen to grab something.
Oh and bring lots of enthusiasm!
Session Bookings Tips
Pace out your sessions on a day and over three days.
Do not overbook yourself on the 1st day – we know you are all excited but most of the people drain out by the end of 1st day.
Dreamforce sessions are in different hotels in that region which requires a 5- to 10-minute walk between them. Check the distance between the venues before booking sessions.
The queue to the Opening Keynote starts 90 minutes before the start time to get the best seat and it takes 30 minutes after the event to get out. Do not book any sessions during this period.
The other most popular sessions get overbooked, you need to register and be there 15 to 20 minutes early. So, be cautious about booking back-to-back sessions.
Parties
We will be updating the list of parties when they are announced.
Networking Tips at Dreamforce
Don't try to attend every session. Most of them will be available on video after the event. Leave some time for networking (no matter how it is organized this year). Meeting a person (even virtually) is equally if not more valuable than attending a session.
If there are specific people, customers, partners that you want to talk to, contact them in advance and arrange a meeting. Now that Dreamforce 2021 also offers virtual experiences, it might be even easier to schedule that meeting you wanted.
Have your elevator pitch ready. You never know who you could meet during Dreamforce.
Do not forget to catch up with those whom you wanted and agreed to.
Key Highlights from the Last Dreamforce To You 2020
Salesforce Signs Definitive Agreement to Acquire Slack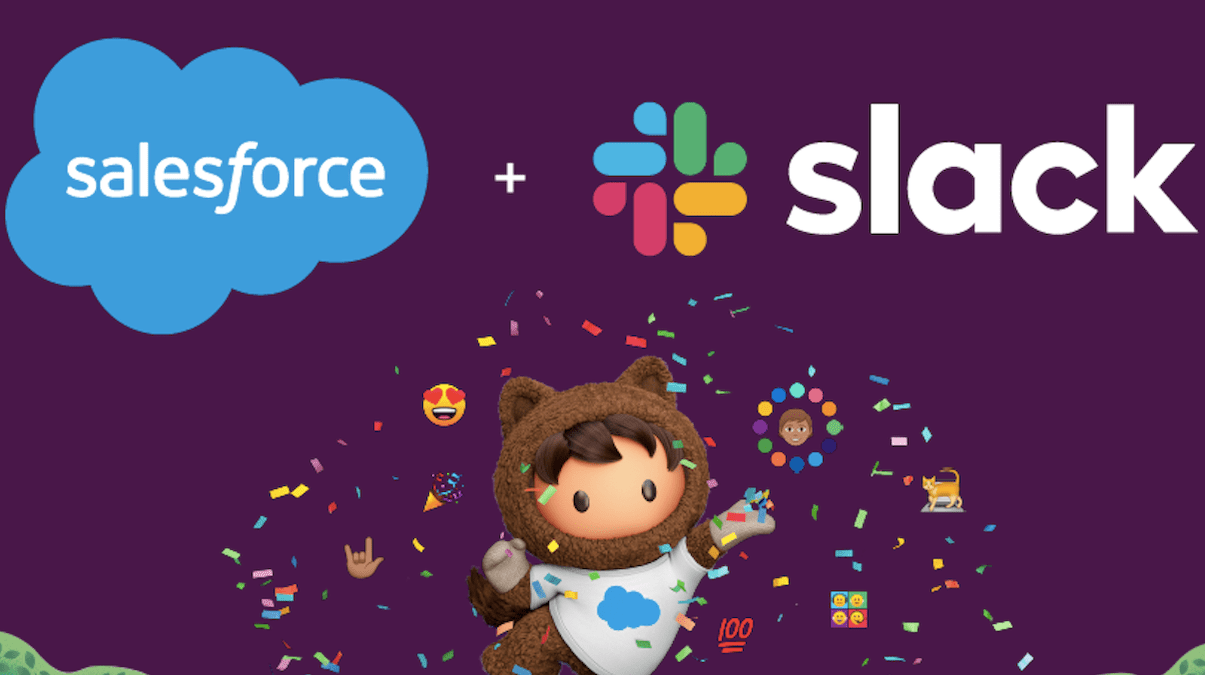 Salesforce announced it has entered into a definitive agreement to acquire Slack. Salesforce plans that Slack will become the new interface for Salesforce Customer 360 and it will be deeply integrated into every Salesforce Cloud. This new interface will improve the way users collaborate and act upon the data from Salesforce, resulting in better customer experiences.
"Stewart and his team have built one of the most beloved platforms in enterprise software history, with an incredible ecosystem around it," said Marc Benioff, Chair and CEO, Salesforce. "This is a match made in heaven. Together, Salesforce and Slack will shape the future of enterprise software and transform the way everyone works in the all-digital, work-from-anywhere world. I'm thrilled to welcome Slack to the Salesforce Ohana once the transaction closes."
Slack will become an operating unit of Salesforce, and by integrating with the leading CRM platform in the world, Slack will be able to significantly grow in the enterprise market. It is expected that Salesforce and Slack will be able to create the most extensive open ecosystem of apps and workflows for business.
Salesforce Hyperforce
"We have been working for the past two years on probably the most significant technological shift in this platform since Marc and Parker created it over 21 years ago", said Bret Taylor, President and COO of Salesforce.
Hyperforce offers a completely new architecture of Salesforce that is built to offer even more capabilities for higher performance and scalability and that is securely supported on major public clouds. All Salesforce apps, as well as customizations and integrations, will run on Hyperforce.
Salesforce Einstein Automate
Einstein Automate represents an end-to-end workflow automation solution that allows organizations to be more efficient.
With the new Einstein Automate, anyone in an organization would be able to automate tasks and create intelligent workflows through clicks instead of writing complex code. Moreover, pre-built solutions and resources from Salesforce and partners on AppExchange will enable teams to quickly deploy solutions that are specific to their needs.
Salesforce Service Cloud Workforce Engagement
Service Cloud Workforce Engagement is a new product aimed at helping manage dynamic workforce planning. This tool allows you to staff agents appropriately by predicting the demand for customer support cases across all channels based on AI-powered dynamic forecasting. With Service Cloud Workforce Engagement, you can optimize your staffing needs and assign the right agents based on their skills and availability. On top of that, your managers will be able to provide coaching to your agents in real-time or on-demand from anywhere in the world, which will improve the quality of your customer service.
Dreamforce is exciting and daunting at the same time. Without proper planning, it would be a messy ride. Plan well, register for the session and plan your meetings well ahead pacing them out properly, make new friends and have fun. Best of luck at the Dreamforce 2021!