5 Common Salesforce CPQ Implementation Challenges and How to Avoid Them
Salesforce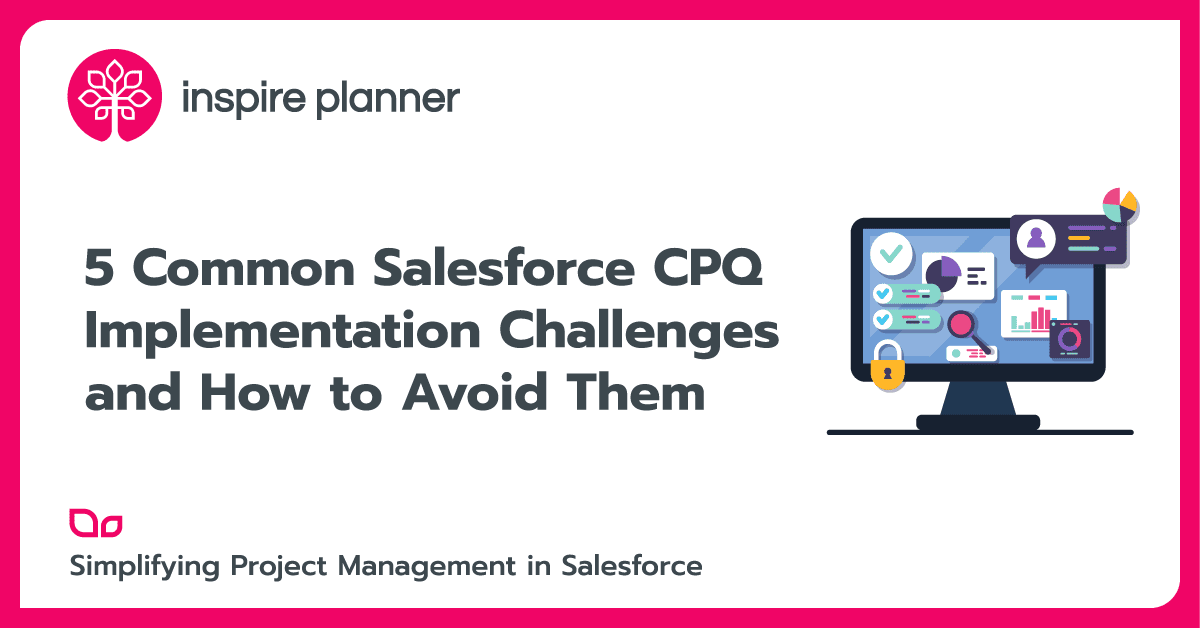 Your business is growing and keeping customers satisfied with the service becomes a challenge. Sales teams are used to their tried-and-true tactics that don't jibe with the growing list of clients and orders. Configuring quotes manually for each of them can occupy most of the working time, especially when it comes to complex sales transactions, such as recurring purchases, subscriptions, or usage-based payments. Fortunately, there's no need to reinvent the wheel. Salesforce CPQ (Configure Price Quote) software clears out typical roadblocks of sales teams, transforming your quote-to-cash cycle into an automated flow.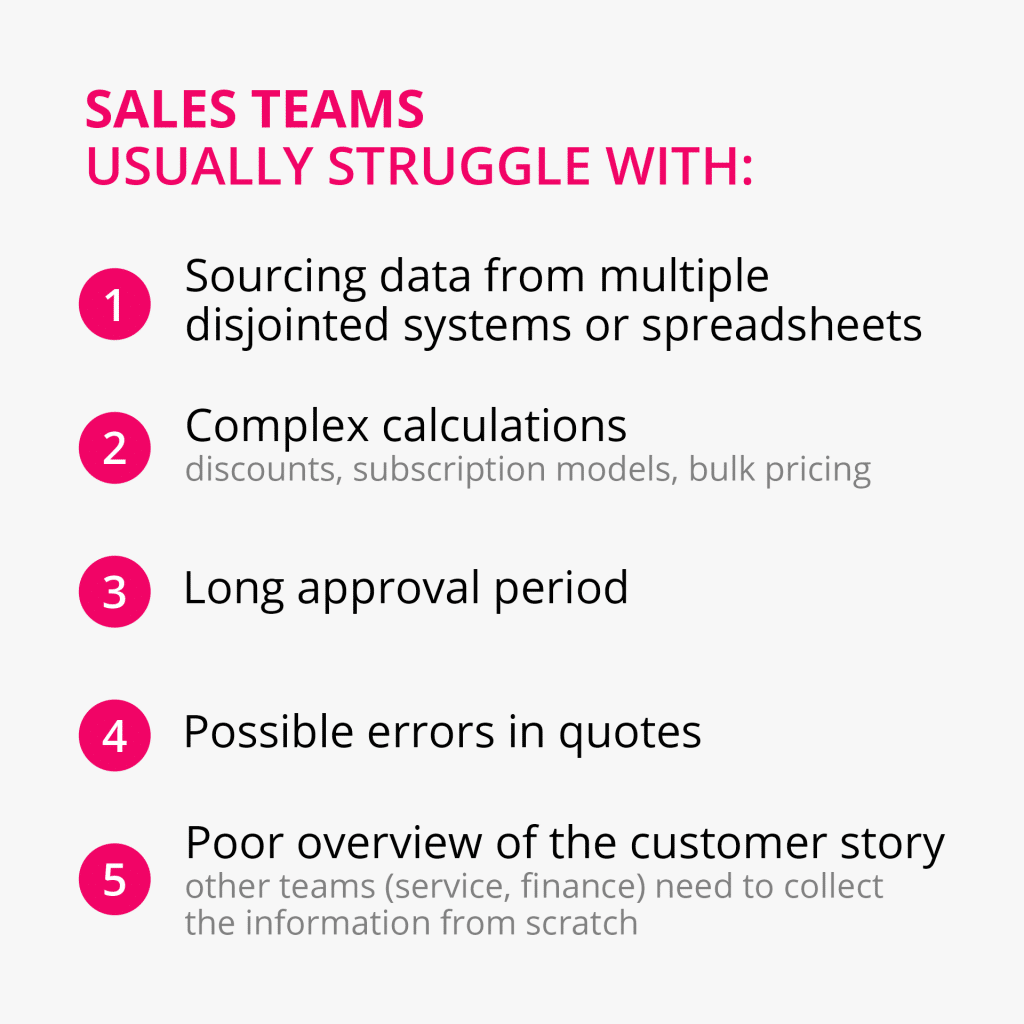 Nonetheless, before jumping at this opportunity, bear in mind that Salesforce CPQ is not just a regular sales app to be applied without due consideration of its benefits and limitations. It's a deeply customizable extension to your CRM system, meant to support, optimize, and improve the existing sales and business processes. Salesforce CPQ pricing starts from $75 USD/user/month and its implementation of a basic set of quoting and pricing rules, product dependencies (bundles), and some quote templates, takes on average from 3 weeks to a couple of months.
In this article, we will try to help you find the right approach to your Salesforce CPQ implementation project to get the most out of the software. Let's break down its features to learn how Salesforce CPQ helps to handle complex sales processes, saving your sales reps from burnout.
Salesforce CPQ Functionality
Salesforce CPQ Configuration:
A series of questions at the beginning of each configuration process navigate sales reps through an extensive product catalog, to help them choose the products based on the required criteria, and configure quotes faster.
Product Rules & Product Bundles in Salesforce CPQ
Reps create bundles – customizable groups of products sold together. They can set limits to exclude similar products from a bundle to ensure they quote compatible solutions, minimizing possible mistakes.
Product Rules in Salesforce CPQ can be configured to add, remove, or hide options in a product bundle to prevent customers from making options against your regulations.


Advanced Approvals & Advanced Order Management
By setting up predefined approval pathways in Salesforce CPQ, sales, operation, finance, and legal teams promptly get access to quotes.
Advanced Order Management allows splitting quotes into multiple orders based on time and location, for example, for recurring purchases. Thus, service teams deliver on time.
Pricing in Salesforce CPQ
Support for various pricing strategies with Pricing Rules
Preset pricing and discount rules in Salesforce CPQ allow modeling various deal scenarios for complicated quotes, including add-ons, swaps, and upgrades. You can also use contracted pricing to set account-specific pricing for specific products or product categories.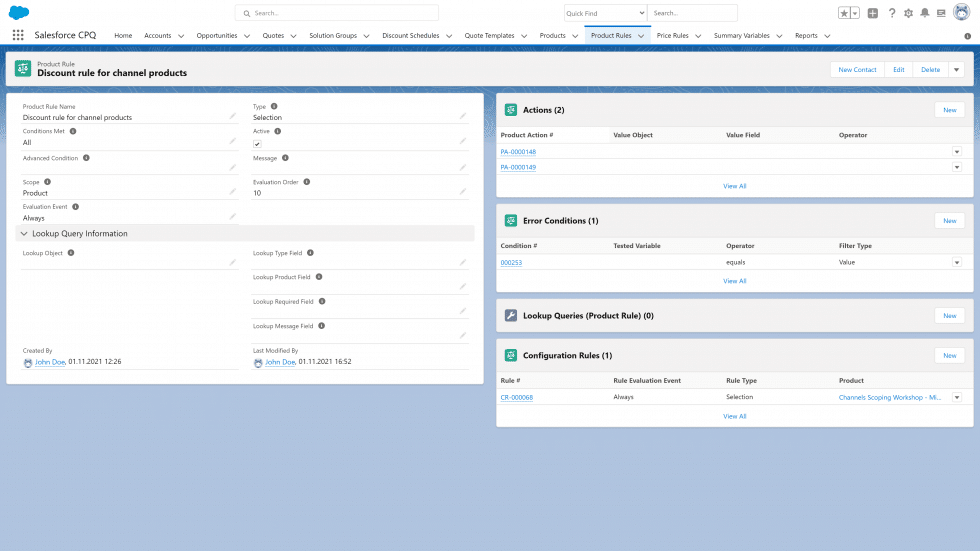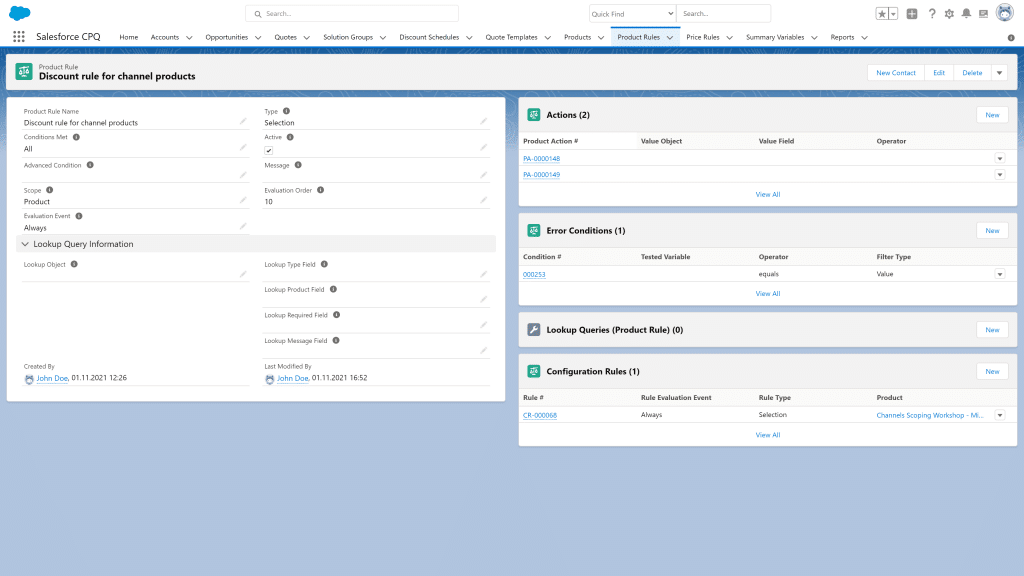 Automated Payments & Pricing Analytics
Enabled electronic payments via credit card or ACH speed up deal closure. Artificial Intelligence helps analyze discounting trends across products and geographies for better forecasting and reporting.
Quotes in Salesforce CPQ
By using quote line editors in Salesforce CPQ, you can add or remove products, apply discounts and mark-ups, and calculate prices.


Salesforce СPQ can be integrated with other internal systems to provide more insights for the team.
Salesforce CPQ Implementation Challenges
No matter how beneficial these features are, a lack of plan and defined goals can derail the whole project, leaving your company spending money on the tool that will block your sales cycle rather than speed it up.
Here are some common Salesforce CPQ implementation challenges and tips to help you avoid such an outcome.
1. Over-Complication and Time-Consuming Configuration of Salesforce CPQ
Salesforce CPQ is often criticized for its complicated and long setup, leaving sales teams overwhelmed with new processes. Such an issue, however, can be the result of a mindless approach to the project goal-setting.
So, how not to replace complex sales with even more complex tools?
Our Tips:
It's all about thorough planning, focus, and in-depth business analysis. It's not uncommon for large companies to have maximum functionality enabled, but when it comes to actual use, sales reps turn to Salesforce CPQ just to check prices and make quick notes, ignoring the rest of the features.
What steps should you consider in advance?
Clarify your objectives

. The purpose of Salesforce CPQ is to generate fast, dynamic, and accurate quotes. Consider the existing sales processes and customers' buying habits to come up with the main flow, and focus on it. Try to resist the temptation of adding other inner processes such as third-party document generation, sales pipeline automation mixing, financial assets' management. Better integrate other systems with the required functionality.

Use a project management tool. Even basic Salesforce CPQ implementation might take from a few weeks to a couple of months. Without proper planning and project management software to support you, the chances of failure with your CPQ implementation are much higher. Since your organization is already likely to be using Salesforce, a highly-rated Salesforce native project management app like Inspire Planner can be a great choice.
Prioritize.

The requirements tend to change, especially with a long-lasting implementation project. Point out those of the highest risk of change, roll out the project in stages for better adoption, and save time for possible rebuild/retest.

Address the requirements of all teams

. The CPQ process touches sales, marketing, service, engineering, IT, legal, and finance teams. Being a knowledge-based tool, you should gather this knowledge from those who will actually use the solution.

Ensure the balance between customization and built-in features. Add customizable capabilities only after enabling the smooth adoption of all "out-of-the-box" features. Use product rules instead of Salesforce Flow or Apex, quote templates instead of custom pages, and embedded product structure instead of the custom schema.
2. Using Irrelevant or Wrong Data
If you don't want to send quotes with inflated prices or miss the delivery deadlines, your data has to be accurate, current, and reliable.
Our Tips:
Import

. Before implementing Salesforce CPQ, collect and import the needed data from all the existing sources. Check all the required integrations with the CRM or ERP. API connectors will allow importing product tax rates, discount rates, tiers, packages, and template details, into the Salesforce CPQ.

Maintain. Identify those responsible for keeping the system updated with relevant product details and set well-defined time checks. Have a clear understanding of the properties required to define and locate a product in the catalog. Maintain the integrity of the backend database data.
3. Lack of Collaboration and Transparency
As Salesforce CPQ allows deep customization, sometimes the funny outcome is that the configurator solves everything rather than the configuration problem itself.
Select the right stakeholders for creating a proper flow design to make sure your users understand and benefit from Salesforce CPQ.
Our Tips:
Verticalize the design of your Salesforce CPQ solution.

Make sure to gain support from senior management and select the right stakeholders to form an effective workgroup. Choose those with the right skillset and industry experience to provide consultancy on the most common operations.

Design the well-defined flow. Salesforce CPQ is dynamic and customizable in terms of price and product rules on a variety of fields, to automate price calculations. Plan the flow taking into account all tangible/intangible products and possible calculations. Make use of in-built technologies such as guided selling, automatic workflow approvals, discount tools, and user notifications, when configuring rules.
4. Continued Support and Lack of Testing of Salesforce CPQ
Even if the Salesforce CPQ is installed according to the plan, it may require additional support. The tip is simple – the more you prioritize and test, the less maintenance you will need.
Our Tips:
Install correctly.

Consider the system architecture, database, and possible applications to be integrated with it. As Salesforce CPQ communicates with several internal and third-party systems, wrong configurations or protocols lead to errors in real-time usage. Make sure the implementation doesn't break existing processes.

Test. Test. Test. Undertake thorough pre-implementation testing before the roll-out. Start with the tools that are beneficial to most employees and not difficult to adopt. Thus, you will ease your onboarding process and save time for possible changes.
5. Change Management during Salesforce CPQ Implementation
Switching from spreadsheets to an automated workflow may be overwhelming, and make users ignore the new software.
How do you make them understand the value?
Our Tips:
Support the learning curve.

Make sure to have enablement content at the roll-out (slides, recordings, how-to guides, Q&A sessions). Start creating a user manual with a clear FAQ resource while the solution is still being developed.

Nurture key personnel. Put in charge a person or a team responsible for the transition.
One more recommendation is to turn to a certified consultant to assist in analyzing and choosing the required features or even a solution for the needs of your industry.
Alternatives to Salesforce CPQ Software
Salesforce CPQ is not the only available CPQ app on the market. You can find other options on Salesforce AppExchange so perform a gap analysis to help you understand what software will meet your business needs. Try different options before making the final choice.
It's an accessible and streamlined alternative to Salesforce CPQ, with a straightforward setup and deep customization opportunities to speed up your quote generation process. All basic features are available in a non-expiring free version. You can set up Pricing Rules and Bundles to deal with discounts and organize your product catalog, and interact with customers in real-time with Interactive Quotes.
Enterprise businesses with complicated deals can make use of the Conga CPQ app to optimize the configuration of the product, prices, and administration process. It's a deeply customizable app supporting multiple integrations, with access to support and training.
A great app to manage contracting, subscription-based payments as well as finance visibility. It might require some configuration to sync products from quote to cash to your financial system, and will provide you with useful insights to help drive revenue faster.