Top 5 Features of Salesforce Marketing Cloud
Salesforce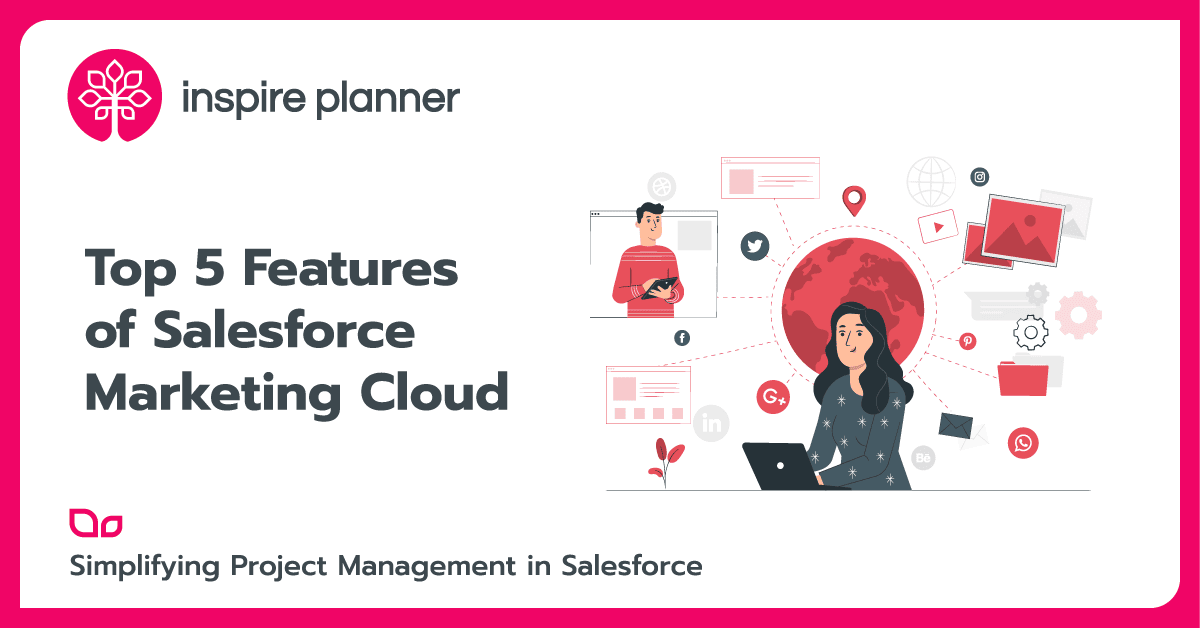 With the rise of digital marketing, managing your marketing campaigns without automation solutions, such as Salesforce Marketing Cloud, seems impossible. The number of customer touchpoints has increased and you most likely face these types of questions:
How to gather data about your customers to adjust your campaigns?
How to reach the right audience on social media or through ads?
How to personalize your messages across all channels?
How to automate routine tasks and leave more time for creative work?
And a knockout question:
How to measure marketing ROI?
Automation eases the burden of these questions. However, most automation platforms usually solve one specific problem, such as email automation, lead generation, or reporting. In contrast, Salesforce Marketing Cloud is a rich ecosystem with compatible solutions to all types of your marketing challenges.
We are going to look into its top 5 features, and how they can help you strive in an all-digital environment.
1. Campaign Management in Salesforce Marketing Cloud. Create a Personalized Customer Journey.
First, you need to understand how to condition your customer's interaction with your brand effectively. As part of the Salesforce Marketing Cloud functionality, Journey Builder comes in handy at this point. It helps you set you up multichannel adaptive journeys with user-friendly drag and drop tools.
The possible activities vary from a follow-up email or a push notification after your customers make a purchase to a targeted ad, ensuring they come back for another service.
What benefits do you get?
Optimized Messaging
The volume, frequency, and content of your messages can be adjusted in real-time depending on the customer's response.
Clear Overview of the Customer Journey
With Salesforce Marketing Cloud, you can bring together all the activities as well as company departments to ensure the messages via email, SMS, landing pages, and ads of your marketing and sales teams are aligned.
Data Analytics
Every step of the journey gives you useful insights to measure performance across various channels as well as your goals. Thus, you will be able to design the relevant solutions to provide another level of personalization.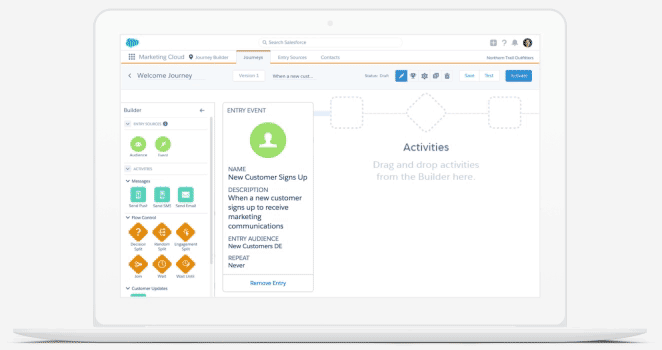 2. Omnichannel Communication in Salesforce Marketing Cloud. Add Personalization to Each Touchpoint.
72% of consumers say they only engage with personalized messaging. And personalization matters only when it's consistent. Salesforce Marketing Cloud offers tools to orchestrate your messages through all possible channels. These include Email Studio, Mobile Studio, Advertising Studio, and Social Studio.
Let's break them down to see how to deliver a seamless customer experience.
Email Studio in Salesforce Marketing Cloud
You can send captivating letters to build 1-1 relations with customers, no matter the size of your subscribers' list. The platform offers intuitive drag-and-drop functionality to schedule your send-outs and delivery reports, ensuring you reach out to customers when they are most likely to engage.
With Email Studio in Salesforce Marketing Cloud, you can easily segment the audiences, add interactive content, automate journeys, and be sure that emails look great on any device.
Mobile Studio in Salesforce Marketing Cloud
Benefit from custom templates for SMS messaging, push notifications, and mobile chats to notify customers of sales alerts, business events, or reminders. You can segment audiences, track customers' engagement, and personalize messages based on location, preferences, and previous interactions of your customers. This way, you create a connected digital environment, where marketing and operational messages are managed from a single point.
Advertising Studio in Salesforce Marketing Cloud
Orchestrate your advertising campaigns via Google, Facebook, Instagram, YouTube, Twitter, and LinkedIn to attract new prospects with the help of lookalikes or reconnect to the lost prospects. With the help of audience segmentation, your leads see only relevant ads, and the advertising ROI increases.
The main benefit you get is the coordination of your ad campaigns with lead scoring, email nurture campaigns, and sales teams' activities to ensure better upselling and cross-selling.
Social Studio in Salesforce Marketing Cloud
Most probably, your company has a social presence on more than one platform. With Marketing Cloud, you can tie your social accounts to track mentions of your brand as well as your competitors to effectively connect to customers. Design, schedule, and promote your content from a single dashboard. After you publish it, track the performance of each post to see what works better with your audience.
Moreover, you can quickly connect customers to sales and service representatives if they need any feedback or when new qualified leads are generated.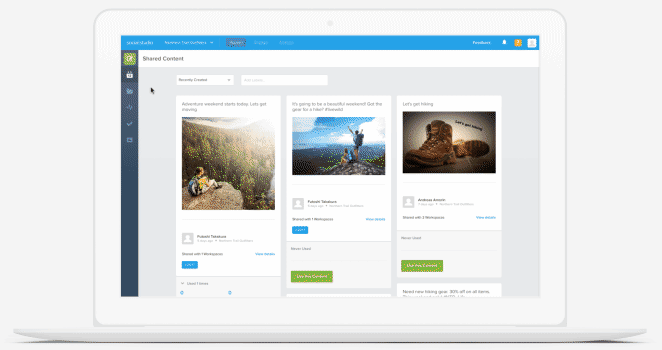 3. Behaviour Tracking in Salesforce Marketing Cloud. Tailor Your Content to The Customer's Intent in Real-Time.
Imagine how many touchpoints your customers have when they engage with your brand. Web pages, apps, physical stores, etc. You can gain insights through forms, emails, or the history of their purchases, which is, in most cases, hard to unite in one place. Salesforce Marketing Cloud Interaction Studio does that for you.
It connects anonymous users and those who have already provided you with some information across all touchpoints. Its powerful AI capabilities adapt the content to the intent of your customer to recommend relevant products or promotional campaigns that fit their wishes.
For example, for one of its customers, a Salesforce Consulting partner Twistellar created adaptive landing pages based on customers' location, interests, and attributes that would trigger personalized notifications adjusted to the content the customers read on the website. As a result, this customer could match the clients with the relevant services, improving navigation and customer experience.
4. Analytics in Salesforce Marketing Cloud. Measure The ROI of All Your Marketing Activities.
The key to the success of your marketing campaigns is the way you handle the data. With Datorama, you can bring together the data across all integrated sources to present it in a single-view dashboard for smarter forecasting. It provides you with built-in and custom API connectors for more than 100 platforms.
What can you achieve with Salesforce Marketing Cloud Datorama?
Use AI to drive growth, and spend less time on reporting with regression modelling and statistical analysis
Measure the ROI of all marketing activities, with the needed level of detail
Tailor your marketing campaigns according to audience segments and optimize KPIs
Receive real-time insights from Einstein Insight Bots on how to maximize your ROAS or minimize your CPA
Align all stakeholders in their goals
5. CRM and Cross-Channel Integration
Last but not least, use Marketing Cloud Connect to integrate your Salesforce Marketing Cloud with Sales or Service Clouds. It's easily configurable, and the outcomes include better data management, unified customer view across all departments, and synchronized efforts.
Integrations with 3rd party applications can help you access data from various sources and fit any of your business goals. These can be project management apps in Salesforce, marketing tools, or analytical products. For example, by using AppExchange apps like Inspire Planner, customers can easily manage their marketing projects directly in Salesforce (e.g. developing ad campaigns, building a new website, sending email newsletters, etc.).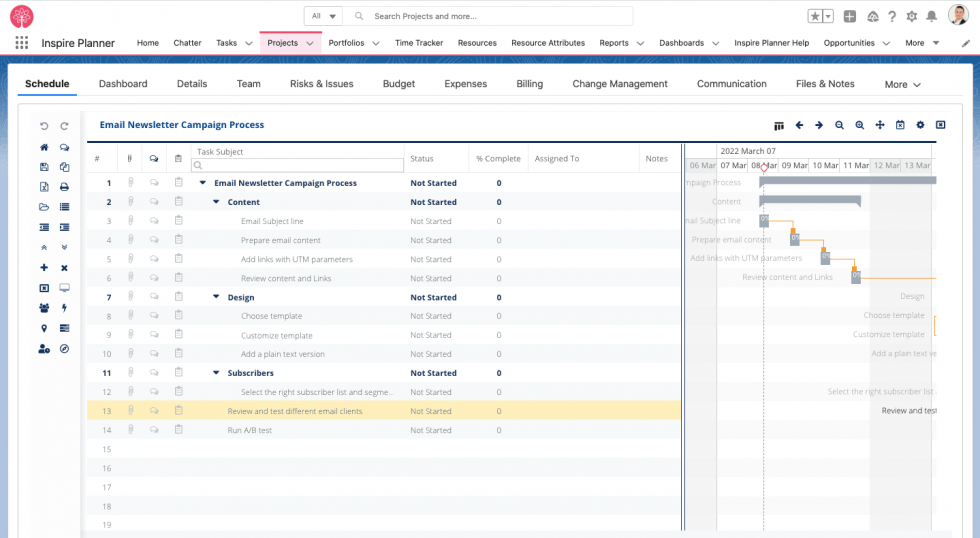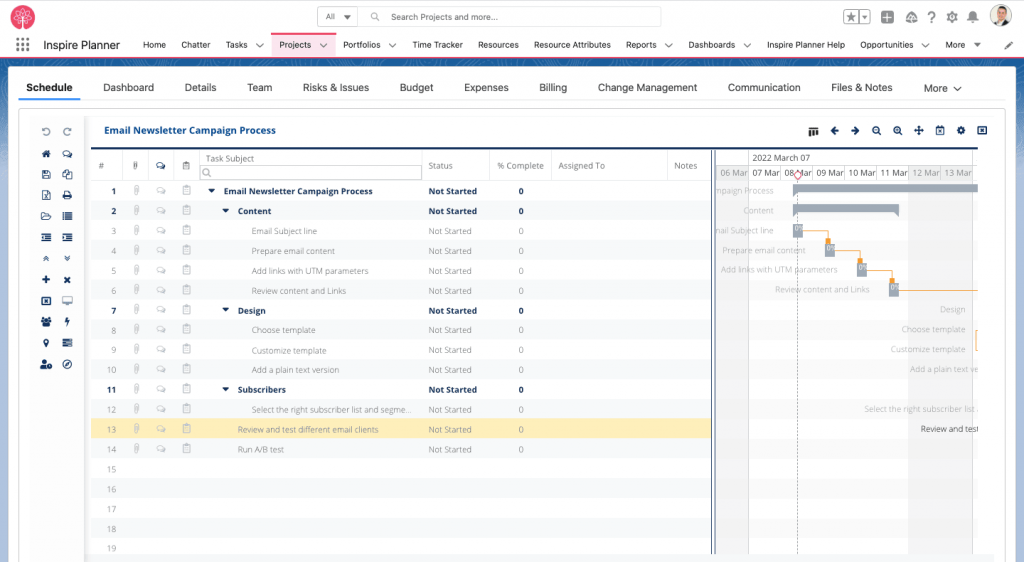 As a result, nothing stops you from building an ideal marketing tech stack for your business to create a single customer view.