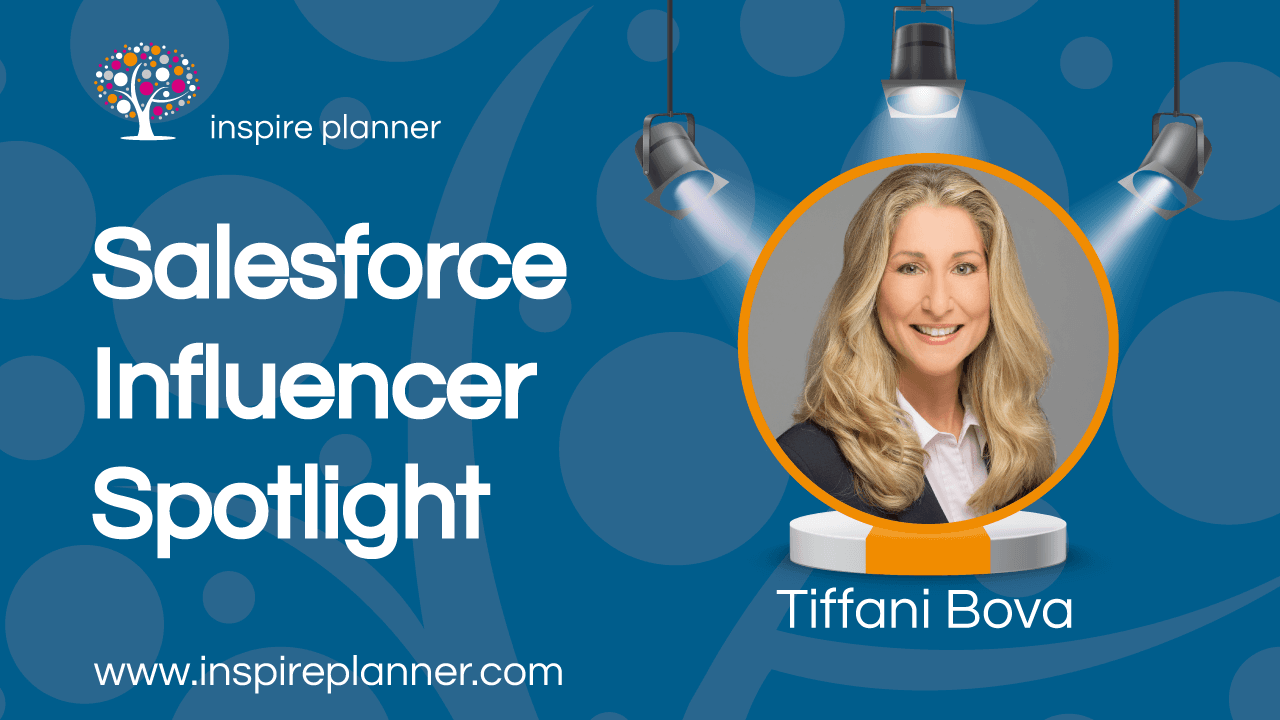 In our previous issues of Salesforce Influencer Spotlight, we've talked with some of the most outstanding members of the Salesforce community: Eric Dreshfield, Ben McCarthy and Fabrice Cathala. These guys have spent a big chunk of their lives working with the Salesforce ecosystem and they know how it works from the inside. The whole community wins when there are such people sincerely supporting and contributing to it.
However, our new guest is not just an active member of the Salesforce community, she is one of the front-runners of Salesforce. This time we put our Salesforce Influencer Spotlight on Tiffani Bova! Tiffani is the Global Customer Growth and Innovation Evangelist at Salesforce and author of Growth IQ: Get Smarter About The Choices That Will Make Or Break Your Business. Prior to that, she was also a VP, Distinguished Analyst and Research Fellow at Gartner. She has interviewed guests ranging from Dan Pink to Arianna Huffington on her "What's Next!" podcast and her insights have helped such companies as Microsoft, Cisco, IBM, Oracle, SAP, Dell, and Amazon-AWS to expand their market share and grow their revenues.
In the following interview, Tiffani tells about her amazing experience with Salesforce, discusses the importance of innovation and growth in the companies of today and shares some details about her conversations with industry champions.
---
Tiffani, first, we would like to thank you for taking the time for this interview. We are really honored to talk to you as a part of our Salesforce Influencer Spotlight series. Let's begin with your truly outstanding professional experience – you have been an integral part of many organizations including Gartner and now Salesforce. What were the key lessons that you learned throughout your career that helped you to shape up as a professional?
Tiffani Bova: It was all about learning for me. As a 'practitioner' who ran sales, marketing, and customer service before joining Gartner I can tell you that the hands-on experience I gathered prior to advising companies now for the past 13 years has helped tremendously as I have furthered my career.
Can you please tell us the story of how you joined Salesforce? Did you have experience with Salesforce products before joining the company?
Tiffani Bova: As an analyst, I had the pleasure of working with Salesforce for many years and had attended 10 Dreamforce conferences prior to joining the company. When I made the decision to start exploring the possibility of leaving Gartner I began to think about where I would want to work next. While I had many companies I admired and would have loved to join, it was the fact that every time I would leave a Dreamforce event I wanted to be a better person. For me, for this phase of my career, I knew that was the deciding factor for me. The good news is, they were excited to have me join the company.
Being the Global Customer Growth and Innovation Evangelist at Salesforce, can you please tell our readers how Salesforce encourages product innovation internally? 
Tiffani Bova: It is not a coincidence that Salesforce ranks as a leader in 'best places to work' and 'innovation' – culture is a huge piece of our success especially when it comes to innovating. We have a culture of innovation that starts with creating an environment in which a diverse group of people can collaborate and do the best work of their lives, and having what Marc Benioff calls a "beginner's mind," a concept from Zen Buddhism. We have to be open to multiple viewpoints and not hang onto the past, which is how many great companies end up losing their way.
In your work, you claim to be looking out to the future for disruptive trends. What are the main disruptive trends that Salesforce users should be ready for in the next 3 years?
Tiffani Bova: There are a few we have been talking about for some time now. Artificial Intelligence, Machine Learning and all that the 4th Industrial Revolution is bringing to companies around the world. Einstein, in particular, is transforming the way we work. By building AI into existing tasks, Einstein is reducing employees' routine work, allowing them to focus on higher value work and make better decisions. Along the way, humans and machines are working together and are both acquiring new skills to be more productive.
In addition, the focus of many companies is now how to use technology for the greater good of companies, people and societies. The opportunities are endless but need to be well thought out to ensure we use tech for good not evil.
In your opinion, what are the reasons for Salesforce being such an outstanding and recognized company all around the world? In other words, what does Salesforce have that other tech giants don't?
Tiffani Bova: Our culture is what makes working at Salesforce so special. It isn't that other companies don't have amazing cultures, I just feel like Salesforce is really something unique. We foster, encourage and support diversity and inclusion. We give back as a company and as employees. We invest in preparing and training the next generation of Trailblazers with our free, online training platform – Trailhead. We have a leadership team that is committed to our core values (trust, customer success, innovation, and equality) and they use them as the guiding force on all the decisions they make which affect the Salesforce Ohana.
Tiffani Bova's Speech at Dreamforce '16
What are some of the tips or tricks that help you out on a daily basis when you use Salesforce?
Tiffani Bova: My first piece of advice is to use it! While that seems obvious and simple, there is so much power to the platform that you can take advantage of if you are willing to take the time and learn. This is where Trailhead is such an amazing way to help everyone continue to learn and increase their own capabilities. I always say we don't have a 'technology problem' when it comes to usage, we have a people and process problem. We all have to be better at embracing change.
Do you have any favorite Salesforce apps from the AppExchange that you could recommend to our readers?
Tiffani Bova: There are literally too many to choose from – but I like any app that helps companies deliver compelling and meaningful experiences.
Apart from your job at Salesforce, you are also hosting a podcast "What's Next! with Tiffani Bova". Can you please share what it's like to have such people as Seth Godin, Arianna Huffington, Guy Kawasaki and other notable industry professionals as your guests? What was one of the most interesting conversations that you had during the podcast and why?
Tiffani Bova: The podcast has been amazing thus far. I wanted to capture these great conversations I have on my travels meeting fascinating people and share them with others, What's Next was the best way for me to do this. There is no one conversation that stands out, all of them do in their own way. I know one thing for sure, I learn something new every time I do one – about myself, about the other person and more importantly about things that I am interested in.
You have recently published a book "Growth IQ: Get Smarter About the Choices That Will Make or Break Your Business" which was recently named a Wall Street Journal Bestseller. What kind of insights should people expect when they get their hands on your book?
Tiffani Bova: This was all about helping companies navigate the thinking process of how best to grow their business. It includes 30 stories of companies that had reached a crossroad and what they did when they faced either a growth opportunity or challenge. It is the perfect resource for anyone who is looking to become much more intentional in their decision making.
Thanks for the great interview, Tiffani! Just to wrap up our conversation, if you could ask Marc Benioff just one question, what would it be?
Tiffani Bova: What's Next?
---
What's next? We have an answer to this! Look out for our upcoming interview with Tom Blamire (Salesforce Tom) on Inspire Planner!
https://inspireplanner.com/wp-content/uploads/2018/10/Inspire_Planner_Interview_Tiffani_Bova-compressor.png
720
1280
Inspire Planner
http://staging.inspireplanner.com/wp-content/uploads/2015/10/Inspire-Planner-Logo-for-dark-300x279.png
Inspire Planner
2018-10-15 19:11:08
2018-10-15 19:42:37
Salesforce Influencer Spotlight: Tiffani Bova