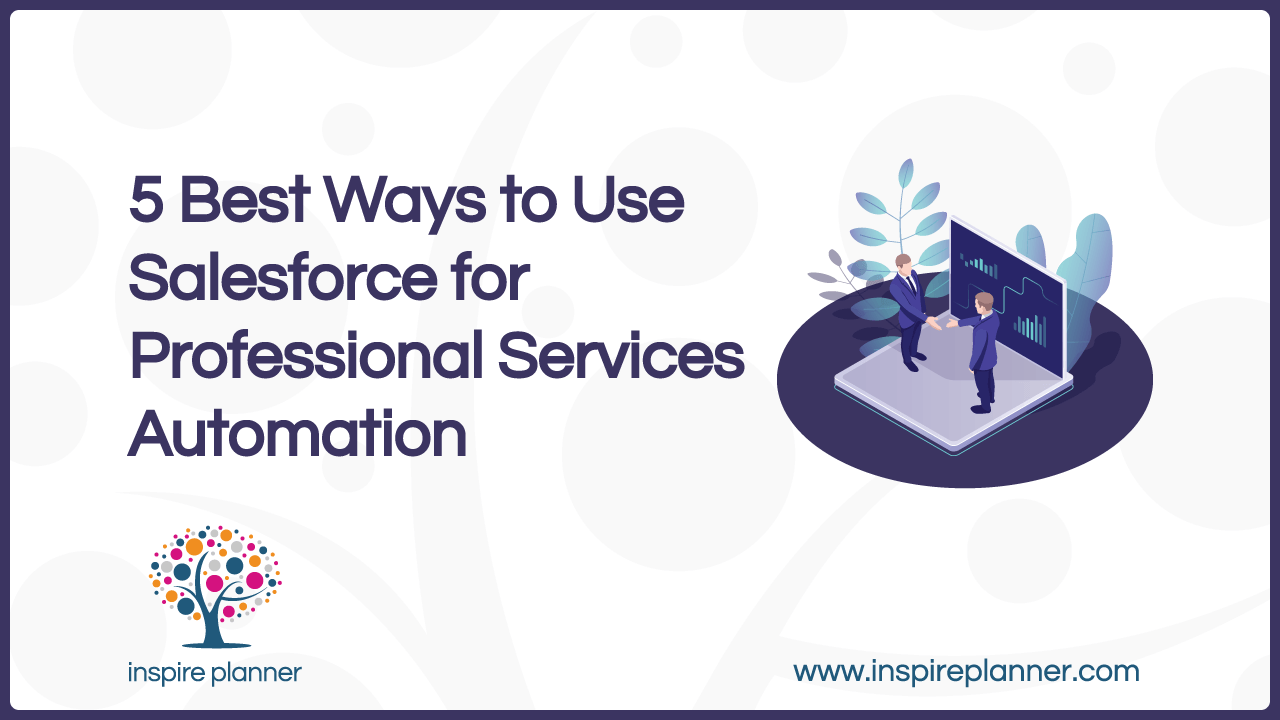 Professional Services Automation is taking mundane or inefficient processes in the services industry and bringing them into the future. PSA helps you complete tasks better and faster than ever before by digitizing and automating different stages of a product or sales life cycle. Salesforce itself is the perfect platform to allow for professional services automation at multiple levels. Here are 6 ways you can use Salesforce for Professional Services Automation to start completing projects of high quality more successfully today.
Manage Your and Your Team's Calendar With Ease
If you haven't digitized your calendar management needs, your team is making scheduling and keeping track of events much harder than it has to be. A digital, collaborative calendar is almost vital today, as everyone has their own busy schedule yet meetings and events still need their participation. To help, Salesforce offers their own calendar feature that lets you track meetings with clients, team members, manage events, and more. You can sync your Google calendar with Salesforce to ensure that your calendars are always accurate and up to date too. With integrated calendars, information related to events will be consolidated in Salesforce allowing for reps to avoid switching back and forth between systems to try and find missing information. This saves time and headache for all parties involved.
Automate Time-Tracking and Keep It All In One Place
Time-Tracking is an important but pesky task to remember to do. There are many different tools that will help you automatically track time as you work, but having a tracker actually integrated into Salesforce would save you time hopping between apps and cause less confusion down the line by keeping all information tracked in one spot. Although Salesforce itself does not have a time-tracking feature, project management app Inspire Planner does. Inspire Planner natively integrates with Salesforce and runs with the platform, allowing you to utilize the time-tracking feature to compare "Actual" time spent on projects with "Estimated" and see the difference. Automating time tracking and keeping the recorded information all in one place will help you actually track time and use the results effectively.
Upgrade Your Project Management Process
Project management is a large part of professional services automation. By digitizing project management stages all in one spot, you are making all of the data and information centralized. This will allow the right people to have immediate access to the information they need at any point in time. Utilizing professional services automation software geared toward project management will also help you save time as you will be able to track a project's lifecycle and see where bottlenecks are. Using this information, with future projects, you will be able to practice risk mitigation and only increase the success rate of your projects. Although Salesforce itself doesn't offer native project management features, there are many different project management apps that do fully integrate with Salesforce which can fill this void.
Manage Documents With Salesforce Files
Paper documents are a thing of the past, yet so many firms still rely on them. With Salesforce, you can step into the future with robust digital document management using Salesforce Files.
Files allow you and your team to collaborate and share documents easier than ever before. The documents can be made public or private to different Users, as well as can be "followed" so you never miss out on an update. You can even use Version Control to see how many past versions of a file exist and ensure files are always up to date. Using Salesforce files to automate your document management process will make you and your teams' lives easier and you'll never lose or accidentally delete an important document ever again!
It's a CRM! Reach Clients Quickly And Easily
Salesforce is a CRM – a Customer Relationship Management System. Their main focus is on customers and clients. Having a CRM is a vital piece when making the most out of professional services automation software. Salesforce enables Users to reach clients quickly and easily through the different ways to track information. With field options to track email address, street address, phone numbers, and more, you will always have a way to reach your client. Additionally, you can track all messages between a User and a client on a client's Salesforce record.
https://inspireplanner.com/wp-content/uploads/2019/02/5-Best-Ways-to-Use-Salesforce-for-Professional-Service-Automation.png
720
1280
Inspire Planner
http://staging.inspireplanner.com/wp-content/uploads/2015/10/Inspire-Planner-Logo-for-dark-300x279.png
Inspire Planner
2019-02-14 12:41:56
2019-02-14 18:02:58
5 Best Ways to Use Salesforce for Professional Services Automation (PSA)